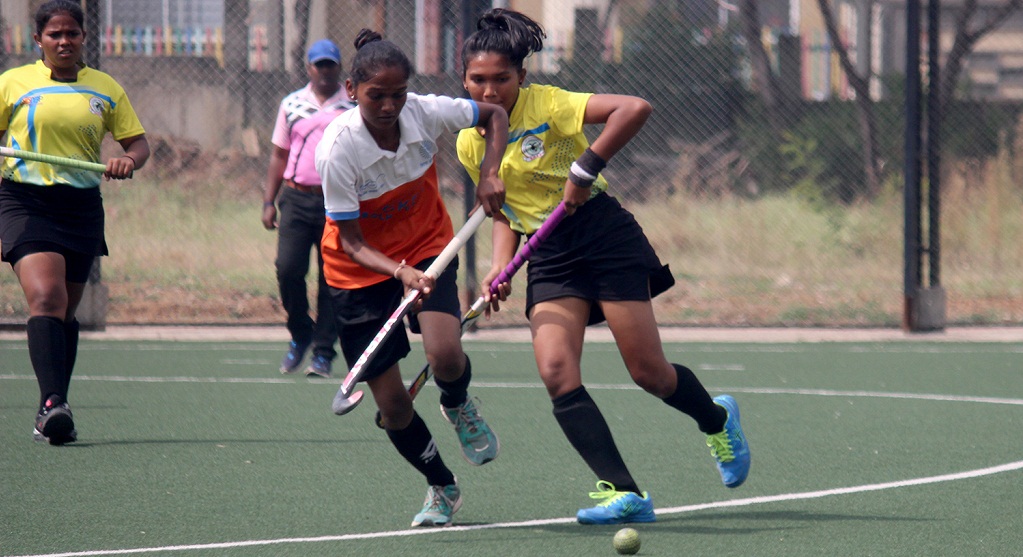 Pune, 14th November 2021: Maharashtra XI and Khelo India Centre Kolhapur registered convincing wins over their opponents and will face off in the final for the 3rd SNBP Women's State-level Women's Championship title.
In the semifinals, Khelo India Centre, Kolhapur ended the challenge of hosts SNBP Academy with a 6-0 win, while Maharashtra XI thrashed Nashik Academy 11-0 at the Dr Dashrath Hockey Stadium, Chikali-Pune, here on Sunday.
Maharashtra XI rode on three-goal efforts by Pooja Shendge (1st, 39th, 40th) and Ashwini Kalekar (8th, 14th, 18th). The other scorers included Utkarsha Kale (2nd, 15th), Kajal Atpatkar (13th), Sukanya Dhavre (29th) and Manashri Shedge (35th). 
In the second semifinal, Khelo India Center, Kolhapur squashed the hopes of SNBP Academy with Sanika Mane (9th, 37th, 40th) leading from the front. Krushna Mane (14th), Samiksha Shegunshi (31st) and Savitri Borgalli (42nd) completed the tally. 
RESULTS
SF1: Maharashtra XI: (Pooja Shendge 1st, 39th, 40th; Utkarsha Kale 2nd, 15th; Ashwini Kalekar 8th,14th, 18th; Kajal Atpatkar 13th; Sukanya Dhavre 29th; Manashri Shedge 35th) bt Nashik Academy: 0
SF2: Khelo India Center, Kolhapur: 6 (Sanika Mane 9th, 37th, 40th; Krushna Mane 14th; Samiksha Shegunshi 31st; Savitri Borgalli 42nd) bt SNBP Academy, Pune: 0
MONDAY'S FIXTURES
Final: Maharashtra XI v Khelo India Center, Kolhapur – 12.00 (noon)
III-Place: SNBP Academy v Nashik Academy – 1.30 pm
Venue: Shiv Chhatrapathi Sports Complex, Mahlunge-Balewadi.
Advt