Make In India Week concludes on a high note showcasing India's manufacturing prowess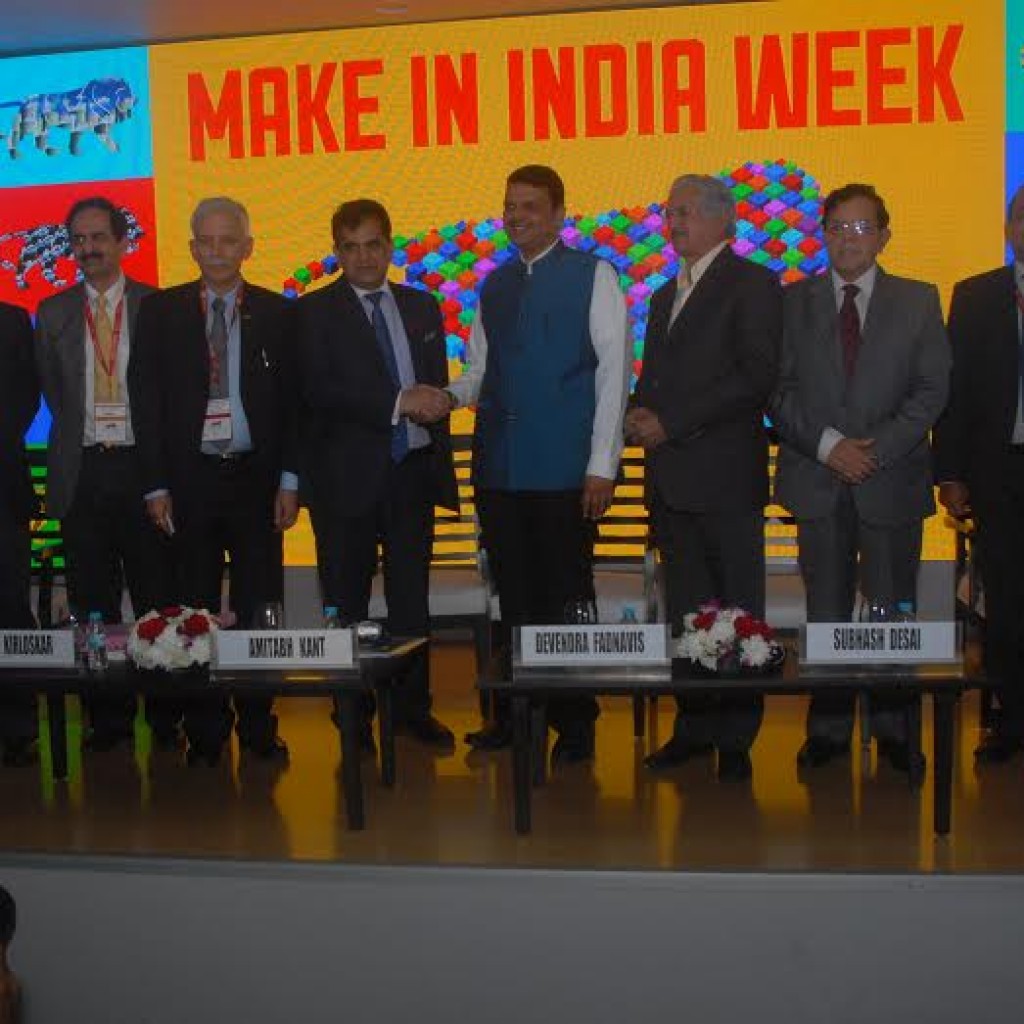 Manufacturing, Design and Innovation has been brought to the centre stage – Amitabh Kant
Curtains came down on the first ever Make In India Week in Mumbai with the biggest show of manufacturing prowess, concluding on a high note.  The week long event  –
·         Created avenues for showcasing, connecting and collaborating for manufacturing in India
·         Promoted an Investment enabling environment
·         Provided encouragement to to Design, Innovation, Youth and Startups
·         Provided a  platform where global CEOs, think tanks, policy makers, Diplomats and Political leaders converged
Addressing the Closing Press Conference in Mumbai today, Secretary, Department of Industrial Policy & Promotion, Mr. Amitabh Kant said the Make In India Week witnessed a business commitment of Rs 15.20 lakh crore in investment.  "Make In India Week in Mumbai has been phenomenal hit. It has successfully brought manufacturing, design and innovation to the centre-stage" Mr. Kant said.


Maharashtra Chief Minister Mr. Devendra Fadnavis said his state was successful in attracting investment worth Rs 8 lakh crores across sectors. He said a Task Force is being set up headed by the State Industry Minister to ensure that MoUs signed are translated into actual investments.
Facts at a glance
More than 8 lakh people visited the Make In India Expo and other events, of which 49,743 were registered delegates.   102 countries were represented in the mega expo.
A total of 150 events were organized under the Make In India Week banner while more than 25,000 people participated in  Seminars and Symposia, where over 1,200 experts from various walks of life from Ministers, Chief Ministers, policymakers, industrialists, academicians and spiritual gurus spoke on wide ranging issues concerning business and society.
The Make In India Expo was spread over 23 lakh sqft area, housed under air-conditioned hangers in 27 halls.  215 exhibitors show cased their strengths and opportunities in 11 sectors covering aerospace & defence, automobiles, chemicals & petrochemicals, construction machinery, food processing, infrastructure, IT & electronics, industrial equipment & machinery, MSME, pharmaceuticals and textiles.  17 Indian states and 3 countries – Germany, Sweden and Poland had their pavilions in the Make In India Centre.
Make In India Week also provided platform for nearly 8,200 Business-to-Business ,  Business –to-Government and Government –to-Government meetings.
Key deals concluded during the MIIW
•      Sterlite Group company TwinStar Display Technologies & MIDC for LCD manufacturing unit in technical collaboration with Autron of Taiwan
•       BAE Systems and Mahindra for assembling and testing of M777 Howitzers
•       ORACLE's USD 400 million investment in India to set up 9 incubation center
•       Trivitron healthcare manufacturing unit in Chennai
•       Gujarat Government and Vestas (Denmark) for wind mill blades manufacturing unit at Ahmedabad
•       Raymond Industries to invest Rs. 1400 crore for manufacturing linen yarn and fabric facility
•       Mahindra & Mahindra: Investment – Rs. 8000 crores (Nashik: Rs. 6500 crores, Chakan – Rs. 1,500 crore)
•       Gujarat Government and Tar Kovacs Systems (France) for offshore platform to develop marine applications in Gujarat
•       Tar Kovacs and Government of Karnataka for setting up ocean based renewable energy project
•       Yes Bank and IREDA for financing of renewable power projects
•       Ascendas | Investment: Rs. 4571 crore | Employment: 1.09 Lakh
•       Mercedes | Investment: Rs. 1500 crore | Employment: 4270
•       Rashtriya Chemicals and Fertilizers | Investment: Rs. 6204 cr | Employment: 140
•       Godrej Industries| Investment: Rs. 3000 cr | Employment: 2000
•       JSW Jaigarh Port Ltd | Investment: Rs. 6000 crores | Employment: 1000
•       CREDAI and MCHI for 5.7 Lakh affordable homes with an investment of Rs.1.1 lakh  crore and 7.6 lakh jobs
•       Government of Jharkhand and Vedanta Ltd
•       Government of Jharkhand and Adani group to set up a thermal power plant with a total capacity of 1,600 MW to be supplied to Bangladesh Grid
•       Agreement between Government of Jharkhand and Adani Group to set up a Coal based Methane fertilizer plant
•       Uber and Skill Development and Entrepreneurship Department (SDED) of the Maharashtra government
•       Solar Industries and Government of Maharashtra to set up a Nagpur plant for manufacturing of ammunition for armed forces
Policies / initiatives unveiled
·         Rs 2,200 crore Electronics Development Fund was unveiled by the Communications & IT Minister Shri Ravi Shankar Prasad to finance innovations, research and development in electronics manufacturing sector
·         National Capital Goods Policy was unveiled by the Heavy Industries Minister Shri Anant Geete aimed at creating an ecosystem for a globally competitive capital goods sector.
·         Investment Opportunities in Food Processing Industry by Ms.Harsimrat Kaur Badal.
·         E toll policy covering 360 toll plazas on the National Highways across the country.
State specific policies
The Maharashtra government unveiled five new policies during the Make In India Week: 1. Maharashtra Retail Policy,  2. Single Window Policy,  3. Maharashtra Maritime Industries Policy. 4. Electronics Policy covering FAB manufacturing 5. Special package for SC/ST entrepreneurs.
Odisha Industrial Development Plan 2025,  Jharkhand Industrial Promotion Policy 2016 were also unveiled during the week.
Make In India Mittelstand initiative was aimed at attracting Small & Medium Enterprises from Germany to set up manufacturing facilities in India.  19 Mittelstand companies had enrolled for the programme.
Focus on Design, Innovation & Start Up
Shri Amitabh Kant said, one of the key focus areas of Make In India Week was Design, Innovation & Start Ups. On Spot prize of Rs. 2 crore by Qualcomm for Startups in India today.
Hackathon, organized by the consortium of IITs provided a platform for innovators, programmers and engineers. Two teams each providing innovative solutions in water, energy and transportation were awarded during the week.
Other key initiatives of the Make In India Week included Industry- Academia Partnership, role of design in manufacturing, Make In India : Way Forward seminar with focus on domestic manufacturing, digital India initiative, smart cities and skill India programme.
Participation
Key Government delegates during the week included Mr. Stefan Lofven, Prime Minister of Sweden, Mr. Juha Sipila, Prime Minister of Poland, Mr. Piotr Glinski, First Deputy Prime Minister of Poland, Yosuke Takagi, Minister of Economy, Trade & Industry, Japan,  Cesar Fergozo, Minister of Asia and Middle East, Mexico, Ignasius Jonan, Transportation Minister of Indonesia and Som Prasad Pandey, Industry Minister of Japan.
Union Ministers who participated in the Make In India Week that was inaugurated by the Prime Minister Mr. Narendra Modi included – Mr. Arun Jaitley,  Mr. Manohar Parrikar, Mr. Nitin Gadkari, Mr. Ravi Shankar Prasad,  Mr. Kalraj Mishra, Ms. Nirmala Sitharaman, Mr. Piyush Goyal, Mr. Dharmendra Pradhan, Mr. Anant Geete, Mr. Santosh Kumar Gangwar, Ms. Harsimrat Kaur Badal and Col Rajyavardhan Rathore.
Key Indian CEOs who were present included Ratan Tata, Cyrus Mistry, Mukesh Ambani, Kumar Mangalam Birla, Anand Mahindra, Gautam Adani, G V Sanjay Reddy (GVK), Ajay Piramal, Y C Deveshwar (ITC) among others.
Key foreign CEOs who attended the MIIW included  John Chambers of CISCO Systems,  Markus Wallenberg of SEB, (Sweden),  Doug DeVos of Amway, Hakan Bushke of SAAB, Sweden,  Edward Monser IV of Emerson, USA, Mats H Olsson of Ericsson and Karol Zarajczyk of Ursus, Poland.
The way forward
The Make In India Week concluded with a
·         commitment to achieving the vision of 25% contribution to GDP through manufacturing
•       Striving to provide investment enabling environment to Foreign and Domestic investors
•       Promoting quality jobs through development of innovation and design ecosystem
•       Forging partnerships for manufacturing sector development for enabling "Champions of Manufacturing"
•       Active cooperation with States for promoting manufacturing  across all States in India and remotest part of the country
•       Promoting Industry and Academia linkages for joint research and product development to drive frugal engineering
•       Focus on spreading awareness about promoting manufacturing in under developed areas of the country