Massive turnout of supporters at Shirole's rally at Aundh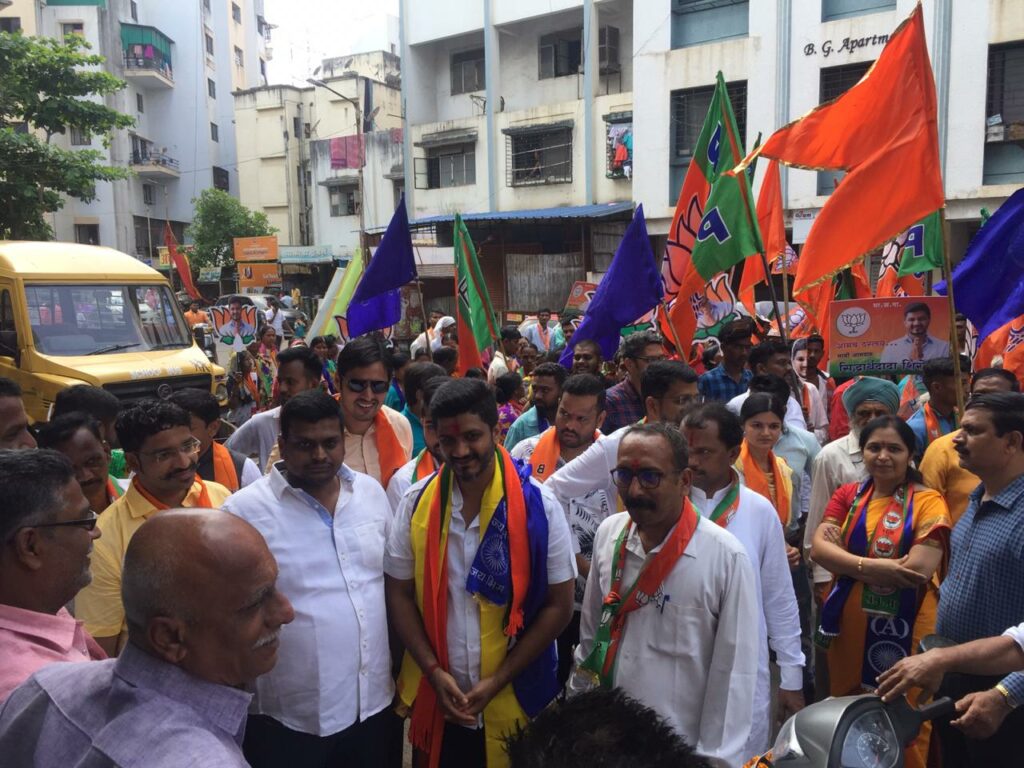 Pune, October 12, 2019:Though the political rallies carried out by aspiring candidates have been losing their flavor, the rally carried out by Siddharth Shirole, the Shivajinagar candidate of BJP, Shiv Sena, RPI (A), RASAP, Shiv Sangram, Rayat Kranti MahaYutiat Aundh saw a massive turnout of people and supporters who cheered for him.
Shirole braved the sweltering heat and carried out the rally at several points including Parihar chowk, DAV School,Medipoint Hospital Road, Ambedkar statue, Bhale Chowk Chowk, Gurudwara at Aundh gaon, Mangesh Society, Aundh Gaothan, Siddharth Nagar, vegetable market,Jai Maharashtra chowk andRohan Nilay Societyat Aundh.
Dignitaries including Parshuram Wadekar, Sunita Wadekar, Ramesh Thosar, Madhukar Musle, Archana Musle, Sachin Wadekar, Anand Chhajed,Sachin Gaikwad, Sachin Wadekar, Ajay Niravane, Satish Samindar, Vijay Shewale, Anil Bhise, Ganesh Gaikwad, Suresh Chonde, BalasahebRanawade, Ganesh Kelapure, Purnima Ranawade, Sanjay Kamble, Tukaram Gade, Satish Gaikwad, Nilesh Thosarand other members from the BJP, Shiv Sena and RPIwere present at the rally.
Shirole visited Gajanan Garden and Shakuntala Nikam Park near Gokhale Nagar and Prakash Bahirat Park at Shivaji Housing Society and communicated with the people.Dignitaries including PMC corporator, AadityaMalwe, Rajshri Kale, Dr. Aparna Gosawi, Datta Khandale, Jeetu Mandora, Pravin Shelke, Nilesh Dhodke and Vikas Dabi were present at the event. Later, Shirole also visited the Shiv SenaShaka at Bopodi to meet supporters.