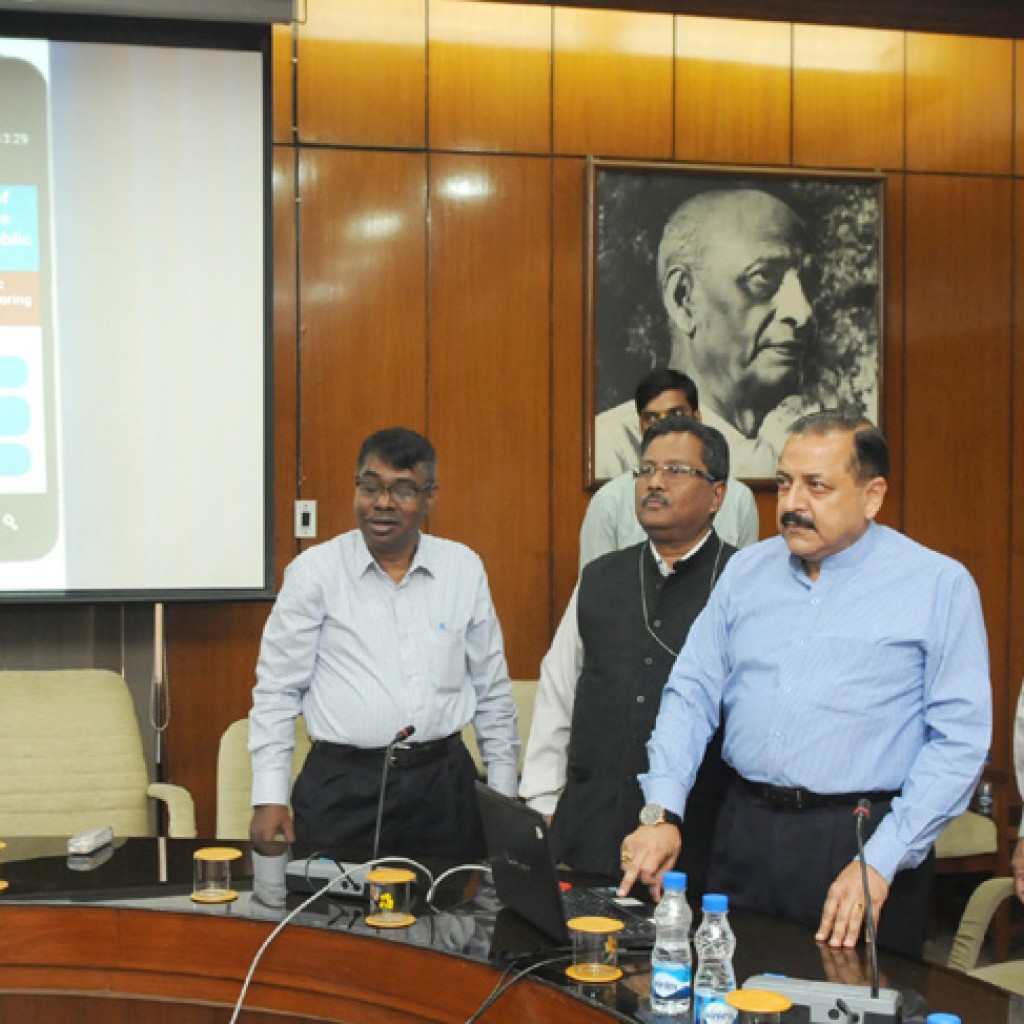 The Union Minister of State (Independent Charge) for Development of North Eastern Region (DoNER), MoS PMO, Personnel, Public Grievances & Pensions, Atomic Energy and Space, Dr. Jitendra Singh launched the Mobile Application for the Centralized Public Grievances Redress & Monitoring System (CPGRAMS) portal of the Department of Administrative Reforms and Public Grievances (DARPG) here today.
In this direction a further step has been taken by providing M-access to citizens through mobile phones. A Quick Response (QR) code has been provided on the pg-portal which can be scanned on to the smart phone after which grievances can be sent from the smart phone directly on to CPGRAMS.
Speaking on the occasion, Dr. Jitendra Singh said this is another step towards translating the Prime Minister Shri Narendra Modi's vision of "ART of Governance" as spelt out by him, with A for Accountability, R- Responsibility and T- Transparency, forming the bedrock of the Government. He said the goal is that the Administration should be citizen centric, transparent and responsive. Dr. Jitendra Singh said more than six lakh public grievances have been settled since the NDA Government assumed office. This data will form the resource material to improve the Governance, he added.
Dr. Jitendra Singh hoped the common public will make maximum use of the mobile app since the mobile phone has emerged as the easiest way of communication from anywhere across the country.
In his address, Secretary, DARPG and Secretary, Department of Pensions & Pensioners' Welfare, Shri Devendra Chaudhary said the mobile app will not only allow lodging of grievances, but the people can also track the status of the redress of their grievance. The DARPG is also carrying out analysis of the grievances and a systematic response is being worked out on how best to address the grievances, he added.
Secretary, Department of Personnel & Training, Shri Sanjay Kothari was also present during the launch function.
The Mobile App for the CPGRAMS is another innovative initiative of the DARPG, the nodal agency to formulate policy guidelines for citizen-centric governance in the country, redress of citizens' grievances, being one of the most important initiatives of the department. The DARPG has been making endeavours to bring excellence in public service delivery and to redress grievances of citizens in a meaningful manner by effectively coordinating with different Ministries and Departments of the Government and trying to eliminate the causes of grievances.
CPGRAMS is a Government of India portal aimed at providing the citizens with a platform for redress of their grievances. Grievances received on this platform are redressed by the concerned Ministry/Department/State. CPGRAMS was launched by DARPG in technical consultation with NIC in 2007. More than 16 lakh grievances have been lodged since January 1, 2012. In last 12 months nine lakh grievances have been lodged and 6.47 lakh disposed off.