Moksh Murgai- Next big thing in cricket?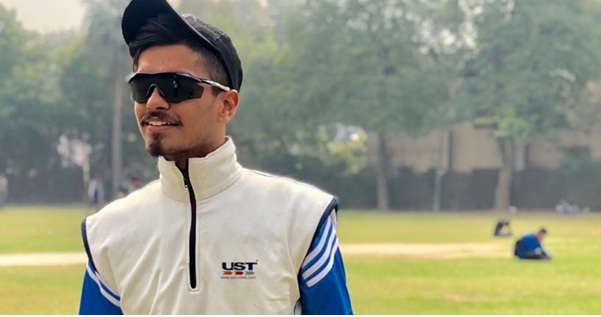 New Delhi, May 24, 2020: The key to success is focus on goals, not obstacles. All successful stories have had many obstacles which the person overcomes and becomes the best. So it is for Moksh Murgai, a 20 years old state level athlete from Delhi. A professional cricketer who is successfully playing cricket at the national level and is showcasing his talent. Moksh was born and brought up in Delhi. He started playing cricket from the age of 7 when he got inspired from the smashing sixes of Sir Dhoni.
From then in his 13 years of journey he has made his remark in the world of Cricket. From playing in sub-junior, junior and senior national levels , he has also represented India in a tournament in Lucknow in 2018. This young champ started playing cricket from the local tournaments in Delhi and league matches. Also playing at zonal and inter- zonal (District) level. Summing up all his scores he has scored more than 30 centuries and 50+ half centuires in domestic circuit. His runs in the last season were more than 1200. Moksh being an all rounder batsman can change the flair of the game with his bowling skills too. Because of his excellent performance he got sponsors/contract from SH sports for 2019-20.
Moksh is a student of Delhi University and has done his schooling from DL DAV School, Pitampura. Moksh Murgai was recently appointed as the Sports President of Delhi university/ DUSU for the year 2019-2020. Not only this he is also the captain of his cricket college team. He has won many tournaments for them too. This lad has also attended Railways Ranji trophy and under-23 camp.
Every morning we have two options, either continue to sleep with our dreams or wake up and chase them. And Moksh is from the lot of waking up and chasing his dreams. From getting up early in the morning and practising for 4-5 hours Moksh has made his game this much strong. His hard work and determination speaks at where he is today.
But when talking about Obstacles he does had one. His back injury came in between  his goal. But furious Moksh defeated it by doing rehab sessions and focusing on his cricket and came back on the field to show his tremendous performances again. Sacrifices for an athlete is must to become successful In his life. Moksh has also sacrificed a lot like not attending close family functions to following a strict diet to maintain his fitness.
Moksh says this game has made him strong both mentally and physically. And he adds , " Success don't come to you go to it."