My old relation with Nanded City – Governor Ch. Vidyasagar Rao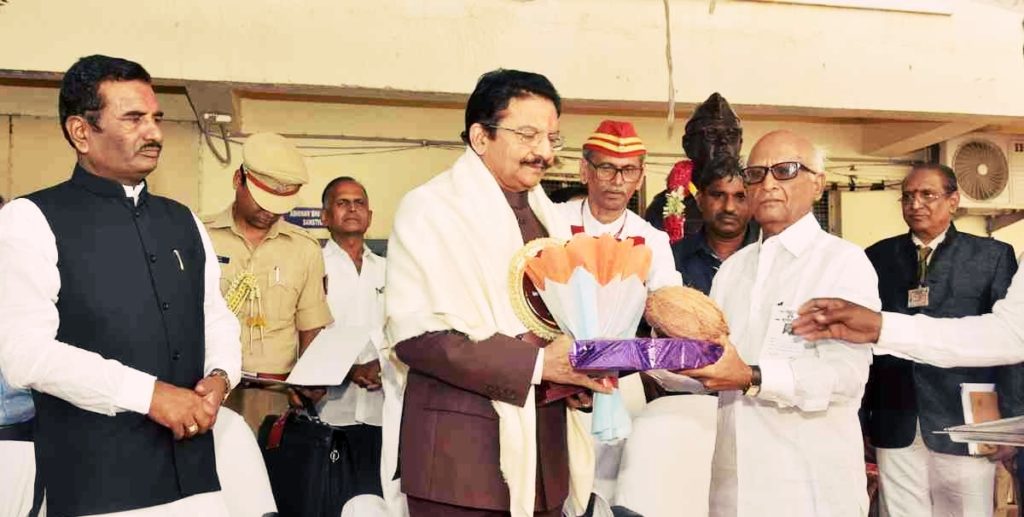 Nanded, Date 3: – "My college education has been completed in Nanded and this is my old relation of the city, this city has given me a lot, I am always indebted to this city," emotional Governor Ch. Vidyasagar Rao said here today.
He was speaking on the occasion of inauguration of the new Administrative Building of Netaji Subhash Chandra Bose College of Abhinav Bharat Shikshan Sanstha. On this occasion, newly elected MP Pratap Patil-Chikhlikar, President of Sanstha Balasaheb Pandey, Director K.M. Joshi, former MLA Omprakash Pokarna, director Kailash Kala were also present.
His Excellency Governor Ch.Vidyasagar Rao further said, Abhinav Bharat Shikshan Sanstha is a sanskars (cultured), disciplined educational institution, and it has made the lives of many people, who have completed their education from this educational institution. It is a matter of great pride that other institutions are trying to improve their standard of education by looking at this ideal educational institution.
Education institutions should try to develop leadership capabilities among students. To overcome social and national issues, these students must be given such education to find solutions. The Governor said that the actual active participation of the students in the campaigns of tree plantation and Swachh Bharat Abhiyan should be increased. Mr.Rao appealed to the office bearers of the sansthan that Prime Minister Narendra Modi has shown the way to make lakhs-crores youths self-reliant through skill development program. Through this initiative, the sansthan should also come forward to implement the skill development program in their sansthan. Under the skill development program, this sansthan should begin various training courses in their premises so that the students can also move to the industry sector for their future, become self-reliant.
In the beginning of the program, The governor has worshiped and paid to tribute Netaji Subhash Chandra Bose's statue by
garlands and flowers.
In the introduction of the program, the President of the institute Balasaheb Pandey gave information about the sansthan's progress report and activities. Professor Shivanikar gave vote of thanks.
At this time, dignitaries including District Collector Arun Dongre, Special Inspector General of Police Ravindra Singhal, District Superintendent of Police Sanjay Jadhav, office bearers of the sansthan, professors, teachers and other staffs were present.