Nation is immensely proud of the Indian Air Force, says President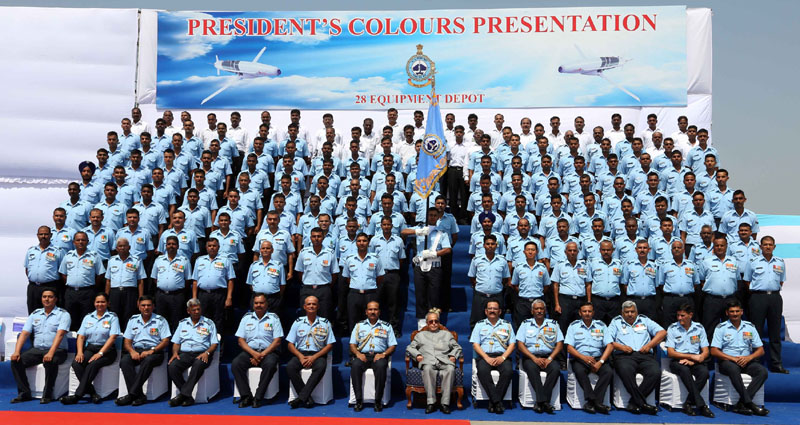 The President of India, Shri Pranab Mukherjee presented the Standard to 119 Helicopter Unit and Colours to 28 Equipment Depot of Indian Air Force today (March 4, 2016) at Jamnagar, Gujarat.
Speaking on the occasion, the President said the Indian Air Force has been fulfilling its role of protecting the Indian skies and safeguarding the sovereignty of our Nation. It has also provided aid to the citizens during natural calamities. The resilience and tenacity displayed by the Air Warriors is a great source of encouragement and a matter of pride for the Nation. The massive relief operations undertaken by the Indian Air Force during many natural calamities in the past is all etched in our memories. Such operations are shining examples of the fortitude and determination of its gallant air warriors. The Nation is immensely proud of the Indian Air Force and remains eternally indebted to the air warriors for their selflessness and sacrifice.
The President said India is firmly committed to peace and equality for which we need an effective deterrence and a strong defence force. The nation is striving hard for all-round economic growth and social empowerment of its citizens. However, we remain equally focused on building capacity to defend our sovereignty and territorial integrity. Our Armed Forces give us confidence in the Nation's ability to face any aggression and safe guard its interests. The Air Warriors, who stand before us today, epitomise the grit and the determination in fulfilling their responsibilities by upholding the highest standards of service ethos.