ONE DAY WORKSHOP ON "RECENT TRENDS IN DEVELOPMENT OF POWER CARTRIDGES AND CANOPY SEVERANCE SYSTEM" HELD AT ARDE, PUNE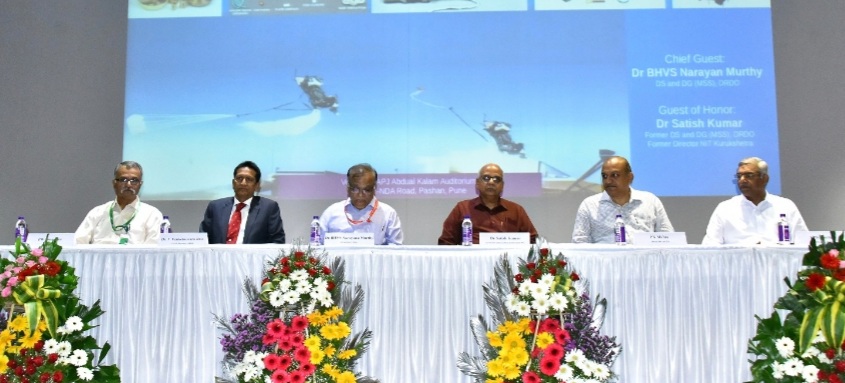 Pune, 28th April 2022: In line with GOI's guidelines, DRDO is opening up new era of Defense Critical technologies to the intellectual citizens especially to  researchers, faculty members, bright students, start-ups, MSMEs and Entrepreneurs for motivating them to contribute towards 'Atmanirbhar Bharat'. In a series of workshops/ seminars, group discussions as a part of 'Azadika Amrit Mahotsav' ARDE, a premier DRDO Establishment in Pune had arranged one-day workshop on 'Recent Trends in Development of Power Cartridges and Canopy Severance System' on 25 April 2022. The event was attended by over 250 participants from engineering and science colleges, representatives from MSME & start-ups, service officers from Indian Navy and Indian Air force, ordnance factories and DRDO.
Theory, design, manufacturing, quality, reliability, test and evaluation of various steps of power cartridges were deliberated. Case study of Transfer of Technology of 'Canopy Severance System' were discussed along with the prospective of design agency ADA, manufacturing agency HAL and the Indian Air Force. Topics included the state-of-the-art canopy severance system, various power cartridges technology for life saving of pilots in emergency, bomb and store release mechanisms, harness cutting, stage separation cartridges, signal cartridges for military and space applications.
The workshop was inaugurated by Dr. BHVS Narayana Murthy, Director General (Missiles and Strategic Systems) Hyderabad, in the auspicious presence of Shri. P K Mehta, DS & DG (Armament and Combat Engineering), guest of honor Dr. Satish Kumar, Former DS & DG (MSS) and former Director NIT- Kurukshetra, Shri. KPS Murthy, OS & Director HEMRL and Dr. V Venkateswara Rao, OS & Director ARDE.  Shri Pravin W Sonawane, Scientist 'G' & Convenor of the workshop  proposed the vote of thanks.