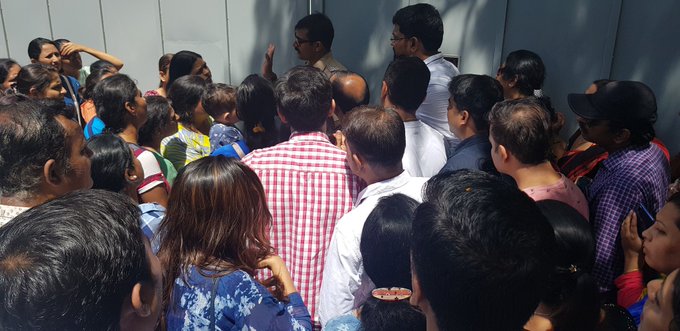 Chinchwad (Pune), July 22, 2019 : Hundreds of parents gathered outside the Global Indian International School (GIIS) in Chinchwad on Monday to protest against the management's decision to change the name of the school as Elpro International School. The campus is located in Shridharnagar locality of Chinchwad.
Police had to be called to control the situation as the school management was nowhere to be seen. Many parents took to social media to update about the situation. The parents said that they paid lakhs of rupees to get admission in the school as GIIS is international brand, having schools in various countries. The parents believe that the move will impact career of students as it is being done in the middle of academic session.
Pramod Raina tweeted, "Very shocking & surprising move by #giis & #elpro. They suddenly discontinued the school frachisee in the mid term leaving no options for parents.. and no communications at all. @PMOIndia @HRDMinistry must take some actions."
Rakesh Boonlia tweeted, "Huge crowd at school since morning with police, govt auth, and media houses. School mgmt abscond"
On Sunday, over 500 parents gathered to discuss potential actions against the school mgmt. No representation from govt & politicians yet, he posted on the social media.
Swapnil Mehta added, "Extremely unethical and unprofessional behaviour from @GIIS_sg #giis #elpro by leaving 5200 students in turmoil and playing with their future."
Pallavi Patil posted, "Feeling betrayed by #giis, such a big name but didn't even care to inform parents about on going process of #elpro. Suddenly sending one mail and that's it, very unprofessional approach. @HRDMinistry and @PMOIndia please take some action."
Sarang Padmawar tweeted to PMO, "Sir – Requesting your attention with the issue of GIIS Chinchwad school. The GIIS franchise overnight decided to leave the school in middle of academic year. Need strong laws and regulations around this. Please acknowledge. #giis @HRDMinistry"
Dr Amrita Vohra, school principal, said, "We appreciate the concerns that some parents have had on the developments over the last few days. Whilst we have been a franchisee school of GIIS since 2011 we have over the years independently established this school, benchmarking it as a premium institution.The board affiliation, the curriculum, the leadership, the teaching staff and the school policies will remain unchanged. While any change can be challenging we are confident that our efforts and initiatives will allow us to improve the scholastic experience and allow us to further invest on the infrastructure to continue to make this the award winning school that we are. We are excited about our new performing arts theatre, new sports arena and our commitment to embed technology and sciences in whatever we do. We will continue to communicate with all our stakeholders in the coming days and weeks."
Another official from the school said, "The decision of GSF to terminate the franchise agreement is surprising in light of the fact that we are one of the most successful schools in the portfolio. Over the years we have been requesting for assistance on a variety of fronts that include academic guidance, teacher training, IT support for website and the communication portal in addition to a considerate look on the franchisee fees that does not impact their other schools."
Earlier the school principal Dr Amrita Vohra had written to the parents, "In life "Change is the only constant"; those who can embrace change flourish and those who do not perish. The senior management team at Elpro International School "EIS" (erstwhile franchisee of Global School Foundation "GSF" ) has been a franchisee of GSF since 2011. Through this journey we have learnt from our franchisors and on balance I must say that there have been good and
not so good aspects as in any relationship. Over the last few years my team and I had ambitions for EIS far greater than what the GSF umbrella would have provided or allowed for. There has been a sea change in the way education is delivered and we have seen the recent introduction of Robotics, Engineering, Artificial Intelligence, Distance learning, Virtual classrooms, Augmented Reality, Virtual Reality and Globalization as being embedded in the
educational system today."
Her messaged further stated, "My team at EIS wanted to continue to institute technological and infrastructural changes that were sometimes at odds with the structure that we were operating within. I have just returned along with some of my team members from the UK with the prestigious certification of "Great Places to Study" conferred to me by Global League Institutes at the Houses of Parliament in London. Your school has recently opened the state of the art Multi purpose hall and performing arts theatre that some of you have seen and will now host all future theatrical performances. We decided to embed the award winning Engineering for Kids program [EFK] free of cost as we believe in the power of learning how to think systemically and systematically in the coming age. We have launched the new sports arena which allows our students to not only pursue their sporting passions but give their camaraderie a platform to nurture. And finally our creative director and her team are working on our very exciting new logo that stands for the colors we represent and our motto of becoming a "Powerhouse of learning" which will be shared with you soon. It is natural that some of you may have some questions on logistics, curriculum and the like. I am available to address your queries and we would be rolling out more communications in the coming days and weeks to keep you abreast of the developments."
The principal's message stated the following points :
1. The CBSE affiliation stands valid for the school and the process of name change will be completed in due course of time and will be intimated to you.
2. All the faculty and administrative staff are connected to this campus and will remain the same
3. The communication platform will be moved to Edusprint App and hence it is requested that this App is downloaded at the earliest.
4. The caution money of Rs 20,000/- that you had deposited with this campus remains with this school and will be refunded when your ward graduates of Class XII or when you apply for the Transfer Certificate.
5. The school fee is for the experience that is generated for a learner and the same will remain the same
6. The things that shall change are
1. School Name and Logo- Elpro International School
2. Uniform & ID cards
3. Medium of Communication- ERP
4. Email IDs
7. The things that remain specific to this campus are
1. CBSE Affiliation and registration for Board exams.
2. Leadership- Dr Amrita Vohra- Principal
3. Teaching Faculty
4. Administrative and Support Staff
5. Staff phone numbers
6. Security and Safety measures
7. Transport Facility management
8. Housekeeping and Operations services
9. Admission procedure & policy
10. Fee and Fee Policy
11. Caution Money of Rs 20,000 remains with the school
12. Post Dated Cheques for school fee issued in the name of GIIS remain valid
13. School policies & Code of conduct
14. Books and curriculum
15. Awards and Recognitions received by the school
16. Teaching methodology
17. Academic support programs
18. Individual development plans for students (IDPs)
19. Effective communication through emails, mobile app, newsletter, e-diaries, school
annual dossier- Odyssey, Social Media etc
20. Rewards and recognition for students
21. Practice assessments and worksheets
22. Remedial and support measure for students
23. STEM learning
24. Artificial intelligence, EFK, Robotics
25. Events and Activities like MUN, World Scholar's Cup, Student led Conferences,
Fiesta Fantasia, Melange, Yashaswi, Concerts, Sports Day, Lecture Series
26. After school activities
27. Hobby Clubs
28. Career Counselling partnership with Univariety
29. Life skills with School Cinema
30. MUN expertise with SkillSphere
31. Community service partnership with Goonj, Sneh Foundation & STOP SARAM
32. Infrastructural support and developments at Chinchwad campus- labs,
Auditorium, Sports field
33. Exposure to practical learning by way of field trips, lab activities, industrial visits