Pimpri Chinchwad Crime Branch Arrests Car Thief, Crack 13 Cases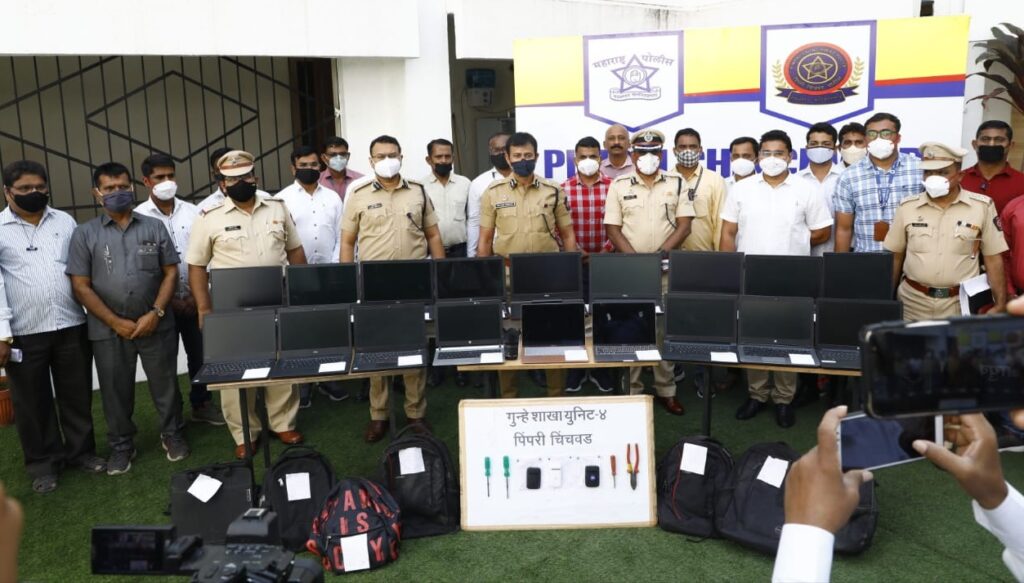 Mehab Qureshi
Pimpri, October 29, 2020: In a major operation, the Pimpri Chinchwad Crime Branch(Unit 4) arrested three men, bringing 13 car break-ins and theft cases to light.
The arrested persons have been identified as Basu Jagdish Chavan (45), resident of Hadapsar, Baban Kashinath Chavan (31), and Nana Manik Pawar, both residents of Mumbai.
According to police, an unidentified person broke the Honda city car's glass and stole a bag loaded with cash worth Rs 50,000 from the back seat of the vehicle. This incident happened on October 6, 2020, between 2:30 pm to 2:45 pm on the Bangalore-Mumbai Highway service road near Bitwise Company.
The complainant Milind Ralegaonakar (48) lodged an FIR against unidentified persons with Hinjewadi police station.
Under the guidance of Senior Police Inspector Mohan Shinde (Crime Branch Unit 4), policemen Vasudev Mundhe and Adinath Ombase monitored as many as 100 CCTVs and found a suspicious motorcycle wandering near the robbery scene.
The staff then tracked down the vehicle's number plate, and it was learned that the motorcycle belonged to the accused Ganesh alias Nana Manik Pawar, a criminal on record in Mumbai.
Learning about the situation, Assistant Police Inspector Deshmukh, along with the squad, nabbed the accused Ganesh in Mumbai. While questioning him, the names of the accused Baban and Basu came to light.
A squad was immediately formed to arrest both the accused. A trap was laid, and Basu was arrested in Suraksha Nagar, Hadapsar. While the other accused hid in the farms of Solapur. However, with the help of local Police, Baban was arrested as well.
The probe revealed that 30 car break-ins were done under Pune and Pimpri Chinchwad jurisdiction. Laptops, cash, and other items were stolen by their accomplices Rajesh Prakash Chavan (35), resident of Mumbai, and Maruti Mani Pawar (40), resident of Solapur.
It has also come to light that the stolen items were sold in Solapur, and two other names have come under the police scanner. The names of the accused are Amol Sahebrao Gund and Suleman Yakub Tamboli, both residents of Solapur.
Items worth Rs 13 lakh (approx) recovered
Both the accused Suleman and Amol have been arrested, and items worth Rs 12,77,620 have been found under their possession. These items include-7 dell laptops,5 HP laptops,4 Lenovo laptops,2 Apple MacBook, in total 18 laptops. Three wifi dongle,1 Canon camera lens,7 laptop bags, and 2 motorcycles have also been seized.
Previous criminal record
The three accused are notorious criminals, with 24 cases registered against the accused Ganesh Pawar in Mumbai city. A total of 14 cases have been registered against accused Basu Chavan in Mumbai and Pune city, and he was also banished from Mumbai city after which he had settled in Pune. Also, nine and 13 cases have been registered against Rajesh Pawar and Maruti Chavan, respectively.
Lost and found
Out of the 18 laptops seized, six laptop owners have been found. An appeal has been made to contact Pimpri Chinchwad Crime Branch (Unit-4), if a laptop has been stolen by a car break-in.
The action was taken under the guidance of Pimpri Chinchwad Police Commissioner Krishna Prakash, Additional Commissioner of Police Ramnath Pokhale, Deputy Commissioner of Police (Crime) Sudhir Hiremath, and Assistant Commissioner of Police (Crime) Rajaram Patil.
A team led by Senior Police Inspector Mohan Shinde, Assistant Police Inspector Ambrish Deshmukh, Assistant Sub Inspector Awate, police personnel Pravin Dale, Narayan Jadhav, Sanjay Gaware, Dadabhau Pawar, Adinath Misal, Policemen Santosh Aswale, Tushar Shete, Laxman Adhari, Gaus Nadaf, Vasudev Munde, Shavarsiddh Pandhare, Prashant Saeed, Sunil Gutte, Tushar Kale, Suresh Jayabhaye, Ajinath Obase, Dhanaji Shinde, Sukhdev Gawande, Gonvid Chavan, Nagesh Mali, Rajendra Shete and Atul Lokhande of Technical Analysis Crime Branch took action.
Follow Punekar News: