Poets in Pune protest against CAA,NRC,NPR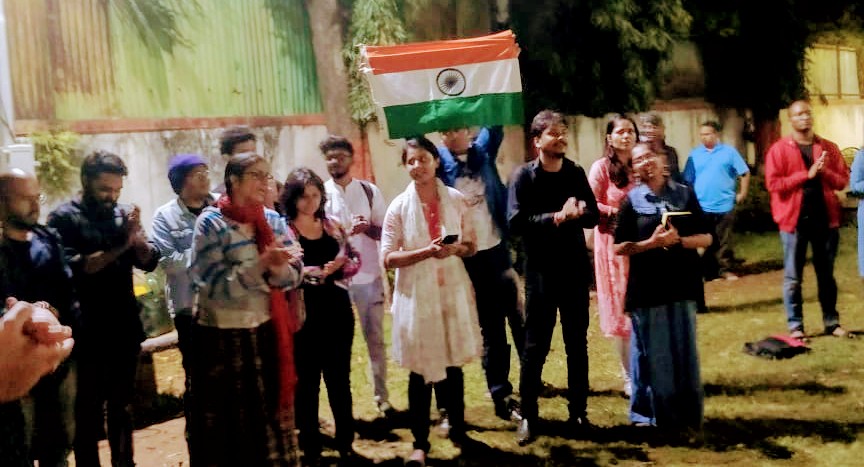 Pune, January 13,2020: Poets of Pune came together to protest against Citizenship Amendment Act (CAA), National Population Register (NPR) and National Register of Citizens (NRC) policies along with the violence that ensued following the protests.
The event was organised by the poets in an individual capacity. The crowd turnout for the protest was a decent sum and the attendees stayed on till late in the evening at the Sambhaji Garden on JM Road.
The protest began with a reading of the Preamble and the actual bare text of the CAA.
The session was divided into three segments:
1. Clearing the myths and misinformation.
2. Reciting the original works of the 12 poets, including the performances of songs written by two artists present there, Deepak Peace and Gaurav Kadu (Gaurav being from Fiddlecraft).
3. Reciting the revolutionary works of yesteryear poets like Faiz Ahmed Faiz, Dushyant Kumar, Gorakh Pandey, and others.
The session ended with a sing-along of Habib Jalib's Dastur and Faiz Ahmed Faiz's Hum Dekhenge, concluding with the national anthem. The poetry protests will continue to be held in the coming days across various locations.Since the poets are doing it on an individual basis, they will be needing support for acquiring venues, preferably in the open space, they said.
Veteran poet Shamim Abbas graced the poetry protest with his presence all through the session and spoke at length about unity and harmony amongst citizens.