Port led development can create 1 crore jobs over the next 5 years – Nitin Gadkari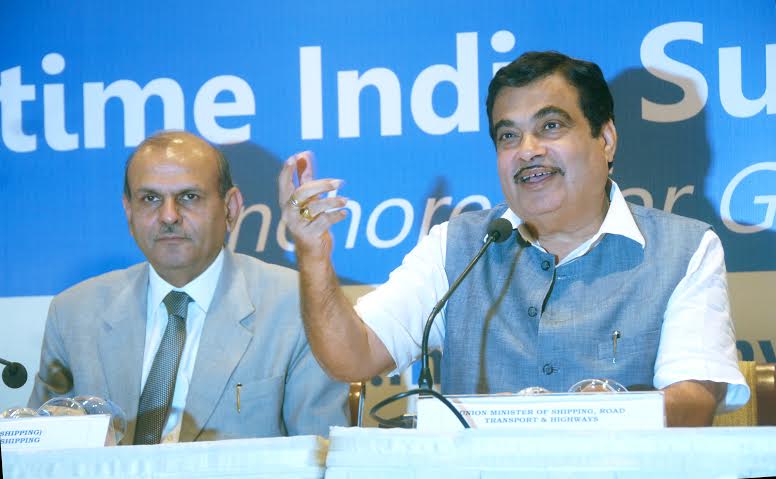 Union Minister for Shipping, Road Transport and Highways, Mr. Nitin Gadkari has said port and shipping sector has potential to create nearly 40 lakh direct jobs and 60 lakh indirect employment opportunities over the next 5 year.  Speaking at the curtain raiser press conference of the India Maritime Summit in Mumbai today, Mr. Gadkari said "all the developed countries have a vibrant port sector, but unfortunately, our maritime sector remained neglected over the years, despite having immense potential". 
Recalling Prime Minister Mr. Narendra Modi's thrust on port led development, Mr Gadkari said his Ministry has drawn up projects with investment potential of Rs 1,20,000 crores, (US $ 18 billion) which will be showcased at the India Maritime Summit to be held in Mumbai from 
April 14 -16
.  These include 27 port based industrial clusters, promotion of coastal shipping and development of inland waterways as part of the Sagarmala Project.
The Minister said there was an urgent need to bring down the logistics costs to make our products as well exports competitive. "Currently logistics costs in India is about 18%, while it is 10-12% in Europe.  Our focus is on bringing down the logistics cost from 18% to 12% by developing coastal shipping and inland waterways. Needless to mention that water transport is the cheapest mode of transport" he added.
Giving details of major initiatives taken by the Government, Mr. Gadkari said new green field ports will be coming up at Vadhavan, near Dahanu in Maharashtra, Colachal near Kanyakumari in Tamilnadu and Sagar Island in West Bengal, entailing an investment of Rs 20,157 crores.  He said port modernization programmes, hinterland connectivity and multi-modal logistics also offer huge investment opportunities.  The Shipping Ministry has also identified two marine clusters at Saurashtra in Gujarat and Ennore, Tamilnadu for ship building, ship repair and recycling.  Similarly coastal steel clusters are planned at Southern Maharashtra and Northern Tamilnadu. Mr. Gadkari said the development of 111 inland waterways also offers huge investment opportunities in the fields of dredging, fairway development and terminal construction.
Secretary, Shipping Mr. Rajive Kumar said the Maritime India Summit in Mumbai will be inaugurated by the Prime Minister on April 14th which will be followed by Investors Summit, panel discussions, B2B and G2B meetings. South Korea is the partner country of the Summit.  Delegates from 57 countries are expected to attend the summit.
"The Summit will showcase latest technologies, products and services as well as help disseminate knowledge about the latest development in Maritime Sector. It will provide a platform to interact closely with leading global Maritime organisations to explore business opportunities and create awareness about opportunities in India" Mr. Kumar added.