Pune: 3218 new Corona patients in Pune district, 1189 cases in PCMC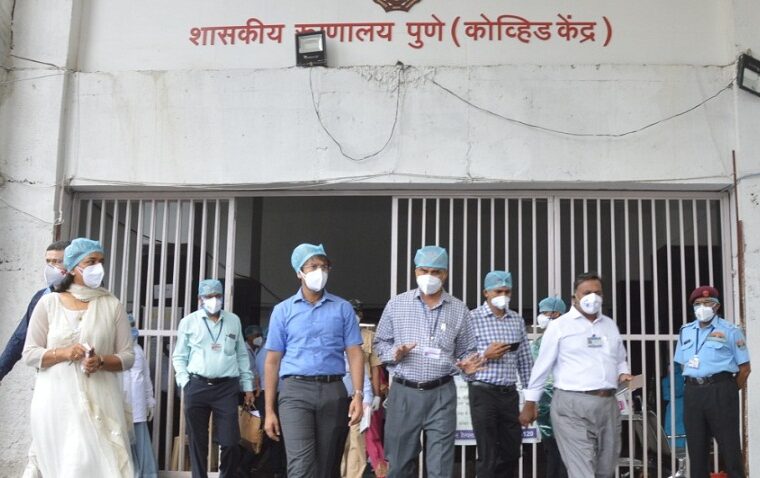 Pune, July 23, 2020: With the addition of 3218 fresh Coronavirus positive yesterday, the total number of COVID cases has reached 59,634 in Pune district. Also, 1296 patients got discharged from hospitals while 62 people died.
Dr Bhagwan Pawar, District Health Officer (DHO), said that out of total 59,634 patients 37323 have been cured and discharged from hospitals, while 1504 people have died. There are still 20,764 active patients undergoing treatment including 782 critical patients. Most of the patients are from Pune Municipal Corporation (PMC) area. Till now 344,802 people have been tested in the district.
The 59,634 patients include 39,060 from Pune Municipal Corporation (PMC) area, 13,746 from Pimpri-Chinchwad Municipal Corporation (PCMC), 7725 from Pune Cantonment, 497 from Khadki Cantonment, 186 from Dehuroad Cantonment, 4215 from Pune rural areas and 1205 from municipal council (Nagar Parishad) areas in the district. In the Pune rural areas and Nagar Parishad, there are 57 from Baramati town, 248 from Daund town, 30 from Jejuri, 129 from Talegaon Dabhade, 168 from Chakan, 225 from Saswad, 36 from Lonavala, 47 from Shirur town, 71 from Alandi, 45  from Junnar town, 36 from Indapur town, 16 from Bhor town, 18 from Vadgaon, 79 from Rajguru Nagar, 1721 from Haveli, 270 from Junnar rural, 228 from Shirur, 400 from Mulshi, 78 from Velha, 125 from Bhor, 30 from Baramati rural, 81 from Indapur rural, 165 from Daund rural, 272 from Maval, 503 from Khed, and 188 from Ambegaon, 154 from Purandar .
In Maharashtra, a total of 5552 patients were discharged while 10,576 new Covid-19 cases were reported yesterday. The current count of COVID19 patients in the state of Maharashtra is 337,607. As of yesterday,  there are 1,36,980 active cases in the state. 1,87,769 patients have been cured until now.
According to the Union Health Ministry, the number of Coronavirus positive patients has reached 1,238,635 across the country. Out of this, 782,606 have been cured and discharged from hospitals while 29,861 people have died and one patient has migrated out of the country. There are still 426,167 active patients undergoing treatment in hospitals across the country.
Follow Punekar News: