Pune: 33rd Senior National Fencing Championship: Kerala overall champions in Women's section; Services in Men's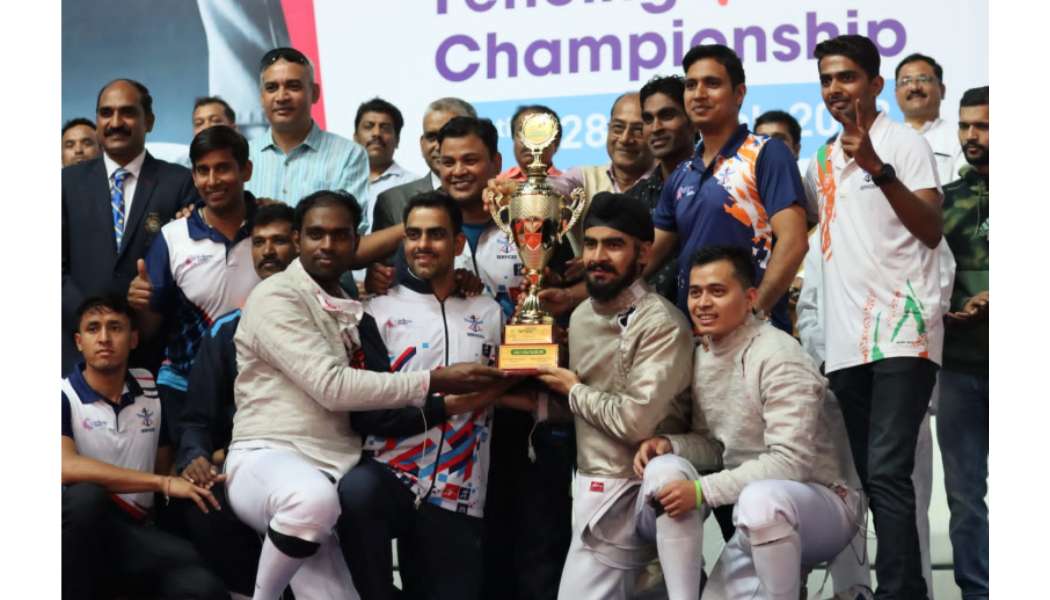 Pune, March 28, 2023: Kerala emerged as overall champions in the women's section while Services were the overall champions in the men's section in the 33rd Fencing Senior National Championship, which concluded at the Shiv Chhatrapati Sports Complex in Mhalunge-Balewadi here on Tuesday.
The tournament was hosted by Fencing Association of India (FAI) in association with Maharashtra Fencing Association (MFA) and DY Patil International University, Akurdi, Pune.
Kerala with 29 points emerged as the overall winners, while Haryana with 20 points were overall ranked second while Tamil Nadu with 15 points were ranked overall third.
In the Men's Category, Services Sports Control Board (SSCB) were the overall champions with 34 points while Manipur was ranked overall second with 21 points. Hosts Maharashtra and Madhya Pradesh, were overall ranked joint-third, as they had seven points each.
Para-badminton players Pramod Bhagat, Sukant Kadam, FAI Secretary Rajeev Mehta, FAI Treasurer Bashir Ahmed Khan, MFA Working President Prakash Katule, MFA Secretary Uday Dongare, MFA Treasurer Rajkumar Somavanshi, former FAI Secretary Ashok Dudhare, Vice Chancellor, DY Patil International University, Akurdi, Dr Prabhat Ranjan, DY Patil Sugar Factory Vice Chairman B D Kotkar, DY Patil International University, Akurdi, Pune Campus Director Rear Admiral (Retd) Vikram Kumar among others were present for the concluding ceremony and awarded prizes to the winners.
Earlier, Rajasthan's Karan Singh Gurjar bagged the gold in the men' saber category of the Championship.
Gurjar prevailed over Maharashtra's Abhay Shinde 15-9 in a lop-sided summit clash to emerge victorious. Shinde settled for the silver medal. Gurjar made the final after getting the better of Gisho Nidhi Kumaresan Padma (Services) 15-14 in the first semi-final, which went down the wire.
The second semi-final between Abhay Shinde and Vishal Thapar (Jammu and Kashmir) was also a close affair. Abhay Shinde defeated Vishal Thapar 15-14. Thapar and Gisho were awarded the joint bronze medal.
Meanwhile, in the Senior Men's Team Epee category, Manipur bagged the gold medal after beating Madhya Pradesh 45-36 in the final.
Manipur made the final after defeating Telangana 30-28 in a pulsating semi-final, while Madhya Pradesh defeated Haryana 45-37 in the second semi-final.
The Manipur team consisted of Jetlee Chingakham, Bhivekar Gurumayun, Amar Khongbantabam and Satish Thongam.
In the Senior Men's Team Saber category, Services bagged the gold medal after beating Punjab in the final by 45-29. In the semi finals, Punjab edged past Maharashtra 45-40 while Services defeated Jammu and Kashmir 45-23.
Meanwhile, in the Senior Team Women's Epee category, Haryana comprising Sheetal Dalal, Tannu Gulia, Taniksha Khatri and Prachi Lohan, edged past Kerala 45-31 in the summit clash, to bag the gold medal. Kerala team comprising KP Gopika, KV Anushree, MS Greashma and Raj PK Aswathi settled for the silver.
Punjab was a no challenge for Haryana in the first semi-final, as they easily romped home 45-30, while Kerala in the other semi-final got the better of Chandigarh 45-38.
In the Senior Team Women's Foil category, Manipur emerged as the champion, after beating Kerala in the final 45-44.
Mina Naorem, Anita Phandom, Thoibi Devi and Sonia Waikhom were part of the gold-medal winning Manipur side. Manipur had made the final after overhauling Gujarat 45-35 in their semi-final, while Kerala defeated Maharashtra 45-26 in the other semi-final.
Key Results:
Men's Saber:
Semi-Finals:
Karan Singh Gurjar beats Gisho Nidhi Kumaresan Padma 15-14
Abhay Shinde beats Vishal Thapar 15-14
Finals:
Karan Singh Gurjar beats Abhay Shinde 15-9.
Men's Team Epee:
Semi Finals:
Manipur beats Telangana 30-28
Madhya Pradesh beats Haryana 45-37
Final:
Manipur beats Madhya Pradesh 45-36
Men's Team Saber
Semi-Finals: Punjab beats Maharashtra 45-40
Services Sports Control Board beats Jammu and Kashmir 45-23
Finals: Services Sports Control Board beats Punjab 45- २९
Women's Team Epee:
Semi Finals: Haryana beats Punjab 45-30
Kerala beats Chandigarh 45-38
Final:
Haryana beats Kerala 45-31
Women's Team Foil:
Semi-Finals:
Kerala beat Maharashtra 45-26
Manipur beat Gujarat 45-35
Final:
Manipur beats Kerala 45-44