Pune City firm pledges some percentage of their earnings to help restore biodiversity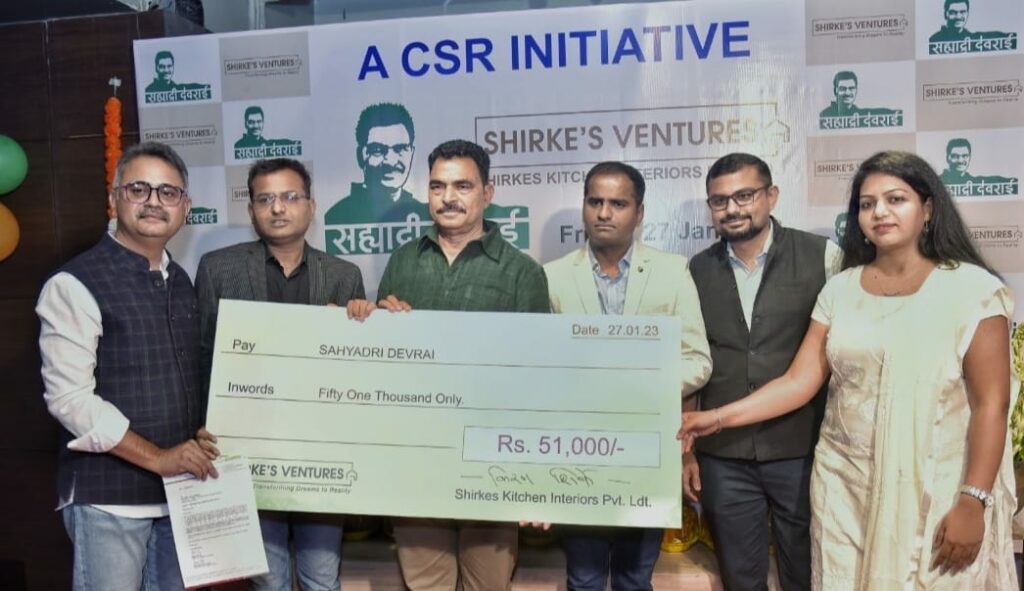 Pune, 30th January 2023: Taking into consideration the depleting greenery in the state, Pune-based Shirke's Ventures, a well-known Kitchen and Wardrobe manufacturing company will extend financial help to Satara-based Sahyadri Devrai Foundation, a leading environmental NGO, for the next 10 years, to take the necessary steps to restore biodiversity and give back to nature and the society. This financial help will be given to Sahyadri Devrai, led by acclaimed actor Sayaji Shinde in every quarter of a financial year and the minimum amount per year would be Rs. 12-15 Lakhs.
For this, Shirke's Ventures as a part of its CSR activity accordingly, has signed an MoU with the Sahyadri Devrai Foundation, which is known for converting barren lands in Maharashtra into dense forests by planting various indigenous trees and doing other environmental work. The MoU was signed at Shirke's Ventures office at Bhandarkar Road in the presence of Actor Sayaji Shinde, Kiran Shirke, Amol Shirke, Kaustabh Hinge, Tejal Ingale and Abhishek Kharosekar.
Speaking on the occasion, Sayaji Shinde said, "The work of Sahyadri Devrai Foundation started with the belief that the first commitment should be toward one's own mother and the second toward Mother Earth. We are trying to create awareness among the citizens with the aim that everyone should plant trees equal to their age. We are delighted to have organizations like Shirke's Ventures join us in this effort. This will further strengthen our mission to reach out to as many citizens as possible."
Kiran Shirke said, "As citizens, we always wanted to do something in regards to social work. Sayaji Shinde's work towards environment conservation is noteworthy and considering its benefit to future generations, we on behalf of Shirke's Kitchen & Wardrobes and Shirke's Windows under Shirke's Ventures also decided to participate with his organization."