Pune: COEP Technological University Honors Distinguished Alumni at 31st COEP Abhiman Awards; Ex-Student Donated Rs 10 Cr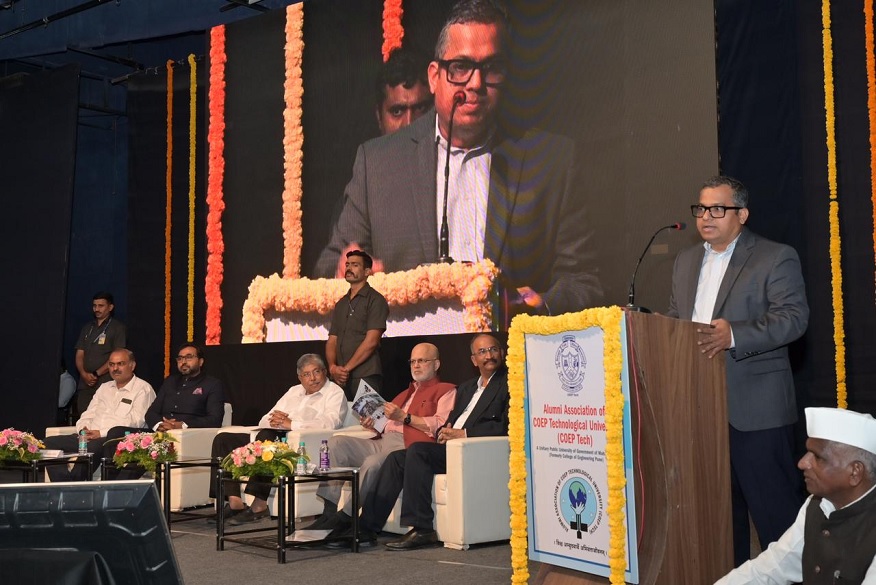 Pune, 16th September 2023: COEP Technological University in Pune celebrated the achievements of its distinguished alumni at the 31st COEP Abhiman Awards in a grand ceremony. Maharashtra Higher Education Minister Chandrakant Patil graced the occasion as the Chief Guest.
The event, held on September 14, saw the participation of prominent personalities, including Dr. Pramod Chaudhari, Chairman of the Board of Governance, Prof. S. D. Agashe, Vice Chancellor of COEP Tech, Bharat Gite, President of COEP Alumni Association, and Dr. Sujit Pardeshi, Secretary of the COEP Alumni Association.
The prestigious COEP Abhiman Awards were presented to several accomplished individuals:
IPS Vivek Phansalkar: Commissioner of Police, Mumbai

Ashish Achlerkar: Founder and CEO of NearU Services, US

Arun Kudale: Technocrat Entrepreneur, Educationist, and Social Worker

Chetan Dharia: Founder and MD of Anant Defense Systems Pvt. Ltd

Ravi Bhatkal: Managing Director, India Element Solutions Inc and Cookson India Pvt. Ltd

Vijay Patel: Outstanding Scientist, TD (CLAW), Aeronautical Development Agency, Bangalore
Bharat Gite, President of COEP's Alumni Association, proudly shared the institution's rich heritage and legacy, emphasizing that COEP is the 3rd oldest engineering college in Asia, with a history spanning 170 years. Over 50,000 engineers educated at COEP now contribute globally, making India proud. During his address, he acknowledged Ashish Achlerkar for his generous donation of Rs 10 Cr to the university.
Gite outlined the institution's plans for 2023, including the introduction of Chair Professorship, construction of a new hostel, support for the development of a second COEP location at Chikhali, and collaborations with top American and European universities. He also expressed gratitude to the parents of Late Gauri Shah, who donated Rs 5 Cr to COEP.
Ashish Achlerkar, a recipient of the award, delivered an inspiring speech reflecting on his professional journey. He stressed the significance of organizational core values and foundations in building successful businesses. Achlerkar expressed his commitment to future entrepreneurial endeavors focused on long-term, purpose-driven value creation.
Achlerkar remarked, "Storied institutions like COEP have contributed to creating many leaders in various professions. It is humbling and an honor to be recognized. There is a lot more, long-lasting and far-reaching impact to achieve, and this serves as a genuine encouragement towards those efforts."
Mumbai Police Commissioner Vivek Phansalkar, another awardee, fondly shared memories of his time at COEP, while playfully requesting improved canteen facilities to the audience's amusement. He also recalled efforts during his student days to uphold the institution's honor.
Minister Chandrakant Patil, in his address, highlighted the government's focus on implementing the National Education Policy (NEP), particularly promoting education in the mother tongue and vocationalization of courses. He discussed initiatives to create Marathi content for various streams and mentioned software developed by IIT Mumbai to translate English into Marathi in real time.
Patil emphasized the importance of internships and industry participation in education. He cited the development of the indigenous corona vaccine as an example of how research and innovation can benefit both the country and international relations.
Addressing the gathering, Dr. Pramod Chaudhari shared details about COEP's new research and innovation park, slated to be located 25 kilometers from the current campus. He urged COEP alumni to contribute their expertise and mentorship to current students and underscored the importance of research and innovation in education.
Prof. S. D. Agashe, VC of COEP Technological University, stressed the deep bond between alumni and their alma mater. He lauded Dr. Jaldeep Daulat's significant donation of Rs 1.1 crore to establish an ultramodern AR-VR Lab. Prof. Agashe encouraged alumni to engage with current students, fostering mentorship and skill development.
The ceremony also acknowledged current COEP Tech students for their academic excellence. Dr. Sujit Pardeshi delivered the vote of thanks, and Piyush Goregaonkar served as the program's anchor.
The COEP Abhiman Awards celebrate the remarkable achievements of COEP alumni, reinforcing the institution's commitment to academic excellence, innovation, and mentorship. Piyush Girgaonkar served as the master of ceremonies for the event.