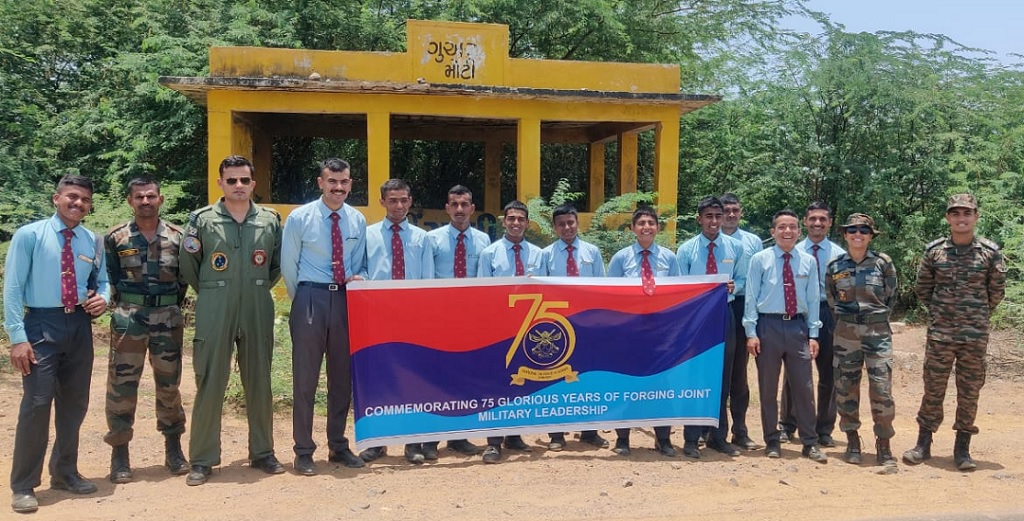 Khadakwasla, 5th June 2023: To commemorate '75 Glorious Years of National Defence Academy (NDA)', hikes to four corners of India are being undertaken by cadets and staff of NDA, Pune. The hike to Guhar Moti (western most corner of India) was undertaken from 30th May to 5th June.
A team comprising of 12 NDA cadets (including two girl cadets) and three instructors started from Pune on 30th May and interacted with defence personnel/ school children en-route. On 3rd June, the team visited Guhar Moti village and interacted with the local population. The team also visited Army Public School (APS), Bhuj and interacted with NCC cadets. The students were motivated and inspired to join the Armed forces. This hike also gave an opportunity to the participating NDA cadets to see the remote corner of India and military installations around it including a visit to Air Force Station, Bhuj.
"These hikes would promote awareness about National Defence Academy along with showcasing the role of the Armed Forces in nation-building and securing the borders. The celebrations and activities to commemorate 75 glorious years of NDA will continue for the remaining part of the year and culminate on 16th January 24", NDA stated in a press release.