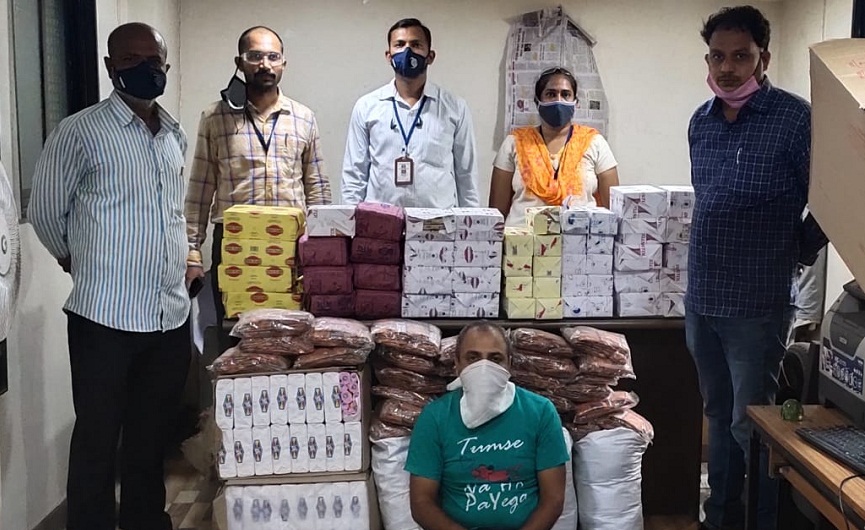 Mehab Qureshi
Pune, May 18, 2020: The government has officially confirmed lockdown 4.0. Despite the liquor sale being permitted in all the zones, the demands of the people have been increasing day by day. Several families have reported about the rise in rates on grocery items. As the market rises, the prices are also being increased.
Furthermore, the demands of smokers about cigarettes can be seen on various social media platforms, where the users complain about the demand of cigarettes that has lead in an increase of rates, the cigarette which used to cost Rs 15 is now being sold for Rs 50. This black marketing of cigarettes has become a cause of concern.
Acting on a tip-off received by Police Constable Sachin Chandan, the Anti-Narcotics Cell (East) of Pune City Police Crime Branch raided Gopi General Stores at Azad Chowk in Lohegaon Gaothan and seized cigarettes worth Rs 4.3 lakhs. Police have arrested the shop owner Nitin Satyanarayan Agarwal (43), a resident of Lohegaon Gaothan. He is accused of black marketing of cigarettes and tobacco products.
The action was taken under the guidance of DCP (crime) Bachchan Singh, a team led by Police Inspector Vijay Tikole, ASI Arjun Divekar, Police Naik Ramchandra Yadav, Police Naik Hema Dhebe, Constables Sachin Chandan and Yogesh Mohite.
An FIR has been registered with Vimantal police station against the accused shop owner Agarwal for offences under relevant sections of the Cigerrrates and Other Tobacco Products Act, Indian Penal Code, National Disaster Management Act and Maharashtra Covid-19 Rule. The accused has been handed over Vimantal police station for further investigation.