Manswi Panchbhai
Pune, 5th June 2022: After two years of lockdown, Pune finally witnessed its Annual Pride walk this year, on Sunday, June 5.
Organised by Bindu Queer Rights Foundation and Yutak LGBTQ support group, the parade routed through the heart of the city and covered JM road, FC road, and Shirole Road. Students, activists, NGOs, and LGBT+ community members who were prepping for this day the whole year showed up in large numbers to make it a success. The city was capped by rainbow flags and colourful floats from the LGBTQ community and its supporters.
Also Read Pune University Gets State Of The Sports Facilities, Rs 10 Crore Fund Approved for Swimming Pool And Savitribai Phule Memorial
Pune has been celebrating Pride since 2011 and this year marked the 10th year of the parade with "Marriage rights for all" as the theme.
While talking to the reporters about this year's parade, Chairman of the Bindu Queer Rights Foundation, Bindumadhav Khire said, "After the decriminalization of article 377, we demand marriage rights for all. Homosexual couples do not get the legal rights and protection as others. This is our main focus point of the parade. Similarly, there are many other pending demands for which we all have gathered".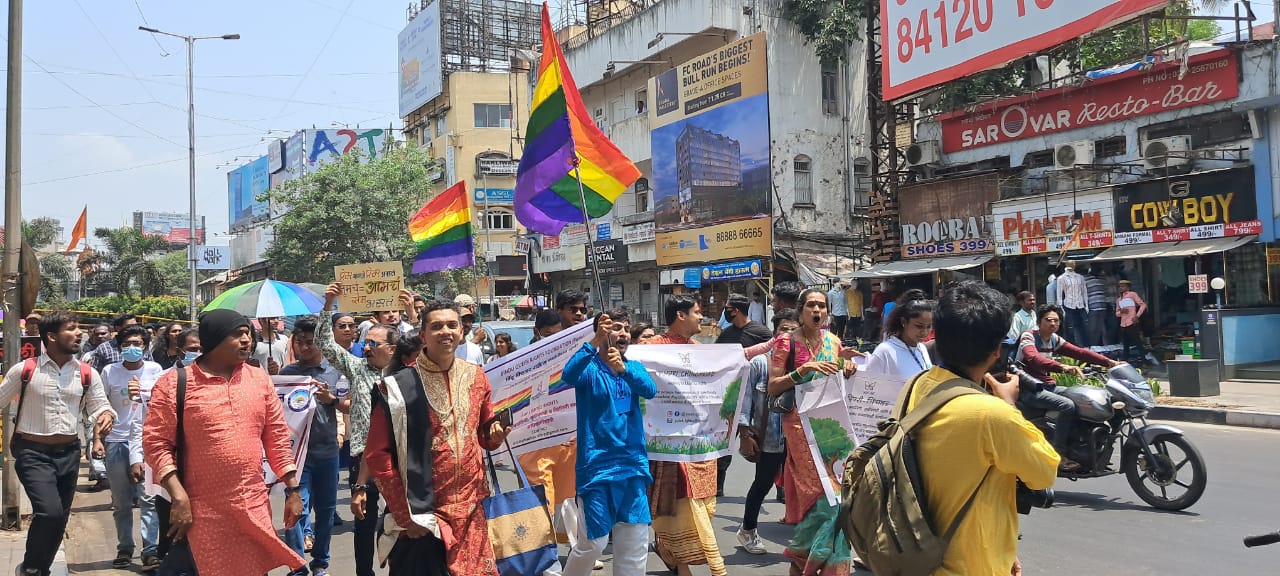 He further added that they are raising their demands from the perspective of basic human rights and constitutional rights so they must be met.
Youngest in the crowd, 10-year-old Veera Chauhan came to support LGBTQ+ and was happy to attend her first-ever parade.
Talking about the difficulties the community faces, Veera said, "I don't think anybody should bully anyone, it's their choice. All I could do is support people around".
The parade started at Chatrapati Sambhaji Maharaj Garden on JM Road at 12:30 pm with Khire's welcome speech where he thanked everyone for coming and supporting the community. He talked about how society is becoming more inclusive giving instances of changing educational curriculums and growing LGBTQ+ NGOs. Following this, Khire paid respects to revered personalities of Pune: Chhatrapati Shivaji Maharaj, Mahatama Phule, Savitribai Phule and Fatima Shiekh as well as Chhatrapati Shahu Maharaj. COVID warriors from the Pune Police and medical fraternity were then felicitated.
Activist Sonali Dalvi was also felicitated for her years of efforts in the fight for transgender rights. She is currently pushing for the need for public toilets for transgenders.
The walk finally started after the recitation of the preamble of the Indian Constitution. Founder of Yutak LGBTQ support group, Anil Ukarande headed the walk with a huge rainbow flag. Soon the streets echoed with slogans of "Hip Hip Ho Ho, Homophobia has to go" and "prem mhanje prem asta, tumcha amcha same asta".
As the dress code for this year was 'traditional', some came wearing sarees, some in nauvaris, some in dhoti kurta, and others in rainbow-coloured clothes. From guys wearing high heels to girls with short hair, from drag queens wearing make-up to gays in plain dress, from rainbow flags to face tattoos, banners to balloons, there were all kinds of colours celebrating different individualities. Even in these diverse colours, the marchers looked like one united tribe priding themselves and celebrating each other.
Representing the spirit of the Pride Vinod Kanoje, a member of the community and member of the 'Humsafar' Trust said, "I am gay and proud of it. Pride means our passion, fervour, and freedom, that is what we are here for."
93.5 Red FM, which has India's only LGBTQIA+ radio show, also participated in the parade and while talking about marriage rights RJ Mandy said, "if you have given them the right to love who they want, then now give them the right to marry who they want. Mr. or Mrs. it should be nobody's business. I think we are moving in this direction, though there is a delay we are moving in the right direction."