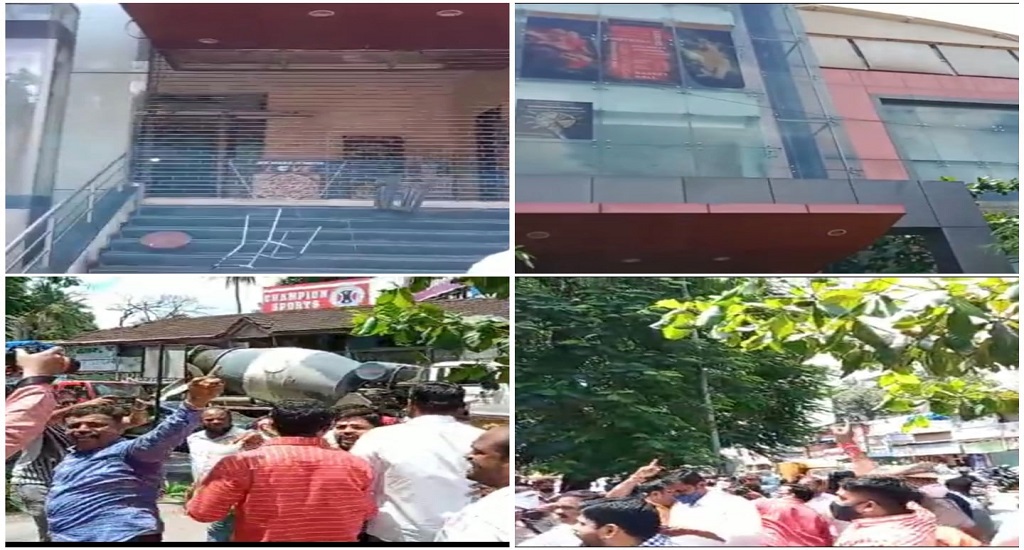 Pune, 24th August 2021: Union Minnister Narayan Rane's controversial remarks about Chief Minister Uddhav Thackeray are now reverberating across Maharashtra. Shiv Sainiks have now become aggressive and have started agitations and demonstrations in many places. Shiv Sainiks have also hurled stones at R Deccan Mall in Pune, which has caused a lot of damage to the mall.
Shiv Sainiks also vandalized the BJP office in Nashik by throwing stones. Under the leadership of Yuva Sena leader Varun Desai, the young soldiers tried to enter Rane's bungalow in Juhu, Mumbai, shouting slogans. At that time, Rane supporters and youths came forward and created huge tension in the Juhu area. Clashes broke out between Yuvasena and BJP workers in Mumbai. Police in riot gear stormed a rally on Friday, removing hundreds of protesters by truck. Yuva Sena activists have started agitation by hitting the residence of Union Minister Narayan Rane.  Shiv Sainiks are also protesting in Sangli and have set down their protest against Rane's poster. Here too, a strong sloganeering against Rane can be seen.
Meanwhile, aggressive agitations of Shiv Sainiks are being seen in Nashik, Chiplun, Sangli, Aurangabad, and Mumbai. In Chiplun, BJP and Shiv Sena workers have come face to face. After Rane's Jan Ashirwad came to Chiplun, now there is big aggression between BJP and Sena workers. A large number of activists from both parties also chanted slogans. Meanwhile, a large police contingent has been deployed to stop the activists on both sides.
Unusual and very bizarre way of protesting in Pune
In Pune, Shiv Sena workers released poultry birds in BJP, and BJP workers countered it by feeding milk to a cat outside sena office on Tuesday.
Slogans and placards calling Narayan Rane "komdi chor" were staged while carrying live birds, referencing to poultry shop that rane used to run in Mumbai's Chembur, when he was part of Shiv Sena led by Bal Thackeray.
The BJP countered it by feeding a cat with milk in an attempt to embarrass and humiliate shiva sena that has turned "from a tiger to a kitten".