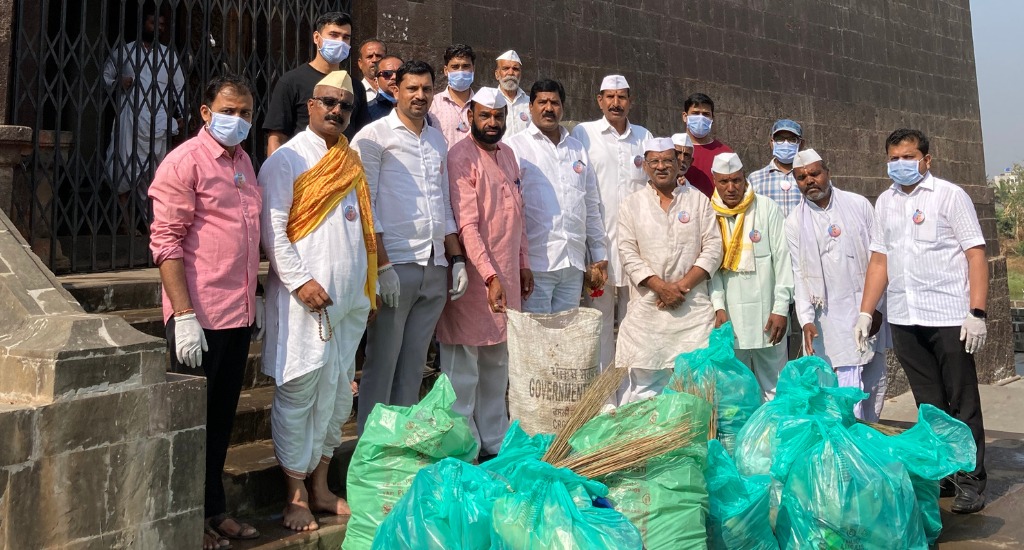 Pune, 26th March 2023: Shree Devdarshan Yatra Samiti, Pune was inspired by the thought "Nisarga hachi varg, Ekmev Swarga. Sushobhuya Marg Sevabhave" and decided "Shree Tirtha Kshetra Cleanliness Convention" which has been started from "Shree Kshetra Dehu" with a spirit of service.
On the occasion of the recently held Jagadguru Sant Tukaram Maharaj Beej ceremony, on the Phalgun Ekadashi Committee members freely offered cleanliness services in the temple premises at Dehu and in the Holy Ghat area on the banks of the Indrayani River.
At the time, the local citizens also participated in the campaign and promoted this sacred work by responding to the call of the committee members. Every person present who contributed to this activity was honored with a certificate and indoor plants on behalf of the committee.
On learning that some youths are spontaneously carrying out cleanliness drive in the temple area, Shree Kshetra Dehu Mandir Sansthan Trustee Manik Maharaj More, President Nitin Maharaj More, Ex-Trustee Ramsheth More, Ex-President Madhukar Maharaj More took its notice.
Vibrant vibrancy of the area was achieved by separating wet and dry solid waste from the surrounding area and decomposing it in a properly planned waste collection centre. Appreciating the same, the institutes duly honored the committee. On behalf of the committee, the institutions were also felicitated with badges of honour. By telling some interesting information about the history of Jagadguru Shri Tukobaray, they all wished him to continue working in the religious field.
All the devotees who came to darshan on the occasion of Ekadashi appreciated the holy intention of the committee to keep the pure message of cleanliness before the society.
After seeing all the deities of Jagadguru Santshreshtha Tukaram Maharaj Mandir Sansthan, all the present committee members were engrossed in the melodious bhajan service on behalf of "Swaranjali Mahila Bhajani Mandal" from Bijlinagar (Akurdi). Women members of this board were also honored by the committee.
On behalf of the committee, distribution of snacks was also organized to the devotees who came to have darshan on ekadashi. Elderly Mauli of Warkari Dindi blessed everyone for this.
Babanrao More along with his wife and former Sarpanch of Dehu Gram Panchayat Shubhangitai More and Bapusheth More got valuable support to achieve this pure objective of the committee. On behalf of the committee, the present members thanked everyone.