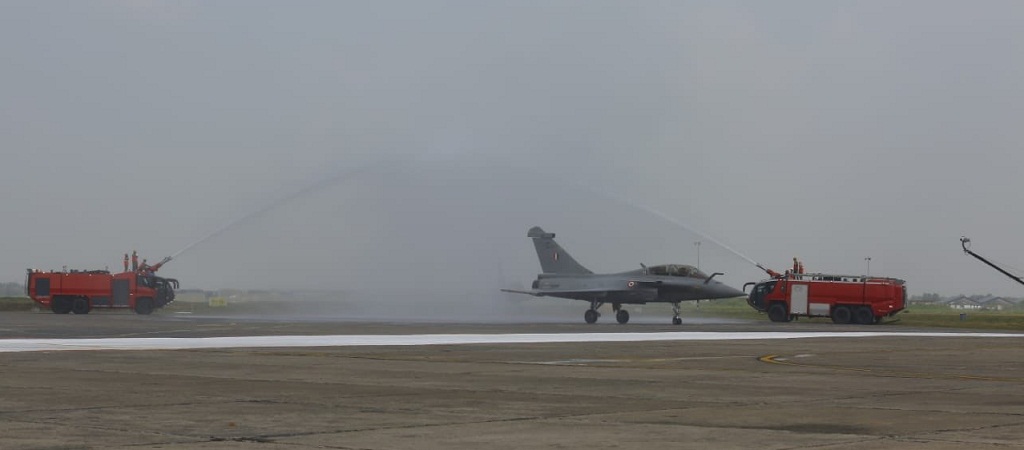 Karishma Jha
Ambala (Haryana), September 10, 2020: In the midst of tension on the China border, the Indian Air Force (IAF) today formally inducted five multirole Rafale fighter jets. The aircraft became part of the IAF's Golden Arrow Squadron in a spectacular ceremony at the Air Force Station in Ambala. On this occasion, the Defence Minister of France along with Indian Defence Minister Rajnath Singh were present in the ceremony.
This day is considered to be very important for the Indian Air Force, which is facing the shortage of fighter aircraft, as Rafale which has the strength to change the balance of power in the region, will be the pride of its fleet of fighter aircraft on this day.
Rafale was given a water canon salute at Ambala. Rafale aircrafts flew at a very low speed during the air display at Ambala Air Force Station. The flypast started at the Ambala airbase after the completion of Sarvadharma Puja.
The ceremony was also attended by General Bipin Rawat (Chief of Defence Staff), Marshal RKS Bhadauria (Chief of Air Force), Dr Ajay Kumar (Defence Secretary), Dr G Satish Reddy (DRDO chairman) and several senior officers of the armed forces.
On this occasion, the French delegation is represented by Emmanuel Lenin (Ambassador of France to India), Eric Autlette (Air Force Chief), Deputy Chief of the French Air Force and other senior officers. A large delegation of several French defence industry executives was also present there, including Eric Trappier, president and chief executive officer of Dassault Aviation, which built Rafale aircraft, and MBDA chief executive Eric Beranger. The event will be followed by a bilateral meeting of the Indian and French delegations.