RARA AVIS AND SHRIYA BHUPAL'S 'SHRIYA SOM' LABEL, UNLEASHED VARIED FASHION DIRECTIONS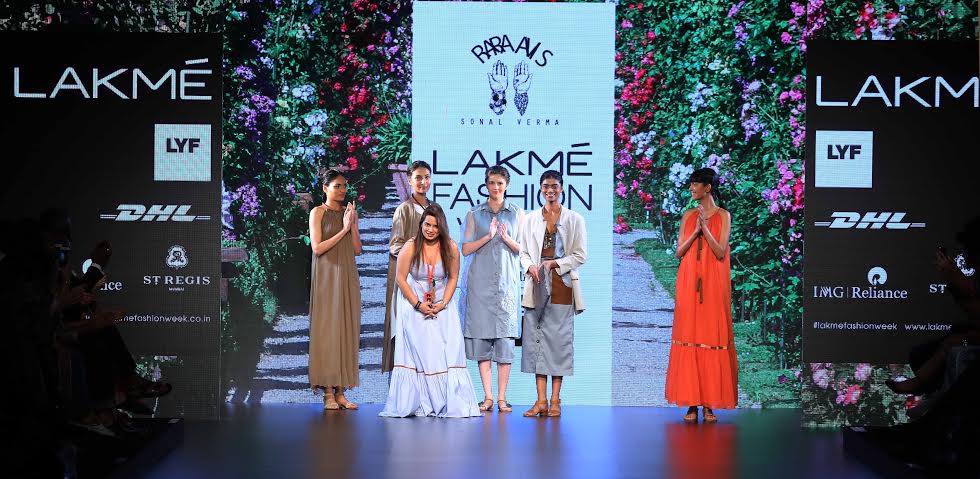 THE EBB AND FLOW OF FASHION BY SHRIYA BHUPAL CREATED EXCITEMENT ON THE CATWALK AT LAKMÉ FASHION WEEK SUMMER/RESORT 2016
Mumbai, 2nd April, 2016 – Making a stunning debut at Lakmé Fashion Week Summer/Resort 2016, Shriya Bhupal's 'Shriya Som' label collection 'Ebb and Flow' offered a variety of fashion statements. From a mix of sheer and opaque fabrics, to strong and flowing shapes, the line moved to fringes and floral contrasts. The colour card for the feminine separates played a rainbow medley as clear water, delicate muslin, onion pink, nude and tangelo were contrasted skilfully with metallics like gold, silver and then onto deep midnight blue and stark black.
The collection swayed with tantalising ease as structured dresses, swirling skirts, sexy cropped tops, bandeaux capes and seductive gowns completed the formal wear story. Detailing was restricted to tonal and textured contrasts, which gave Shriya's inspiration – the journey of the life of flowers – a distinct impact.
The collection divided into two distinct sections, opened with the embroidered fantasy of multicoloured flowers that cascaded all over the garments. Jumpsuit with bustier and scarf, will-power navy embroidered dress, white mini, ink blue gown, the drop-shoulder asymmetrical grey floor-kissing number and the ruffled gown were stunning entries. Ending this very glamorous and feminine section were the poncho blouse with beaded fringes with lehenga and the white gown with a long sleeved classic bolero.
When it came to Red Carpet glamour, it was the crystal fringes section that dazzled on the ramp with spectacular mini and gowns. The swaying sparkling silver fringes appeared on shoulders, yokes, capes and blouses, giving the ensembles a regal, elegant flavour.
Ujjwala Raut the gorgeous international super model, glided in a gold beaded off-shoulder long sleeve blouse with a floor sweeping lehenga. Encrusted with 1500 gold paillete, 60 rose gold Swarovski flowers and a gold fringe, the creation was breathtaking with a five feet trail.
The couture collection 'Ebb and Flow' by Hyderabad designer Shriya Bhupal's 'Shriya Som' label had that luxurious attention getting appeal that will be desired by a variety of buyers.
SONAL VARMA'S LABEL RARA AVIS SHOWCASED A FLORAL FASHION FANATASY AT LAKMÉ FASHION WEEK SUMMER/RESORT 2016
From designer Sonal Varma and her label 'Rara Avis' it was a truly blissful floral fantasy at Lakmé Fashion Week Summer/Resort 2016. Called 'Fleurir' the fresh as the spring flower line, had a fragrant fashion scent about it, as the models glided down the ramp. The soft greens and shades of nature recreated the flora and palms of the French country side.
Gentle hues like white with pale blue moved to mid tones of tangerine and then to darker shades. The look was very Parisian with relaxed summer wear making a fashion impression for the warmer climes.
Opening the show with a white long maxi and cool striped long shirt, the collection moved to a sharply cut pencil skirt and blouse. The drawstring dress and over shirt, wide pants, backless top, patch print smock and paper bag skirt, was a sure-fire hot weather stunner. Jumpsuits had a checked base, while the silk kimono with pants, long tent with a sheer cover, the cutaway shoulder maxi, capris with tunic and the final figure hugging midi skirt with a hip length jacket and blouse was a perfect combination of style and elegance.
Discreet embroidery in transparent glass nylon and thread had overlapping leather in muted pastel tones.
Graceful and flowing silhouettes were vibrant with fluidity as a great blend of natural fabrics was seen serenely designed through the show. Using cottons in varying counts along with linen and summer silk, there was a marked sense of organic elegance through the collection.
The summer appropriate accessories were jewellery in Nappa and full grain leather as well as the bags in easy shapes like satchels and drawstring carry bags and wristlets.
When the hot dusty winds of summer blow through the day, Sonal Varma's 'Rara Avis' label offered 'Fleurir' a collection that will give a calm, elegant look to the wearer.