​"Research in cancer Treatment on strong footing; needs support from all stakeholders" – Rao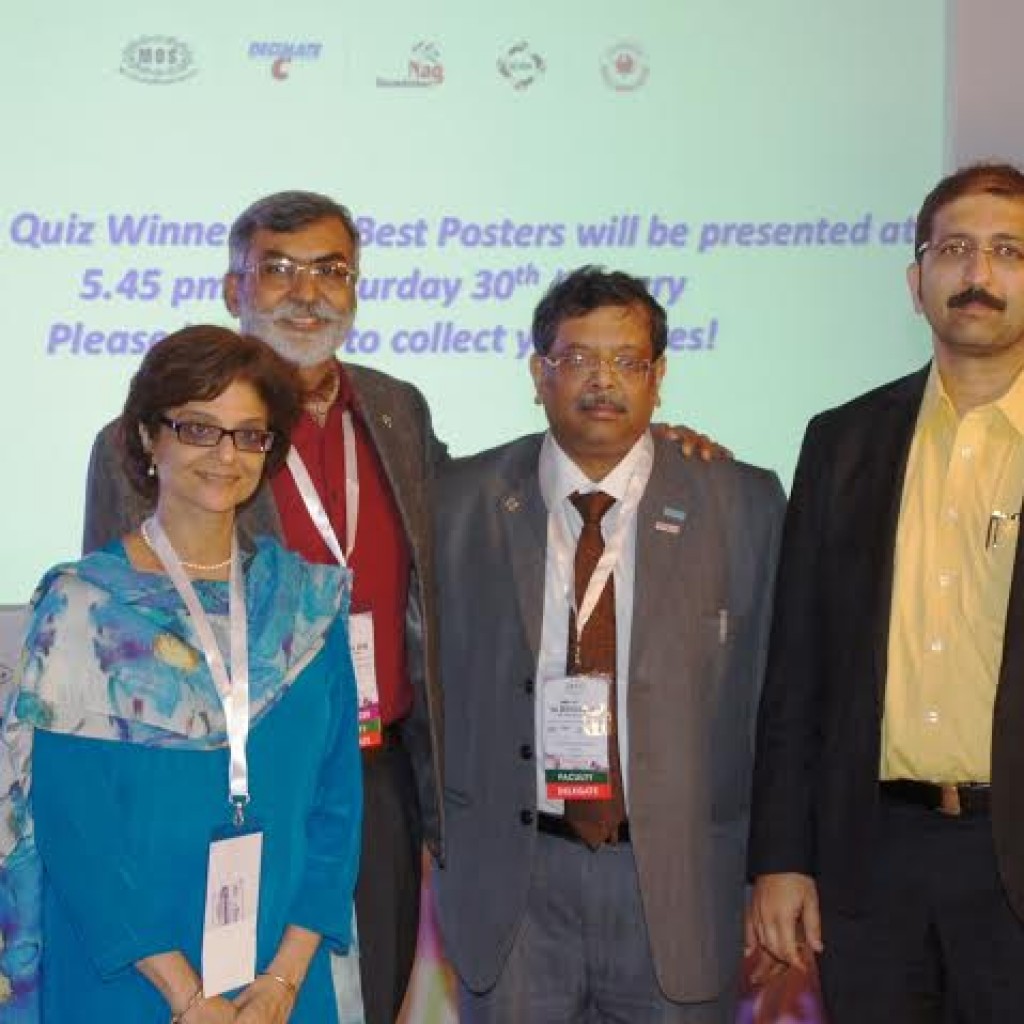 Pune, February​ ​
​2: "Scientists engaged in cancer research have achieved major breakthroughs in learning about the behaviour of cancer cells as compared with the behaviour of normal healthy cells and there is hope that methodologies to eliminate or tame cancer cells in a patient's body by preventing them from multiplying", said Prof. B.J. Rao, Senior Professor at the Tata Institute of Fundamental Research.
Prof Rao was addressing a gathering of researchers and medical practitioners at the inauguration of 1st MOSCon (Molecular Oncology Society Conference) – a two-day conference supported by The Molecular Oncology Society, Decimate C, The Nag Foundation, ICON and Indian Society of Medical & Paediatric Oncology. He delivered the keynote on 'The future of Basic Cancer Research in India and its relevance to the Clinician.' Dr. Shona Nag, the Organising Secretary, MOSCon, Dr. Purvish Parikh, Founder and President of the Molecular Oncology Society, Dr. G S Bhattacharyya, Convenor and Dr. A A Ranade, Chairman Scientific Committee were also present at the occasion.
The two-day conference which had as its theme 'Decoding the genetics of common cancer in India,' mustered attendance of medical doctors, science researchers and representatives of genetic analysis laboratories from India and overseas. The delegates were expected to debate role of molecular oncology in the treatment of common cancers such as the breast cancer, lung cancer, oral cancer and other common cancers.
In the Keynote, Prof. Rao mentioned that for a long time, the entire focus has been on treating or curing cancer but now a positive stress is visible on the area of prevention and the early indications about the success of such research are encouraging. He also added that the research in this area is under way in institutions which get funding from government departments and it will be a great encouragement if private sector pharmaceutical companies also support the effort to find preventive methods to stop cancer incidence.
Speaking on the occasion, Dr Shona Nag said, "The objective behind holding this conference is to get together cancer researchers and Oncologists on a common platform and encourage a dialogue, Cancer Genetics and Genomics is a new field for all of us – technology in the form of Genetic testing, Genetic Profiling, Circulating tumour cells has developed at an amazing rate, However the practical use of this technology in the clinic has lagged behind. Given the limited infrastructure for formal education in this area of cancer treatment, most knowledge comes for doctors through such debates and international publications and conferences. It is therefore necessary that all concerned meet up and exchange their knowledge and share experiences."
Delivering a dynamic lecture on Precision Medicine in Cancer, Dr Purvish Parikh shared a message on the future of cancer care.
Organising a workshop on new technologies in Genetics and Genomics, MOScon received huge participation of students within and outside Pune. Several senior oncologists like Dr James Mackay, Clinical Geneticist, UK, Dr Tariq Moghul, Foundation Medicine – a large Genomic company, UK, Dr Shaheenah Dawood, UAE and many more from all parts of the country were also present. Dr Rajiv Sarin from Tata Memorial Centre conducted an actual Role Play session of genetic counselling for Breast, Ovarian and Colon cancers.