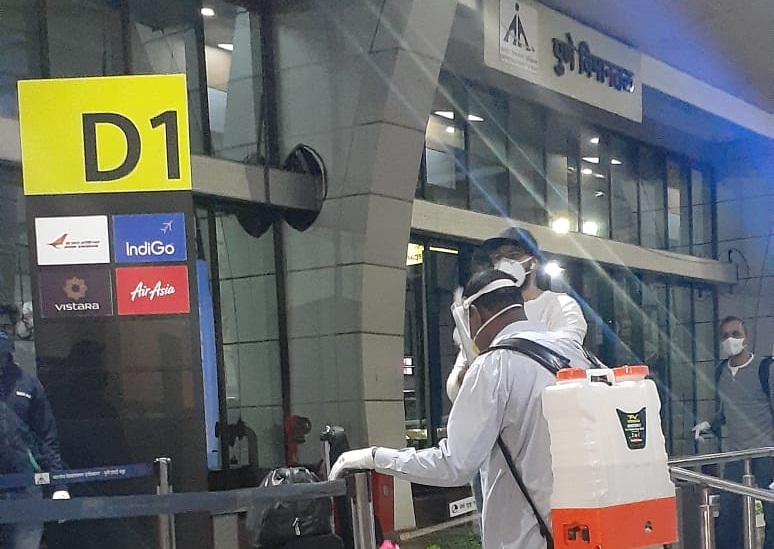 Mehab Qureshi
Pune, November 24, 2020: The Maharashtra state government has made it mandatory for people to carry RT-PCR COVID negative test report if they are coming from Delhi, Goa, Rajasthan and Gujarat.
All the test reports will be checked before boarding the flight, informed Pune Airport Twitter handle. Keeping the concern of tests in mind, Pune Airport has also made the testing facility available at the premises of the airport. The testing will cost Rs 1600 including GST.
"No cash transaction will be allowed, and the airport authority has requested to pay only via card or wallet", the airport authority stated.
Maharashtra government has issued the following guidelines for Domestic Air travel:
1) All domestic passengers travelling from airports in NCR of DELHI, States of Rajasthan, Gujarat and Goa shall carry RT_PCR negative test report with them before boarding and show it to the teams at the arrival airport. The Airports Authority of India is requested to check for the report before allowing the passengers to board the flight.
2) The RT-PCR sample collection should have been done within 72 hours of the scheduled time of landing at Airports in Maharashtra.
3) Passengers NOT having the RT-PCR test reports fulfilling conditions above in 1 and 2, shall compulsorily undergo RT-PCR test at the concerned airports, at their own cost. The Airport shall arrange the testing centres and charge the passengers directly for testing.
4) Only after undertaking the test, the passengers will be allowed to go home by Airport Operator. The Contact information and address shall be collected from all passengers who undergo tests at the airport by Airport operator to facilitate contact, in cast the test report comes positive.
5) Passengers whose report comes positive will be contacted and treated as per the existing protocol.
6) The concerned Municipal Commissioners will be the Nodal Officers for the same and ensure that the above instructions are followed strictly.
Coronavirus: Are You Traveling To Maharashtra? Carry RTPCR COVID Negative Report If You Are Coming From These States
Follow Punekar News: