Sadhu Vaswani International School (Pradhikaran, Pimpri) celebrates Raksha Bandhan at QMTI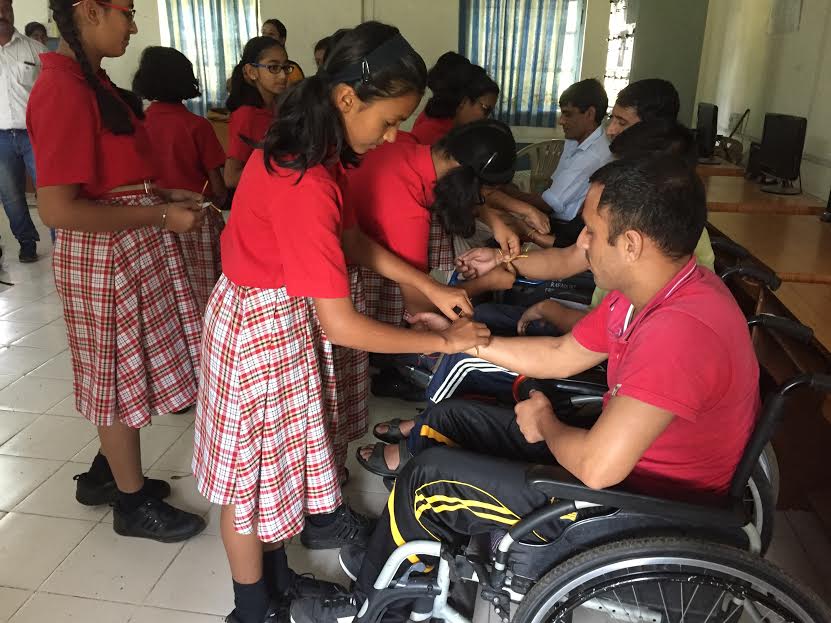 Before the visit, the children were explained about the role that soldiers and armed forces play in the protection and safety of a nation. The girls tied Rakhi to the war injured soldiers at the Institute. The soldiers were war injured and can't take part in the war again due to disabilities. They are trained in various skills at this institute and then they occupy them in different jobs in the army.
The school children were so touched by stories from the lives of soldiers when they heard them and realized how safe everyone is because of them. The soldiers were also touched by the gesture of the children.
Two of the injured soldiers shared their experience of meeting the Spiritual Head of Sadhu Vaswani Mission, Rev. Dada J.P. Vaswani in the past.  "Uss Mahatma ko humara Pranam dena. Ve Sant hain", they said to the children (Give our obeisance to the Mahatma, he is a saint).
The children also gave a box of sweets to each soldier. "One of the soldiers also mentioned that the small sisters so lovingly have got rakhis made by their hands for us. They thought of us for this blessed occasion. We are unable to express how we are feeling at this moment," reported the Principal, Ms. Aarti Patil.