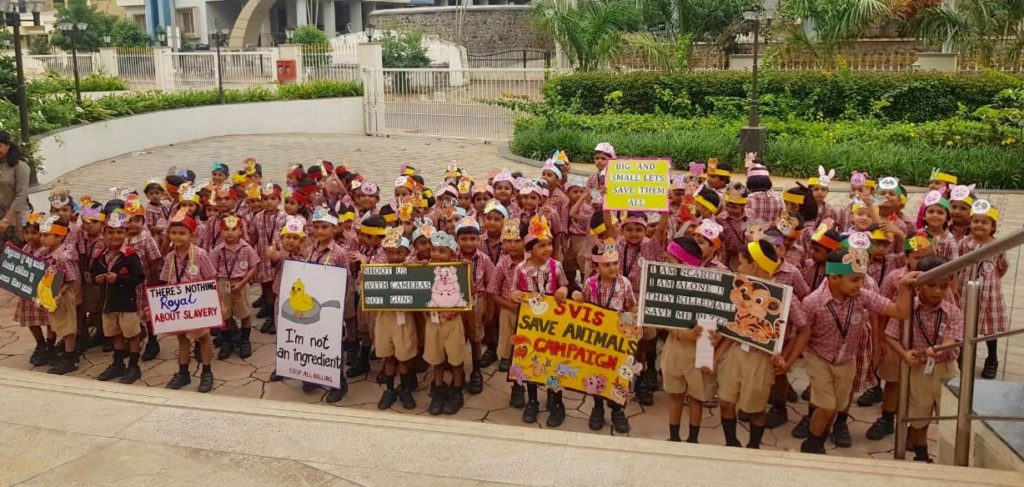 Pune, October 4, 2018 : The students of St. Mira's Primary Schools, Pune and Sadhu Vaswani International School, Pradhikaran took out a rally today, October 4, 2018, for the love and compassion towards animals and their rights.
The anniversary of St. Francis of Assisi, a nature lover and patron saint of animals is observed as World Animals Day. The Mission Primary schools have been celebrating this day since the 1950s in the city of Pune. This activity is inspired by Rev. Dada J.P. Vaswani's teachings that say, "Every animal has some fundamental rights. The very first fundamental right of an animal is the right to live. No man can take away that which he cannot give. Since we cannot give life to a dead creature, it goes without saying that we have no right to take away the life of a living one, just to pamper our palates and indulge our taste buds."
The children uttered slogans like, "Stop All Killing", "Live and Let Live", "Birds & Animals are our brothers & sisters" – carrying their handmade placards and posters that had pictures of different animals and catchy quotes. The procession started from St. Mira's Primary School, circled around the Sadhu Vaswani Path and ended back to the Primary School premises. The school also conducted a drawing competition to nurture the thought in art form which was very well presented by the students. "It is indeed a very touching event of the year, when the school management also gets emotionally involved in the event.  A great way to educate young minds and encourage the love for animals!" said the Principal Ruby Karna.
The students of pre-school of Sadhu Vaswani International School Pradhikaran, also went on a march on the streets spreading the message of saving animals, being compassionate towards animals with a touch of promoting vegetarianism. The students painted their own animal – head gears to represent all animals' community as our younger brothers and sisters. "The message was well received by the people in surrounding communities," remarked the Principal Aarti Patil.
Sadhu Vaswani Mission encourages the love towards animals and birds as the Revered Founder Sadhu Vaswani believed that "Creation is one family."