Second edition of the Marathi Social Media Sammelan to take place in Pune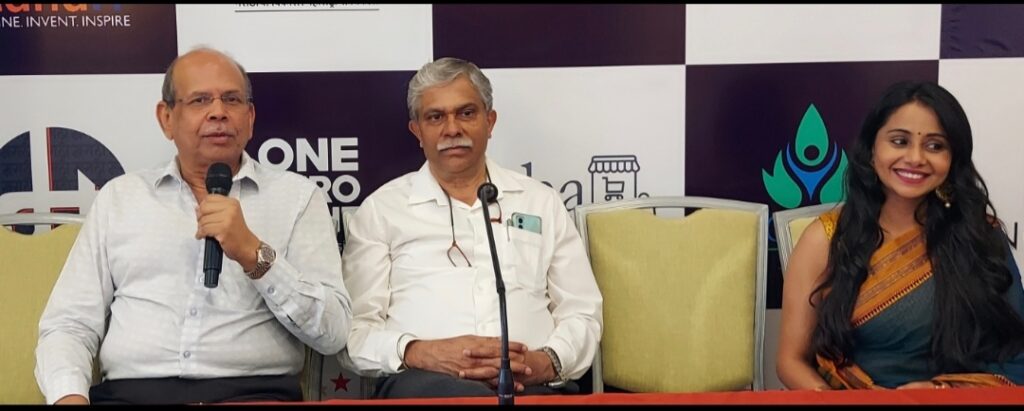 Pune, 12th April 2022: The Second Edition of the Marathi Social Media Sammelan shall take place in Pune between April 29th and May 1st. Being organized by the Digital Media Premi Mandali co-founded by Sameer Athalye, Mangesh Wagh and Pradeep Lokhande, this 3 days extravaganza shall take place at the Savitribai Phule Pune University Campus. Various programs that are part of this Sammelan shall take place between 10:00am to 6:00pm every day. Vinayak Raskar who heads Miracle Events would be responsible for the overall organization and conduct of the event.
Savitribai Phule Pune University (SPPU) will be the co organizer of the Sammelan and it will be supported by Government of Maharashtra's Directorate General of Information and Public Relations (DGIPR), Maha IT, Rajya Marathi Vikas Sanstha.
The Sammelan is also supported by Magarpatta City Group, Chitale Group, rural relations, Responsible Netism, Department of Marathi and Department of Communication and Journalism (Ranade Institute) SPPU, National Service Scheme (NSS) SPPU, Marathi Kida, Bol Bhidu, Marathi Retweet, Shree Services, One Zero Eight, Snovel and Noble Hospital, Magarpatta.
The Logo of the 2nd edition was unveiled today during the Press Conference held at the PYC Hindu Gymkhana at the hands of various dignitaries present on the occasion. Dr Nitin Karmalkar, VC, Savitribai Phule Pune University, Satish Magar, MD, Magarpatta Group, Jayanti Waghdhare, Associate Vice President Planet Marathi, Members of the Organizing Committee Samir Athalye, Mangesh Wagh, Pradeep Lokhande and Vinayak Raskar were present on the occasion and unveiled the logo of the Sammelan.
There is no participation fee for attending this Sammelan being held at the SPPU Campus. It will also be streamed live on Facebook and Youtube. Online registration is mandatory for being part of this Sammelan in either of these formats like online and offline. Free online registration can be done through www.thesammelan.com
Satish Magar, Managing Director of Magarpatta Group said, "The expansion of social media is huge and it covers everything from the rural areas to the international arena. Many people are influenced by social media so it should be channelled to the right direction without being distracted."
Speaking on the occasion, Vice Chancellor of SPPU Dr. Karmalkar said, "Lots of activities have happened online during the Corona period and many have started expressing themselves on social media. The scope of social media is huge reach and like the university, it is a medium of education. We should utilize it in the right way."
While sharing the objectives of the Marathi Social Media Sammelan, Mangesh Wagh said, "The basic objectives of this initiative are to increase the number of people who express in Marathi and consume Marathi content, help identifying and establishing the right spirit of social media, facilitate improvement in the quality of communication on social media so that there is overall enhancement of communication in society at large and help people to enjoy the process and joy of creation."
"This year's theme of the Marathi Social Media Sammelan will be in sync with the set objectives and will cover the impact of social media on human psychology, sociology, economics and politics. It will involve important aspects like cyber crime, journalism and language in the context of social media. This year special emphasis will be laid on looking at social media as a platform for creation of literature and art", said Sameer Athalye.
Pradeep Lokhande highlighted the offering of this initiative and said that though it is titled as the Marathi Social Media Sammelan it is held physically. It will provide an opportunity to meet social media influencers, their followers, policy makers, experts and celebrities.
Apart from making an attempt to evolve the perspective of using social media for a larger positive impact the Sammelan will surely inspire more individuals for better creations of art and literature through the use of social media and will also help them understand the business economics of the creators.
The first edition took place in Mumbai in August 2019 and was inaugurated by Vinod Tawde the then Minister of Marathi Language. Forty two renowned social media influencers, content creators, artists, writers, poets, journalists, researchers graced the stage by their expert discourse on various subjects in the context of social media. Some of them included Arvind Jagtap, Raju Parulekar, Shefali Vaidya, Sarang Sathaye, Kaushal Inamdar, Madhura Bachal, Sanjay Shridhar and Rajesh Mandlik. The first edition was also supported by DGIPR, Maharashtra Cyber Departments and Rajya Marathi Vikas Sanstha of Government of Maharashtra. Data Security Council of India, rural relations provided the strength of knowledge and reach.