Shrikant Jadhav of Finolex Industries summits Mt. Kilimanjaro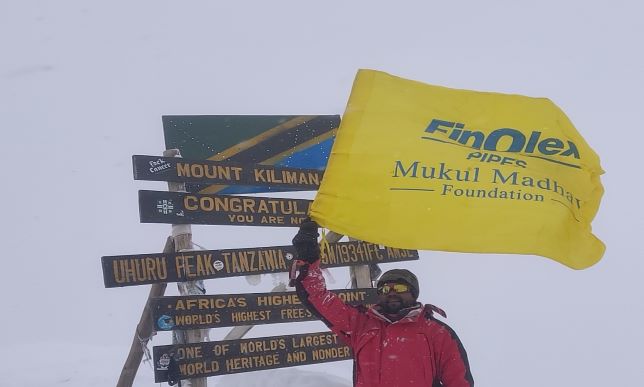 Pune, 13 February, 2020: Shrikant Jadhav, an employee of Finolex Industries has successfully embarked on a five days excursion to Mt. Kilimanjaro on 26th January, 2020. Finolex Industries Limited, India's largest manufacturer of PVC Pipes & Fittings and its CSR partner Mukul Madhav Foundation pledged their support for Mr. Jadhav. The summit was flagged off by Mrs. Ritu Prakash Chhabria, Managing Trustee, Mukul Madhav Foundation, Mr. B R Mehta, Vice President, Mr. Nitin Kulkarni, Vice President, Sales and Marketing, Mr. Diptesh Chief Information Officer at Finolex Industries.
Being an enthusiastic adventurer, Shrikant Jadhav started the excursion to climb Mt. Kilimanjaro on 22nd January, 2020. Mr. Jadhav along with his guide Musa, opted for challenging Machame route which shortens the trek duration to five days instead of the usual route that take around seven days. He reached first Camp 4 on 25th January, 2020, located at an altitude of 4673 m without any health issues or any symptoms of altitude sickness.
With the aim to accomplish the summit on 26th January, 2020, he started the second leg of the expedition with scaling the peak at 11 pm on 25th January, 2020. Mr. Jadhav summoned the ascending to Mt. Kilimanjaro on 26th January, 2020 by 9:15 am. He completed the journey by successfully hoisting Indian flag followed by Finolex Industries and Mukul Madhav Foundation flag. He was the first from India who summited Mt. Kilimanjaro on Republic day 2020.
Speaking on the same, Mrs. Ritu Prakash Chhabria, Managing Trustee, Mukul Madhav Foundation said, "It is indeed an extremely proud moment for our organization. We congratulate Shrikant for completing this challenging expedition and taking our organization at a global level of recognition. We celebrate in his success and cannot wait to see what more summits this year will hold for him."
Mr. Jadhav strongly believes that an individual must reflect optimistic attitude, confidence, perseverance, and both mental and physical strength. He also expressed that the overall skills learnt, will not only help one in surmounting mountains but also in their real life, thereby making them better individuals benefitting them and the organisation or community.
Last year, he embarked on twelve-day expedition to climb Mt. Everest Basecamp 17668 feet and Kala Pathar 18000 feet on 12th May, 2019. At the beginning of the expedition, he went on to climb the highest mountain Mt. Everest Basecamp 17668 Feet and accomplished the summit on 23rd May, 2019.