SOUTHERN COMMAND CELEBRATES 44th VIJAY DIWAS AT THE NATIONAL WAR MEMORIAL, PUNE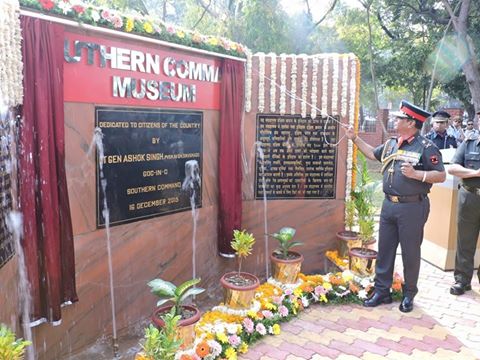 The landmark 1971 Victory saw the emergence of Bangladesh as an independent nation and India rose as a regional power to reckon with in the region. The Indian Armed Forces with this decisive victory over a formidable opponent proved their relevance as the strongest component of National power. Vijay Diwas was celebrated with the customary pomp and fervor on 16 Dec 2015 at National War Memorial, Southern Command, Pune. This day marks the splendid victory achieved by the Indian Army Forces over Pakistan Defence Forces 44 years ago.
The Area of responsibility of Southern Command covers the largest geographical area among all Commands. Four IAF Command and all the three Naval Command Headquarters are also located within this Area. The Southern Command has been operationally committed ever since its raising. A large number of our officers and soldiers from the three Services have made the supreme sacrifice to maintain the integrity of the country in various operations. Contribution of the people of Maharashtra not only towards providing assistance to the war effort but also in providing solace and assistance to the families of martyrs is well known and recognized. To honor these brave soldiers, a number of War Memorials have been built at various places in the Southern Theatre.
A wreath laying ceremony was conducted to pay homage to brave soldiers, airmen and sailors of the Indian Armed Forces who did not think twice before laying down their lives to protect the sovereignty and freedom of our great nation. The solemn ceremony was a token of remembrance for these brave sons of India who made the supreme sacrifice in the line of duty. A number of senior serving and retired officers and JCO/OR attended the function and paid their tributes. Notable among these were Lt General (Retd) SK Dovedy, AVSM, Air Marshal (Retd) AR Gandhi, PVSM, AVSM, VrC and Maj (Retd) Uday Sathe, VrC. Wreath was also laid by Shri Dattatreya Dhankawade, Mayor, Pune Municipal Corporation. The final wreath was laid by Lt General Ashok Singh, PVSM, AVSM, SM, VSM, ADC, General Officer Commanding-in-Chief, Southern Command. The silence observed by all present echoed skywards to the martyrs of this great nation as attribute to their steely resolve to defend India at all costs.
Before the wreath laying ceremony, children from Army Public School, Pune and Kendriya Vidyalaya, Southern Command and Kendriya Vidyalaya, Army area rendered three patriotic songs to celebrate this momentous occasion. Religious teachers from the Armed Forces offered homage for the brave souls who made the supreme sacrifice while defending India.
On this auspicious event, Army Commander, Southern Command, inaugurated a "Museum" adjacent to National War Memorial and released a "Compendium on War Memorials in Southern Theatre".
The museum showcases the rich heritage of the history of Southern Command and has been established adjacent to the National War Memorial at Morwada Chowk, Ghorpuri. This museum provides a glimpse into the martial history of Maharashtra, Southern India and Rajasthan which form the geographical expanse of Southern Command's Area of responsibility. The museum is a walk down the memory lane from 1000 AD onwards and weaves a chronological tale of indomitable saga of valour and sacrifice of the soldiers of Southern Command in pre and post Independence era. This history has been depicted through photographs and artifacts, including captured weapons, flags, documents, statues, murals, busts and oil canvas paintings. The museum also houses a Paint Ball Range to give visitors a first hand experience of combat against terrorists. It also has a tank museum showcasing Indian and captured enemy tanks which had participated in various operations.
This museum will be open to public from 0900h to 1800h every day and will be included in the tourist map of Pune.
The Compendium on War Memorials puts together basic information on these memorials built at various places in the Southern Theatre so that our future generations are inspired by the saga of these brave sons of soil.
Maj (Retd) Uday Sathe, Vir Chakra, a fifth generation soldier who had won the Vir Chakra on 06 Dec 1971 also addressed the media giving out his account of 1971 war. The event concluded with an interaction over tea between all attendees in the Sherrif Garden, adjacent to the National War Memorial.