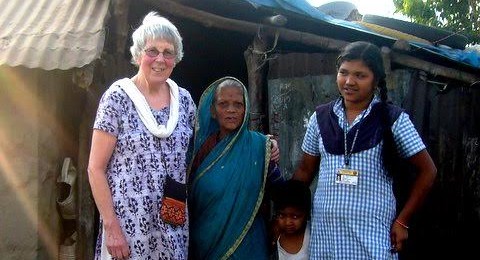 ‪#‎Salute‬ ‪#‎InspiringIndians‬
Sadhana Village, a voluntary organization situated in the heart of beautiful Kolwan valley, about 30 km from Pune in Mulshi taluka, has been providing facilities and looking after the physically handicapped and underprivileged since 1994. The organization also works to implement education, specifically in rural areas. V N Deshpande, the creator of Sadhana Village, had an email interview with Devina Karnik from Punekar News. This is what he has to say:
Q: What inspired and motivated you to start up Sadhana Village?
Ans: It was in the early 1980s that we felt like starting a residential care centre for adults with mental disabilities. We had a few friends of ours with such family members and we had also heard about people who were at the verge of abandoning such members of the family. The feeling was accentuated by the fact that my own daughter, Daya who was studying M.Com that time became a victim of an infection and returned home from the hospital as a person with special needs. We have seen families taking care of their children with special needs with love and compassion but, when these children grow up and become adults, the whole attitude of other family members changes and there's a gradual distance created between members with special needs (we refer to them as Special Friends (SFs)). Their parents become old and dependant on others whereas their siblings have their own families and responsibilities which eventually create a drastic change in the lives of our SFs.
Q: How has the village grown over the years compared to what it was when you started it?
Ans: We have around thirty SFs in our establishment. We are an establishment that focuses on providing the essential human services to our SFs rather than focusing on the number of SFs. Even the worst treated person in a family has the capacity to complain about the way he is being treated but the SFs just don't protest, the just tolerate what is offered to them. Hence, it is the responsibility of the organizations looking after them to serve them well. Do they have enough space within their rooms and outside to mover around? Are they free to do so without anyone stooping them? Do they receive the required nutrition and health facilities? Leisure and work need to be properly assessed by the person who plans to set up such organizations which look after the people with special needs.
Q: What facilities are available to students studying at the school in Sadhana village?
Ans: Our SFs are all adults because it is when these children hit adulthood, which really creates a major change in the attitude of their family members. A SF has to share a house in the establishment with maximum eight other SFs. The houses have lot of space to move around and also an area on top of the house to gaze at stars. We make sure that there is no crowding in the houses. Everyone's birthdays (including those who work and volunteer) are celebrated in the village. We must start integrating people requiring special care and attention with people who don't require special care. In my opinion, children (who don't require special care) are the best source of integration. They easily accept the SFs amongst them. We have developed a rural school for children who don't require special care with the aim of introducing our SFs with them.
Q: How do the volunteers from other countries get involved with the village and what role do they play?
Ans: It is the young men and women from other countries that understand the need to accept SFs around themselves and volunteer to work with us for the benefit of our SFs. We have around ten volunteers from other countries who work with us for months, helping our SFs in the village.
Q: What are the futures plans/projects concerning Sadhana village?
Ans: We invite people who understand our work and are interested in working with us to help our SFs. The organization was established in 1994 and we have been receiving SFs of all kind of moods and behaviours ever since. We have heard cases of people requiring special care being ill-treated by the social workers and care takers of house, but we've never had a single case of ill-treatment in our organization. We are not keen on increasing the number of SFs staying with us, in fact we look forward to rain people who are interested and are willing to devote themselves for the well-being of the SFs. We have already started a training programme for such people with another organization.
Sadhana village has truly set an example of how the people must look after the 'special' ones and must make an effort to provide them with good, basic necessities and make them feel a part of our society. They too deserve to live a normal life without being judged for what they are and we need to help them make look par their disability and discover their strength.
(Devina Karnik is a student of Fergusson College, Pune. She writes about various social issues.)
‪#‎SadhanaVillage‬ Sadhana Village ‪#‎students‬ ‪#‎volunteer‬‪#‎physically_handicapped‬ ‪#‎underprivileged‬ ‪#‎handicapped‬‪#‎Special_Friends‬ ‪#‎pune‬ ‪#‎Society‬ ‪#‎Social‬ ‪#‎Public‬
Follow Punekar News: