SPECIAL SCREENING OF THE FILM OF AAMI JOY CHATTERJEE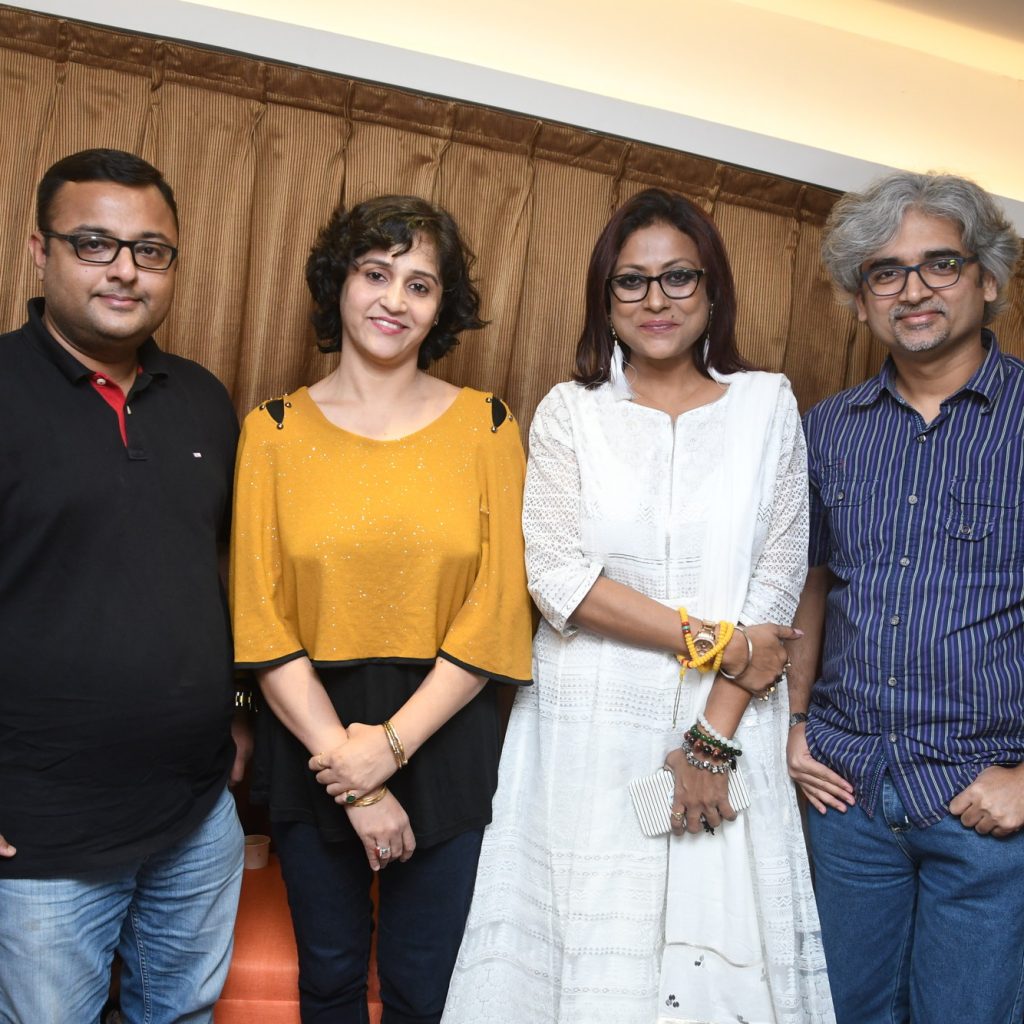 7th August, 2018 Mumbai- While they flaunt the tiara of fame and popularity, Mumbai's film brigade showed up in number at the special screening of the film "Aami Joy Chatterjee". The screening saw the presence of Shivanggi Choudharry , Bijon Das Gupta, Saibal Banerjee, Zeenia Roy and Raja Narayan Deb
The film has bagged the special mention Award of Excellence in 2017 Indie Fest at San Diego. The film is in Bengali with English subtitles.
Leading Indian daily Times of India hailed it as an intelligently crafted film that makes the audience sit back and think. Veteran Indian actor Sabyasachi Chakrabarty has complimented the production house for having come up with "such an out of the box concept". Abir Chatterjee, who essays the role of Joy in the film says, "the story is undoubtedly complex but narrated effortlessly and simply that common audience will enjoy."
The film has been taken forward by an impressive team of cinema professionals. The male lead Abir Chatterjee has been a name in Bengali cinema since 2008, with more than 40 films to his credit besides nearly half a dozen television shows. Joya Ehsan, teamed up opposite Abir is a Bangladeshi actress who has carved a niche for herself in India too. Her film "Khacha" had been sent for Oscar by Bangladesh in 2017. Other actors as Sabyasachi Chakrabarty and Shataf Figar are familiar faces of Indian theater, films and television. The young sensitive director of the film Manoj Michigan has infused fresh ideas and enthusiasm in the film through his deft handling of the script. Film's music by its composer Raja Narayan Deb helps to weave together the various climactic elements of the film into one soulful journey of Joy.
The producer of the film Shivanggi Choudharry is a multi-faceted film personality with nearly two decades of her experience as an actor and producer in Indian film and television industry. Trained under the aegis of the legendary Indian actor Late Utpal Dutt, she has worked with eminent production houses in Mumbai and Kolkata. Today, her Aadiiv Kreations is well into productions with more than six pan Indian films under its belt "We are excited & thrilled to present a fantasy thriller Bengali film. The story is a blotch of painting on abstract art. It is a mysterious representation of man's life & how it he deals with it. I hope the audience likes & appreciates it"
Synopsis- Joy's enigmatic journey of reformation from vanity to compassion through his sub-conscious mind. Watch the film to explore further into his surreal journey
Cast & Crew- Production House:- Aadiiv Kreation Pvt. Ltd; Produced By:- Shivanggi Choudharry; Story-Screenplay-Direction:- Manoj Michigan.
Cast:- Abir Chatterjee, Jaya Ahsan, Sabyasachi Chakravorty, Shataf Figar, Soumyajit Majumdar, Tapati Munshi, Dikpal Bhiku, Suro, Raj, Priyom, Bonny, Sukanya, Nilesh & lot many..
Distributor:- Aadiiv Kreation Pvt. Ltd.; Editor:- Sanglap Bhowmik; DOP:- Manas Ganguly Music:- Raja Narayan Deb; Art Director:- Tapan Seth; Costumes:- Sulagna Choudhury; Posters Designing & Graphics:- Brijesh Dedhia; PR & Digital Marketing:- PSS Entertainment; Associate Partners:- Shand Group Of Industries, Wet Concept Pvt. Ltd