Sport tech startup GoPllay launches its app, raises pre-seed funding from prominent investors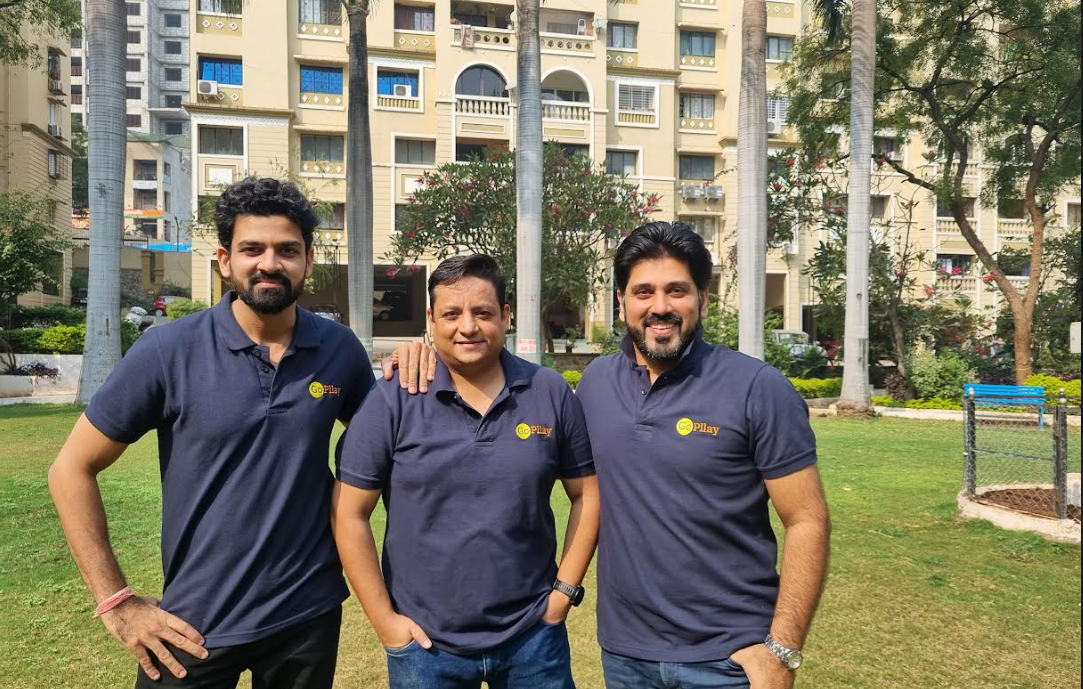 Pune, December 7th, 2022: GoPllay, part of Breathe Sports, a Pune-based sports technology startup, launched its platform for its users today. The company has raised an undisclosed amount from prominent angel investors based out of India & abroad in its pre-seed funding round. It has also recently been funded by Google, where it received US$ 100K under the Google for Startups Cloud Program, in credits. The funding will not only take care of the initial tech infrastructure costs but also put the company in a select group of startups backed by Google. The fresh funds raised will predominantly be used for team building, developing technology for the app and user acquisition. The app has been launched on the Google Play store, and shall soon be available on the IOS store as well.
GoPllay was co-founded in April 2021 by Dhruv Sharma, an IIM-Lucknow & Harvard Business School (HBS) alumnus and Nishant Oberoi, an alumnus of University of Wales, with an advanced finance program from INSEAD, Singapore. The core team has over 4 decades of rich & complimentary experience amongst them, including Ashutosh Sharma who was acqui-hired into the founding team to lead technology, as he comes with rich experience having worked with Amazon & Infosys in the past. GoPllay is a verticalized sports social network for recreational sports enthusiasts to connect, engage and play anywhere, whether within society premises, rooftops, backyards, offices or at-home! And of course, on courts and grounds. Features like scoring games and showcasing one's sports persona makes it very exciting for sports enthusiasts to explore and engage on GoPllay. With "PllayAnywhere©" as it's mantra, the company aims to democratize sports by building a robust global community of recreational players, fans and influencers through engaging content, fun challenges, insightful analytics and gamification to drive real physical sports.
A consortium of 11 prominent investors have invested in GoPllay. Karan Swani is an HBS alum & former Senior Director at the private equity firm, KKR (India), and now the founder & CEO of a multi-family office in Toronto, Canada focusing on early stage & alternative investments. He has successfully invested in multiple startups at the seed & early stages. Dr. Kulkarni is the MD of Elkay Chemicals & part of CII leadership in Pune, Nitin is a former private banker & investor based in Singapore, Manas, a Sales leader at Google, India, Prateek, a young industrialist from Kolkata. Akhil and Dhruv are investors from the sporting ecosystem, and are managing prominent Indian athletes like Ajinkya Rahane. They both also come with strong brand connects in the sporting industry
The startup is also fortunate to count four prominent women angels as it's investors. "This is special since one of our objectives is to promote more women in active recreational sports, and having women believe & invest in a sport-tech startup like ours is a big step towards achieving this.", says Nishant Oberoi, one of the Founders of GoPllay. Hanisha is a Managing Director at InCred Global Wealth based in Singapore, Pearl, an entrepreneur in India, Ruchi, a corporate lawyer from UK and Kirti, a senior professional in UK.
On their advisory panel Gopllay has Shiva Keshavan, President of the Olympians Association of India, a six-time Winter Olympian and a four-time Asian Champion in the sport of Luge, as well as a couple other sports professionals with deep connections in industry.
Nishant Oberoi said, "Sports is the most powerful activity that has an amazing power to unify, engage and motivate. We are excited to launch our app and close the pre-seed funding round from prominent investors. Me & Dhruv play Tennis regularly, amongst other sports, and it is through our own sporting journey as recreational players, that we realized that vast gaps existed in this space, and hence we set out to bridge these gaps. Through GoPllay we aim to bring all sports enthusiasts on one platform to share their sporting journey, connect with more players and encourage others to play. The tech platform will also let you share your sporting experiences such as sporty photos & videos, just like you use your other social media platforms. We are happy that the investors believed in our idea and the vision to create a unified digital ecosystem for the recreational sports community that will benefit all stakeholders."
"We are a B2C startup, with a blended B2B2C acquisition strategy" and hence, GoPllay has collaborated with corporates like Brookfield, a US$750+ Billion global asset management company, universities like The MIT University in Pune, which has over 60,000 students across multiple campuses, and sports clubs like the Ryders Club, which has over 10K members across NCR in India. GoPllay, using its technology platform, will enable seamless organization of physical sporting events & leagues within such campuses, whilst promoting sports as an overall health & fun activity for all!"