Students of Sinhgad Institutes build dams and a road in village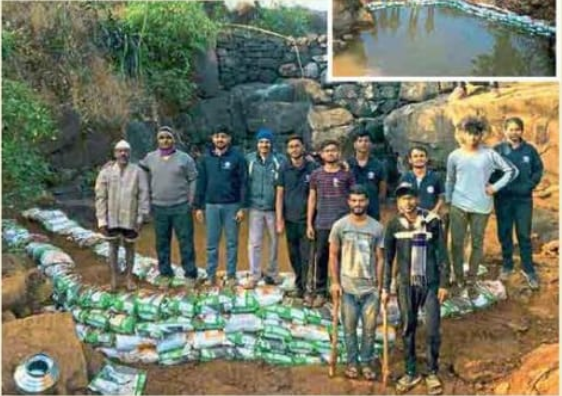 17 Jan 2020, Pune- A group of bright, committed engineering students, boys and girls, built two dams in a small village at Tehsil Velhe in Khadakwasla, Pune by volunteering physical efforts and resolved the problem of water scarcity in summer.
Water scarcity is one of the major challenges in rural areas with many villages facing draught in the hot summer months. The plight of villagers is indeed very touching.
As part of the National Service Scheme (NSS) project, an initiative was taken up by the students of Shrimati Kashibai Navale College of Engineering, located at Vadgaon Budruk, in the city of Pune; one of the prestigious engineering colleges managed by Sinhgad Technical Education Society, affiliated to Savitribai Phule Pune University.
After initial exercise of problem identification and preparation of a meticulous work plan, the group of students undertook a 7 day residential camp in a small village named Varoti (Bk) located in Velhe Tehsil of Pune district. The students coordinated with the village folk and took village volunteers to execute their project.
With their engineering knowledge and physical support, supported by villagers, the students built two dams with capacity of 60,000 liters and 1,00,000 liters respectively. These dams would prove to be highly beneficial to the villagers in the scorching summer months of April and May where the water shortage is at its worst.
In addition to the construction of two dams, students also made a road towards the canal which would be providing fresh water supply to the village.
During their stay in the village, the students also educated the villagers by building awareness in them through skits and street plays covering numerous significant topics like women empowerment, concept of ideal village, abolition of superstitious beliefs, importance of education especially to the girl child, hygiene and cleanliness.
Dr. Shivaji Pacharne, District Coordinator NSS, Dr. Nitin Sherje, Head of the department, Mr. Vivek Chintal and Mr. Ajit Deshpande from Dyanprabodhini visited the camp and guided the students in addition to NSS Program Coordinator of SKNCOE Prof. Sanjay Kumar Pingat, Prof. Sahdev Jadhav, Prof. Sagar Ranvare, Prof. Pratibha Walunj and Prof. Chitra Sankpal. Teachers from the local village school at Varoti (Bk) also helped the enthusiastic students in the successful execution of their project of building dams.
This wonderful initiative of the students of Shrimati Kashibai Navale College of Engineering could be realized due to the heartfelt support extended by Prof. M.N. Navale, Founder President of Sinhgad Technical Education Society, Dr. Arvind Deshpande, Principal SKNCOE, Dr. Kishor Borole, Vice Principal SKNCOE and other heads of the various departments.
The residential camp concluded with a felicitation function at Village Varoti with the villagers expressing their gratitude and appreciation. Thanks to extensive efforts by the socially sensitized and committed engineering students of Sinhgad Institutes, the villagers can now be assured of availability of water during the summer months.