Suitability and Compatibility are Important in Maintaining Matrimonial Relationships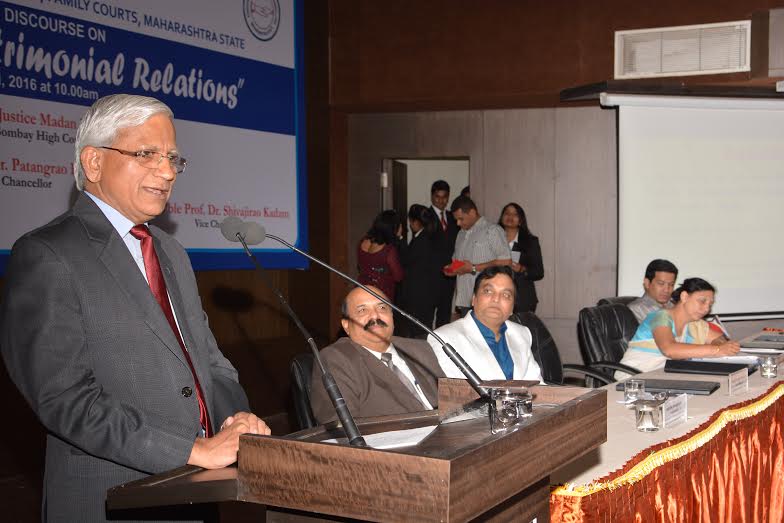 Bombay High court judge Madan Joshi inaugurated the function of "Legal Discourse on Cruelty in Matrimonial Relationship" organized by Bharati Vidyapeeth's New Law College, Pune on Saturday.
Justice Joshi speaking on this occasion stated that, "Marriage is the only institution which maintains order in the society, marriage as an institution is always a holy place in individuals life. This marriage institution is now facing various challenges which have become alternative modes for marriage like live in relationship, break in love relations, etc. As animals live in order, it is important for the society in large to live life in order, which includes all the things which makes family happy like maintenance of children and wife, behavior of persons, etc. Silence plays an very important role in matrimonial relationship. Suitability and compatibility are important instruments of maintaining matrimonial relationship. Suitability of house, suitability of location, suitability of life partner is the test of suitability. Economic condition is a test of compatibility which was stated in case Mulla Nasarudin.
According to justice Joshi,"Marriage has three rings, which are like a circus. Engagement Ring, Wedding Ring
and Suffering. Nowadays, cruelty cases have increase a lot, either because of monetary demand, harassment and mental cruelty. Earlier cruelty was not the ground for divorce but later on it was made a ground of divorce. The instance of cruelty are severity and seriousness, he further discussed the various case laws on cruelty, those are Dastane vs Dastane (1975), Otavnekar vs Otavnekar (1987), Chandarkala Trivedi vs Dr. S.P. Trivedi (1993), V. Bhagat vs D. Bhagat (1994). He further discussed the case Naveen Kohli vs Neelu Kohli (2006) where in irretrievable break down of marriage was not consider as a ground of divorce, which the court suggested to the legislature to consider it as a ground of divorce under the Hindu Marriage Act, 1955."
Prof. Dr. Mukund Sarda, principal of the New Law College, stated that, "In India a cases of cruelty, dowry death, etc have increase a lot. Cruelty is endless and law is not the solution to cruelty. Court is an end solution to any matrimonial dispute. Love and trust are important elements of matrimonial relationship. Love the human beings then the human beings also loves you. Legal education is nothing but justice education."
The Legal Discourse was inaugurated at the auspicious hands of Justice Joshi,  Sudam Gayake, Family Court, Pune,  Prof. Dr. Mukund Sarda, Dean and Principal New Law College, Pune, Mrs. Smita Joshi, Family Counselor, Pune, Dr. Adv. Rajendra Anbhule.
On this occasion various family lawyers and counselors from Pune and other regions of Maharashtra attend the legal discourse. Prize distribution ceremony to the meritorious students of the college was also conducted.
There was also inauguration of Bharati Law Review website www.bharatilawreview.com, of Bharati Vidyapeeth, New Law College, Pune and also introduction of online App of Bharati Vidyapeeth, New Law College, Pune.