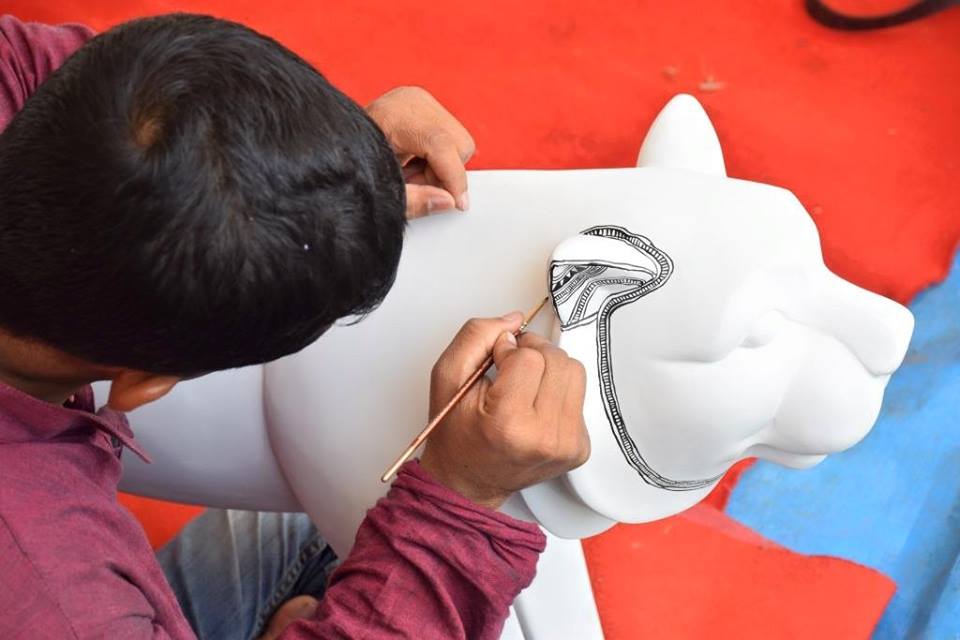 Artistic tigers being painted within the environs of a vibrant crafts bazaar in Pune are adding to a new kind of artistic energy and collaboration between multiple styles of art.
Five carved wooden tigers from Kinnal in Karnataka, and five fibre glass tigers designed by artist Indranil Garai are being given distinct personalities by five contemporary artists from Pune ( Raju Sutar, Falguni Gokhale, Vaishali Oak, Jayant Joshi and Ramachandra Karatmal) and five traditional artists Apindra Swain from Odisha, Dwarka Prasad Jangid from Rajasthan, Remant Mishra from Bihar and Rajesh Roy and Khadu Chitrakar from West Bengal.
The project has been sponsored by the Parijat Foundation, KPIT, Ghatge Patil Industries Ltd.
Watch a fabulous artistic tiger being created before your eyes over a period of 8 days and buy the one you like. A visual treat for those who love energy,synergy and art. The works will be ready by 5th December. The last day of the Dastkari Haat crafts bazaar is 6th December.
Follow Punekar News: