Virat Kohli visits Aabhalmaya old age home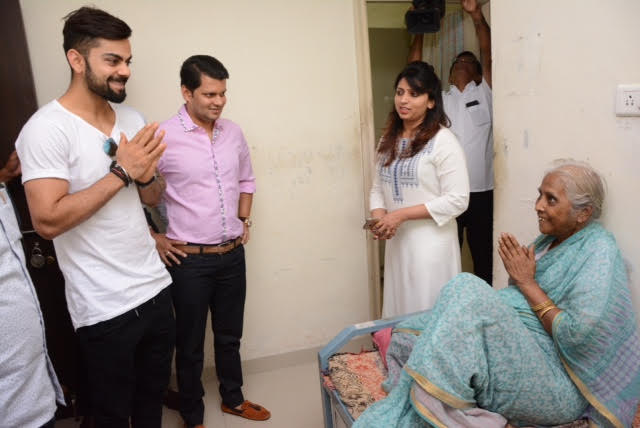 Virat Kohli Foundation and ABIL Foundation join hands to help to Abhalmaya
Pune, April 21: Residents of Abhalmaya, an old age home on Sinhagad Road set up by Dr. Aparna Deshmkukh could not believe themselves, when they found India's batting sensation Virat Kohli personally coming to meet them.
Virat visited this much appreciated old age home today along with Amit Bhosle of ABIL Foundation. Virat Kohli Foundation and ABIL Foundation have now joined hands to extend help to Aabhlamaya. Together, they will extend immediate financial help to Abhalmaya to end its financial crunch.
Sparking on the occasion Virat said, "People like Dr. Aparna are doing remarkable work by running such a facility for all those elderly who have been left by their dear ones. This is absolutely wrong and it is our duty to take care of elderly members of our family."
Today, Aabhaylaya is taking care of about 57 senior citizens. Started in 2010 Dr. Aparna is running this old age home without any financial support from any governmental organization, donations and funding from other NGOs. She has been utilizing all her earnings for the sake of running this old age home, which also offers medical assistance to its residents.