Will now tell BJP what is Shiv Sena: Uddhav Thackeray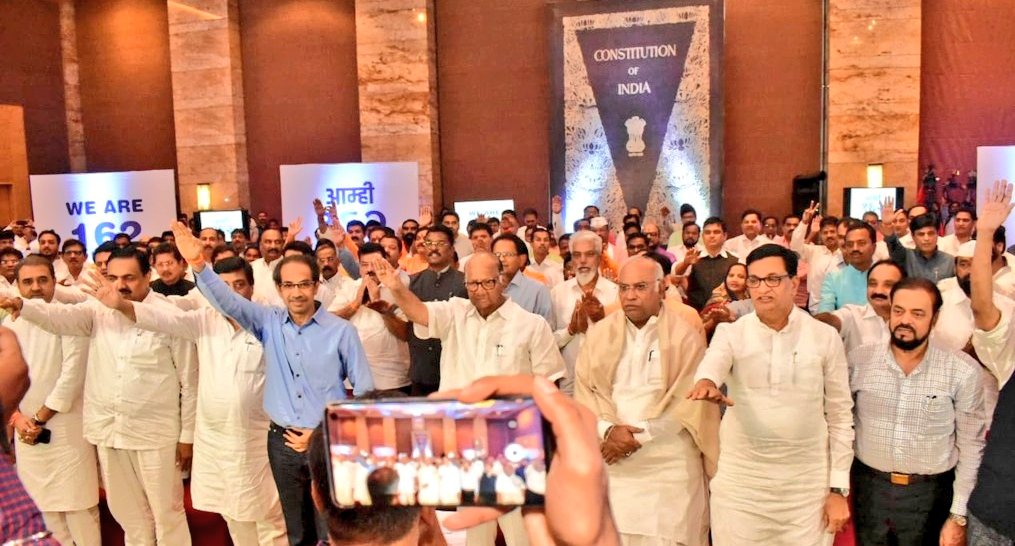 Mumbai, November 25, 2019: In a rapidly changing development in Maharashtra politics, Shiv Sena, NCP and Congress jointly paraded their 162 MLAs in front of the media on Monday. Not only this, but the legislators gathered at Hyatt hotel were also sworn in the names of Uddhav Thackeray, Sharad Pawar and Sonia Gandhi.
They were also made to swear that they would not support the BJP and would not indulge in any greed. NCP chief Sharad Pawar's fear of the whip was also evident when he asked them to vote against the BJP government. Slogans of Babasaheb Ambedkar and Chhatrapati Shivaji Maharaj were raised on the occasion. Earlier, representatives of the three parties went to Raj Bhavan and handed over a letter of 162 MLAs to Governor Bhagat Singh Koshyari in support of the coalition government led by Shiv Sena.
This will be the first case not only in Maharashtra but also in the country that a coalition publicly presented its MLAs before the media. After the parade of MLAs, Sharad Pawar said that more than a majority of the MLAs are with us here for the government. 
NCP chief Sharad Pawar said, "Those who are in the central government did this work in another state. This is his history. They have wrongly formed this government. These alliances are for a long time, not just for some time."
Pawar said that Maharashtra has a total of 288 seats. The most won MLAs are here. In Karnataka, Goa, Manipur, despite not having a majority, they formed the government by abusing power. The history of the country will change now, starting with Maharashtra.
Sharad Pawar said that Ajit Pawar was chosen as the leader of the legislative party, he misused it rather misled everyone. Action will be taken against those who violate the whip. We have decided to remove Ajit Pawar. The NCP chief said that we have consulted the experts of law also. The three parties will decide together. This is Goa, not Manipur but Maharashtra. The governor will listen to us. 
Will now tell BJP what the Shiv Sena is: Uddhav Thackeray 
At the same time, Uddhav Thackeray said that the BJP will now know what is Shiv Sena. Thackeray said that this alliance will last long. "We were with BJP for the last 25-30 years, then also they did not understand. Leave the way, because the Shiv Sena-NCP-Congress alliance is coming to rule. We have so many numbers that it does not appear in a photo.
Congress leader and former Chief Minister Ashok Chavan said that Shiv Sena, NCP, Congress and other allied parties will form government in the state. He said that Congress-NCP and Shiv Sena have 162 MLAs. He thanked Sonia Gandhi and Rahul Gandhi for the approval of the alliance with Shiv Sena in Maharashtra.