XPay.Life commences Pune outreach plan targeting 1 million transactions via self-help kiosks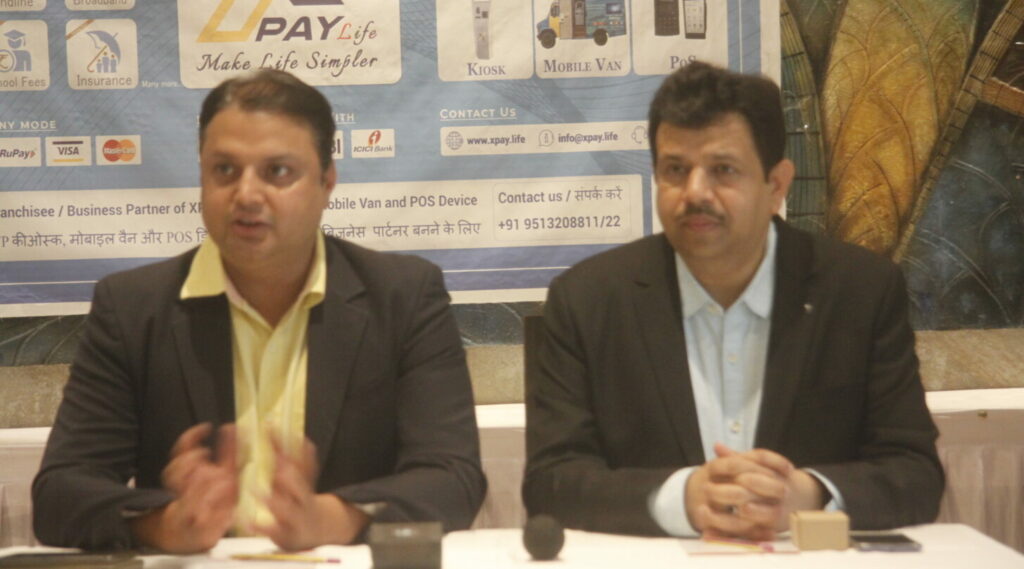 Pune, October 10, 2019: Driven to make life simpler by providing a one-stop solution to the consumers to pay their multi-utility bills using a single window, XPay.Life announced its expansion plans in Pune by targeting 1 million transactions per annum via its self-help kiosks. XPay.Life unlocks digital bill payments for the new-age Bharat through its Touch Screen Kiosk, which accepts cash as well as digital payments.
The company leverages a blockchain-based transaction framework for providing secure and fast payment solutions. On a pilot basis, XPay.Life will deploy Bill Payment Kiosks at Chatrapati Shahu Maharaj Road (Sangamvadi) and Cannaught Place, Bund Garden Road, P&T Colony in Pune. Later, it will strengthen its presence with 10 Kiosks across various locations.
While XPay.Life is currently present in Jharkhand, Gujarat, UP, Maharashtra, and Telangana, it is gradually expanding its business footprint across various Indian cities including Pune. The digital payments platform's recent expansion will bolster its customer outreach across other cities as well including Mumbai, Delhi, Patna, Rajkot, Surat, Ahmedabad, Bangalore, Bhopal, Indore, Jabalpur, Bhubaneswar, Chandigarh, Madurai, Lucknow, Varanasi, Dehradun. Aiming to tap into the B2B, B2C, and B2G segments in its new network, XPay.Life will soon be deploying its Bill Payment Kiosks in these cities.
Commenting on the expansion drive, Mr Rohit Kumar, Co-Founder, CEO & CMD of XPay.Life said, "We are glad to bring our blockchain-based unified payments platform and self-serving kiosks to a number of cities in India. It is our endeavour to support the businesses in receiving hassle-free payments and for the customers to pay conveniently without the involvement of any third parties. To the same end, we shall be deploying our touch screen kiosks in these cities and look forward to an affirmative response from our users. The number of kiosk deployments will vary according to the services availed and the customer density across different cities."
Mr. Bohitesh Misra, co-founder and technology evangelist, says that the company follows AMBIC Model i.e., Artificial Intelligence, Mobility, Blockchain, IoT and Cloud-based solutions in the form of Infrastructure as a Service (Iaas), Platform as a Service (PaaS) and Software as a Service (SaaS). Furthermore, as a fintech leader, XPay.Life simplifies the transaction and end-to-end customer journey through 'one-click' processing for transactions in digital channels. We offer great business opportunity with lower investment for shopkeepers, small business houses, drivers and innovators to start their own business and start earning with great ROI."
The solutions by XPay.Life have been met with an affirmative response by the users. It is currently clocking in over 100 Cr of volume on cash collection through one of its touch screen kiosks deployed in one of the smallest states in India. Expanding to Pune is part of XPay.Life's aggressive expansion plan throughout the country. The company further plans to deploy 25,000 Touch Screen Kiosks for Bill Payment by next year and one lakh kiosks Touch Screen Kiosks for Bill Payment in the next three years.
About XPay.Life
From the house of XIPHIAS, XPay.Life is a one-stop solution to the consumers to pay their multi-utility bills, using a blockchain-based transaction framework. The company simplifies utility payments through touch screen kiosks while following an AMBIC model (Artificial Intelligence, Mobility, Blockchain, IoT, and Cloud-based solutions). Having already collected 100 Cr worth of volume of transactions from a single kiosk, XPay.Life plans to 25,000 Touch Screen Kiosks for Bill Payment by next year.