Yuga Sports and Entertainment reveals logos of Pro Roll Ball league teams; player auction held ahead of exciting Season 1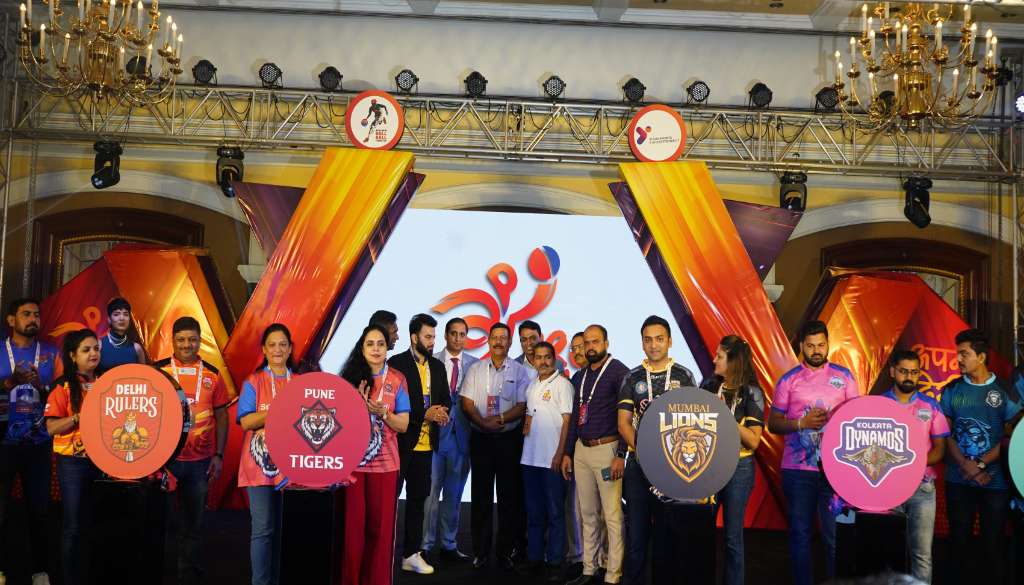 Pune , 28th August 2023: Yuga Sports and Entertainment, one of the leading sporting companies in the country, has revealed the logos and jerseys of eight teams that will be participating in the much-anticipated Season 1 of Pro-Roll Ball—India's Premier high-speed league. The logos and jerseys were revealed to the respective eight franchise owners of Pro Roll Ball league in an action-packed event at ITC Grand Central, Parel, Mumbai.
Pro Roll Ball is set to be the first-ever international league for the game of Roll Ball, an indigenous sport going global. Pertinent to mention here that international players from 17 countries will be participating in the adrenaline-packed 15-day action that will take place from November 20 to December 3, 2023.
A press conference was also held on the occasion, which was attended by the host of the event Siddharth Mehta, Founder and CEO of Yuga Sports and Entertainment.
During the exciting event, eight franchise owners walked up to a stage, wearing t-shirts with the logos of their respective teams. This was followed by an auction process later in the day, where teams bid for their preferred athletes. All state-level, national and international players who qualified for the Pro Roll Ball auctions were also present at the event, besides Coaches, Mentors and Managers who have qualified for the League.
The player auction process was divided into three categories: A, B, and C (International Players). Category A included players who have represented India in any international tournament within the last five years or have participated in three consecutive national tournaments during the same period. Category B consisted of players who have participated in three consecutive national tournaments within the last five years or attended any India team qualifying camp. The base prices for both categories were set at Rs. 1.5 lakh and Rs. 1 lakh, respectively.
The Asian Roll Ball Federation had nominated 34 players for auction for the first season of Pro Roll Ball League. On the other hand, the list of players from 'C' category (Foreign Players) include 38 players from countries like Iran, Belarus, Oman, Egypt, Kenya, Senegal, Poland, Sri Lanka, Saudi Arabia, England, Argentina, France, and Brazil. In total, 128 players were nominated for auction in all categories.
Speaking at the exhilarating showdown, Siddharth Mehta, Founder and CEO of Yuga Sports and Entertainment said, "This is a great beginning to a league sport which has been invented by an India. It is a proud moment for us as we take this sport to an international level while creating more awareness about the game. We aim to conduct this league around Asia, with two seasons in a year. We are also aiming to make one of the top three leagues to be played in the country. We all are excited for the final countdown in November, and I am grateful to all those who made this event a success."
Yuga Sports and Entertainment has acquired the rights from the Asian Roll Ball Federation recently, making a significant milestone in the development of this high-octane sport. The league valuation is estimated to be over INR 180 crore currently, and Yuga Sports has a target of raising the property valuation to INR 1000+ crores in the next five years.
The next season of the Pro Roll Ball League is expected to take place in April-May 2024, and it will be broadcast live on television and various OTT platforms, allowing fans to immerse themselves in the thrilling matches from the comfort of their homes.
Invented by Raju Dabhade in Pune and played in over 60 countries, the indigenous sport of Roll Ball is a dynamic and exhilarating sport which combines the skills of roller skating and handball. Played by two teams, the game involves players dribbling, passing, and shooting the ball into the opponent's goal post while on roller skates. The game tests both athleticism and strategy.
Each team will consist of ten talented players, with three international players being a mandatory inclusion. The base player price has been set at Rs. 1.5 lakh, ensuring a fair and competitive environment for all participants.