AIT conducts cycling expedition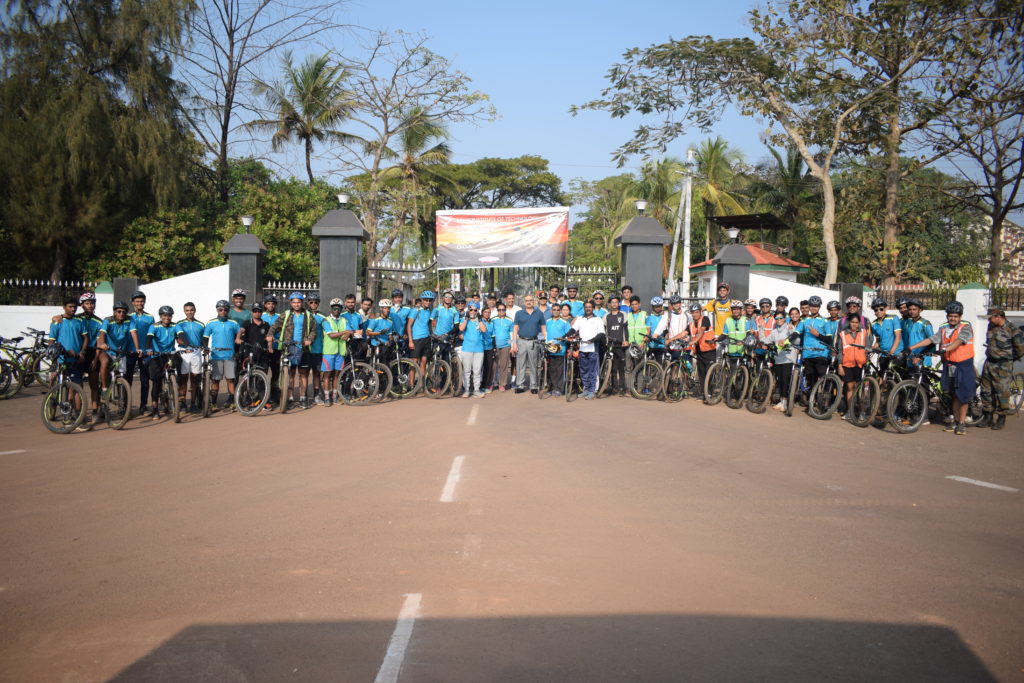 Pune, 12th January 2019: In a step towards promoting the spirit of adventure among the students of Army Institute of Technology (AIT), as a motivator for all-round physical fitness and to commemorate the Silver Jubilee Year of the institution; AIT recently organised cycling expedition from Pune to Goa.
The expedition was flagged off by Brig AbhayABhat, Director, AIT at Dighi campus in the presence of students, administrative personnel and teaching staff. The Cycle Expedition covered a total distance of 492 Kms covering Karad, Kolhapur, Belgaum and concluded at at the 5th Training Regiment of 2 Signal Training Centre (STC) at Bambolim, Goa.
This initiative was being led by Colonel KE Vijayan, Joint Director of AIT who believed such expeditions will prepare the young minds to undertake daunting challenges in the future. The Director, AIT, Brig Abhay A Bhat participated in the expedition in the first leg – from AIT to Surur (95 Km). A total of 61 riders consisting of students, support staff and administrative personnel took part in the expedition.
Commenting on the event, Brig Abhay. A.Bhat, Director, AIT, said, "This is a very prestigious moment for us as we are celebrating 25 glorious years of AIT. Our endeavour always has been to provide holistic development of the students at the campus. The expedition once again reiterated our commitment towards providing the best in class education to the students. The enthusiasm and spirit made this expedition a grand success and our students once again proved our motto "Onward to Glory" in the right way."
SarthakVasudeva, Secretary, Cycling Club, AIT said, "We are very happy to be a part of AIT's first Cycle expedition. We had been undergoing a rigorous training of 2 months which ensured us we finish the expedition successfully in time. This experience also taught us that strong willpower, mental strength, and perseverance are the most essential traits that are required by every cyclist who participates in this expedition."