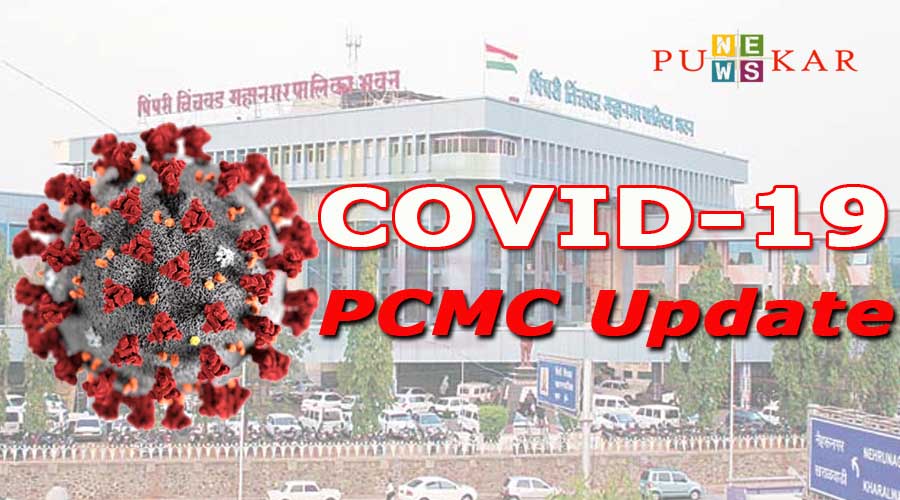 Pimpri, May 28, 2020: Till 9:24 pm today, 20 Coronavirus positive patients were reported in Pimpri Chinchwad Municipal Corporation (PCMC) area, taking the total tally to 471.  According to PCMC, the new patients include 10 from Anandnagar (Chinchwad), 2 from Dapodi,  3 from Bhatnagar  1 from Old Sangavi, 1 from Neharunagar ,1 from Thergaon, 1 from Ajanthanagar and 1 from Pimpri.  Anandnagar near Chinchwad station has reached 151.
PCMC officials said that out of 471 total patients, 211 have been cured while eight have died. There are still 252 active patients who are undergoing treatment in different hospitals including YCM hospital and Bhosari hospital. Also, out of 73 patients from outside PCMC who were found positive, 11 have died while 24 have been cured. There are still 38 of them undergoing treatment in PCMC including seven who were found positive today.
In Pune Municipal Corporation (PMC), In the last 24 hours, a total of 318 new patients have been found today till 7.30 pm. Also, 205 patients have recovered while 10 people died. According to the PMC health department, the total number of COVID patients in Pune city has reached 5851 out of which 3264 have been cured while 293 have died.
At present, 2294 active patients are still undergoing treatment in different hospitals. They include 150 critical patients including 49 with ventilator support. Today swab samples of 1315 patients were collected for COVID test. Till now samples of 46,582 people have been tested. Among the 10 deaths, five were men and five women, all between the age group of 35 to 75 years. They were from wadarwadi, Hadapsar, Paravati, Bopodi, Yerwada, Kondwa, Nana Peth, Siddharath Nagar Paravti, Mental Cornor Yerwada, Janata vasant paravti .
Across Maharashtra, there were 2598 new COVID19 cases today taking the total number of cases to 59,546. Also, 85 people died while 698 got discharge from hospitals after being cured. There are still 38,939, active cases. The total death toll stands at 1982, while 18,616 patients have been discharged till date, according to Maharashtra Health Department.
According to the Union Health Ministry, the number of Coronavirus positive patients has reached 158,333 across the country. Out of this, 67,691 have been cured and discharged from hospitals while 4531 people have died and one patient has migrated out of the country. There are still 86,110 active patients undergoing treatment in hospitals across the country.