2 persons arrested with party drugs, Cocaine worth Rs 11.4 lakhs in Pune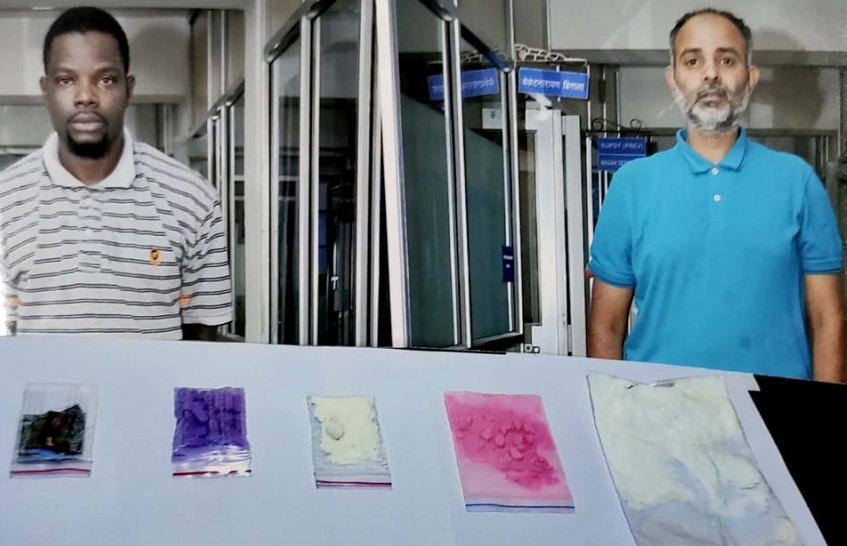 Sumit Singh
Pune, November 4, 2019: The Officers of Customs Narcotics Cell, Pune, have arrested a Nigerian national for selling Cocaine to potential customers in Pune. Later, an Indian citizen was also nabbed who used to further sell the narcotic drugs after getting it from the Nigerian.
The officials searched the Pimple Gurav residence of Nigerian national Bakare Toiru resulting in recovery of a transparent plastic pouch containing white powder like substance, found underneath the mattress inside the bedroom.
Vaishali Patange, Jt. Commissioner of Customs, Pune, said that sample of the recovered white coloured powder substance was tested with the help of Drug Detection Kit, which showed positive result for Cocaine. The white colour substance purported to be Cocaine total weighing 40 grams valued at Rs 3.2 lakhs was seized under Panchanama dated 31.10.2019.
According to officials, during the course of interrogation accused Toiru revealed that he has been supplying Cocaine to one Apurva Upadhaya, a resident of Baner, who in turn was further supplying/selling it to potential customers in Pune. Search of the premises of Upadhya was carried out under Panchanama resulting in recovery of Cocaine, Esctasy Pills and Powder and LSD Stamps of commercial quantity total valued at Rs 8.4 lakhs.
Based on the admittal statement of accused Toiru and Upadhaya, wherein they have accepted conscious possession of Drugs total valued at Rs11.40 lakhs for sale to customers in Pune. They were arrested for contravention of NDPS Act, 1985 and are presently remanded to judicial custody. A detailed investigation of the supplier/ buyer in the said aforesaid case is being probed into.