35 carved boards of ancient game 'Mancala' found in Kapurhol village of Pune district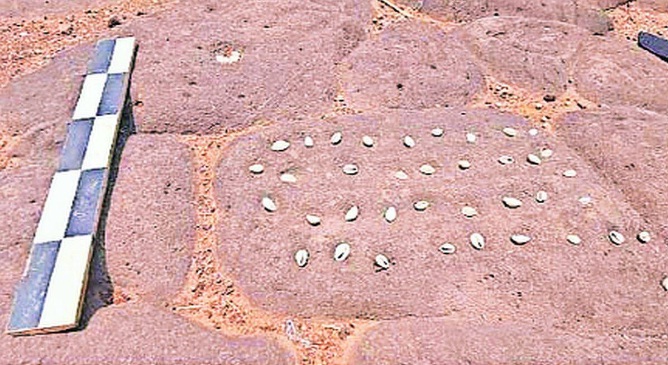 Pune, 28th April 2022: A total of 35 boards of the ancient game called 'Mancala' and its subtypes have been found on a rock in Kapurhol village on the Pune-Satara highway.
Sojwal Sali, a researcher from Nashik, has found these boards carved on the rock.
 In ancient times, rock carvings were created for recreation. So far, some games have been found at Pataleshwar, Bhaje, Sinhagad, Rajgad, Shivneri, and Junnar in the Pune district. 
Sali, who was studying through the Vaibhavshali Prachin Lipi Trust, had discovered 41 board games on the rock at Marunji.
 Now, on the rocks on the way from Kapurhol village to Purandar fort, 35 boards of the game 'Mancala' and its various sub-types of games have been discovered.   
 Regarding the games found at Kapurhol, Sali said, that all the games found at Kapurhol were documented. It appeared to be a subtype of the main game 'Mancala'. A subtype of Mancala was played in Kenya as 'Ajua'. The game 'Aligulimane' is still played in Karnataka in India. There are various symbols and figures on the rock at Kapurhol. Therefore, there is an attempt to interpret them as well.  
"After Karle, Bhaje, Bedse, and Marunji, now Kapurhol is also being explored, so the question is whether this was an ancient trade route. There is a need for more in-depth research and preservation of these games. A study has also been started in that regard. The participation of history and archaeology scholars in this research expedition would be more useful," he added.