COMBAT ENGINEERING DEMONSTRATION AT COLLEGE OF MILITARY ENGINEERING (CME), PUNE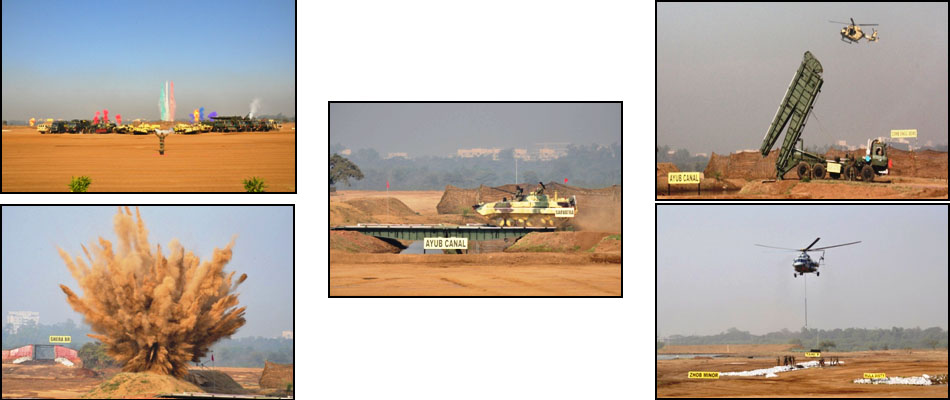 A spectacular Combat Engineering demonstration was organized by College of Military Engineering (CME) Dapodi, Pune on 08 Jan and 11 Jan 2016 to showcase the might of the Corps of Engineers both during war and peace, for officers from Defence Services Staff College (DSSC), Wellington and Technical Staff Services Officers College (TSOC), DIAT, Girinagar on their training visit to Pune.
The demonstration exhibited the wide range of Combat Engineering tasks performed by Corps of Engineers in an obstacle ridden terrain. The multi-tasked role encompasses mobility and counter-mobility tasks. The Corps of Engineers which is more than 235 years old, contributes to nation building, disaster management as well as counter-terrorism operations. This demonstration was focused on role in wars and counter-terrorism.
The demonstration was witnessed by Lieutenant General V Menon, Sena Medal, Vishist Seva Medal, Commandant, CME and senior officers from Defence Services Staff College (DSSC), Wellington including student officers of Army, Navy, Air Force and Friendly Foreign Countries. Colourful 'Welcome' by water plume demolition technique, several mechanically launched bridges, a MI-17 and a Dhruv helicopter carrying a heli-portable bridge and the construction party, Nuclear, Biological and Chemical Protection techniques, counter IED operations and a plethora of equipment in action were highlights of the show. CME took this opportunity to display these capabilities of Corps of Engineers to School / College students, scientists, officers of Paramilitary Forces and officers and families of Armed Forces.