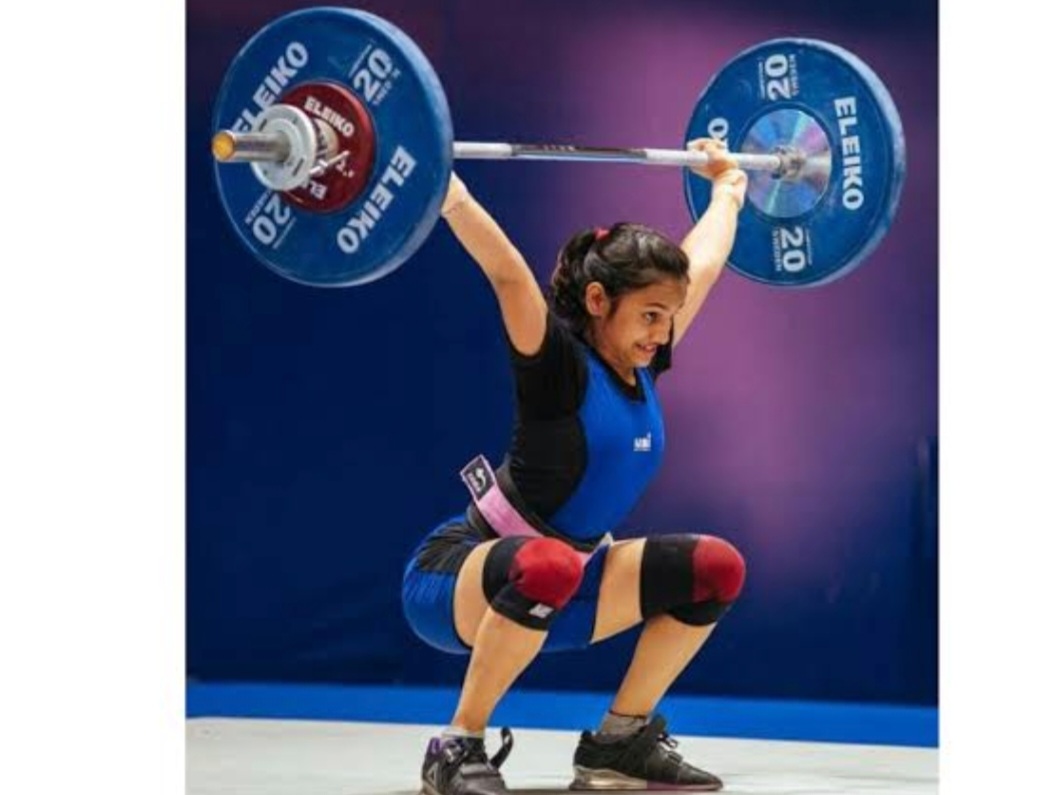 Pune, 3rd May 2022: Pimpri, 3rd May 2022: Harshda Garud of Wadgaon Maval in the Pune district won a gold medal in the Junior World Weightlifting Championships at Greece on Monday (May 2). She won a gold medal in the 45 kg weight category and made the name of Mavalnagari shine on the world map.
Twenty years ago, due to financial difficulties at home, her father could not pursue a career in weightlifting. Yet he played up to the state level. His unfulfilled dream was fulfilled by his daughter Harshda Garud by winning a gold medal in an International competition in Greece. Her parents were shedding tears of joy with her win the words.
Harshda is practising at Dubej Gurukul in Wadgaon Maval under the guidance of Bihari Lal Dubey. She also won district, state and national level competitions and competed in international competitions. She won a bronze medal at the 2019 Asian Junior Championships in Tashkent.
She was selected for the Indian team 15 days ago. At the same time, she was determined to return after winning the medal expressed coach Biharilal Dubey.
Harshada's father Sharad is working in the water supply department of Wadgaon municipality while her mother Rekha is a housewife. Her dad had a special interest in sports. However, due to financial constraints, he could not pursue a career in weightlifting. So he dreamed of making his daughter Harshada a weightlifter. Overcoming adversity, Harshada did not feel short of anything. For this, her parents worked hard day and night.
Deputy Chief Minister Ajit Pawar congratulates congratulated Hershada. He tweeted, "Congratulations to Harshada Garud of Maval in Pune district who won a gold medal in the World Junior Weightlifting Championship held at Greece-Herculon! The entire country, including Maharashtra, is proud of Harshada's golden achievement. Good luck for the next journey!"
Her parents expressed their happiness over her victory. They said, "It was decided from childhood to make Harshada will be a player. We sent her to Dubey sir for the training. Today she made us proud. The hard work she put in and the efforts we as parents took resulted in the success and she receives a gold medal."
Her coach Biharilal Dubey said, "Harshada had these qualities in her when she was young. Her father also trained with me. There are many diamonds like Harshada in the Maval area. If they get encouragement and help, many players will happen."
"Today's happiness I cannot express in words. The hard work of the parents, the guidance of coach Bihari Lal Dubey all paid off. When I was selected for the Indian team, I already decided that I would bring at least bring one medal. However, I never expected to win a gold medal. And with the cooperation of all my supporters and family members this success was possible," said Harshada Garud.