Aeka Coffee to Host Unique Home Brewers Showcase in Pune on April 2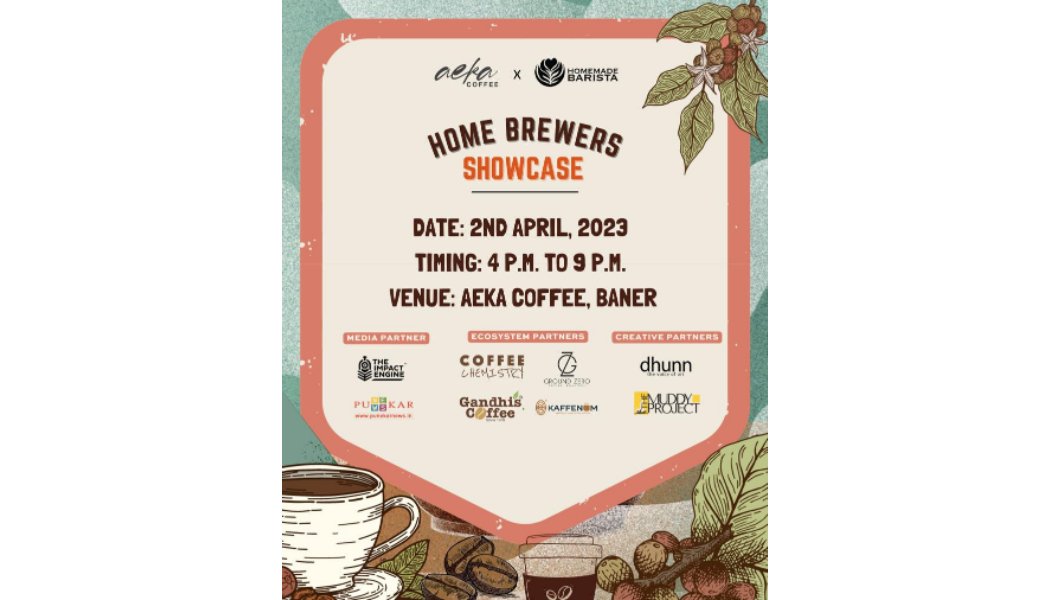 Pune, 30th March 2023: Are you a coffee lover looking for a new way to experience your favorite drink? Then mark your calendars for April 2nd, 2023, from 4 PM to 9 PM, and join the Home Brewers Showcase at Aeka Coffee in Pune.
Talking about the event, Sunanda Verma, Founder – Aeka Coffee, said, "This unique event, the first of its kind in Pune, will feature homebrewers from all over the city showcasing their impressive brewing skills and unique collections of coffee equipment on their own brew bar. They will be serving up specialty coffee in a variety of brew methods such as pour-overs, Aeropress, and cold brews. It's a coffee lover's dream come true!",
Anish Kale (@homemade.barista), co-organizer of the event says, that's not all! Coffee professionals such as baristas, manual brewers, trainers, coffee roasters, and equipment suppliers will also be present to share their expertise with the attendees. So, whether you're a coffee aficionado or just starting out, you're more than welcome to join us and learn more about the world of coffee.
And, it's not just about the coffee! The Home Brewers Showcase will also have live music, games, and other activities lined up to make this an unforgettable evening for all attendees. Best of all, it's a FREE event!
"If you're a home brewer looking to showcase your passion and expertise in coffee brewing, a coffee enthusiast looking to learn more about coffee, brewing, and equipment, a coffee professional such as a barista, manual brewer, trainer, coffee roaster, and equipment supplier, or even an influencer or content creator on the hunt for new and exciting coffee content, this event is for you", added Amit Bhatta, Founder Aeka Coffee.
So, what are you waiting for? Register your spot at the link below and get ready for a caffeine-fueled celebration of all things coffee at the Home Brewers Showcase on April 2nd, 2023.
Registration Link: https://forms.gle/yxLsv1ncT4qAp6or9