Shalmali Kadu of Innergize wins TiE Pune's BizQuoTiEnt Contest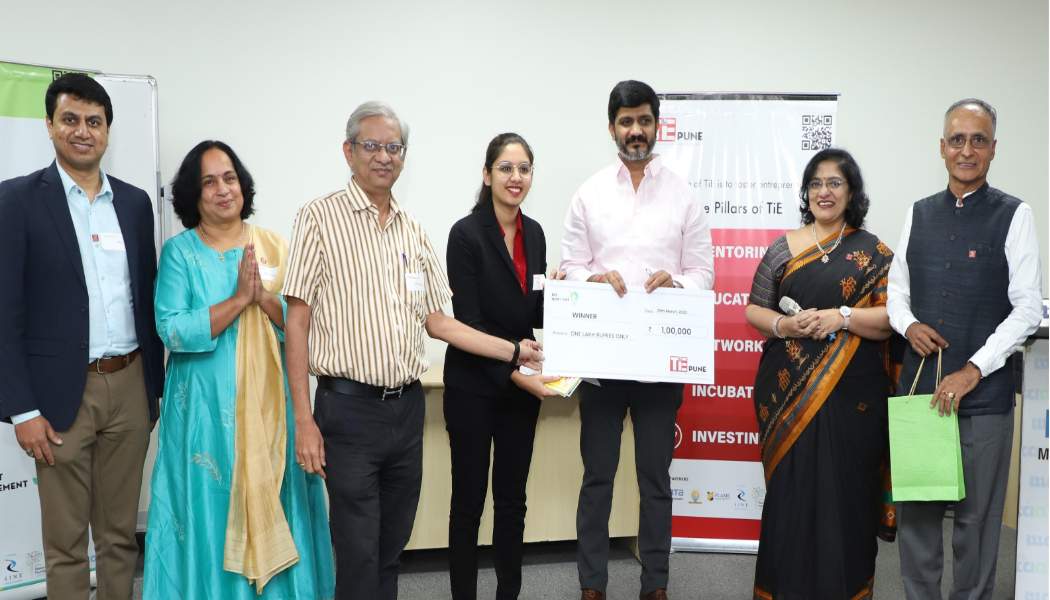 Pune, 27 March 2023: In an aggressively competed contest 161 student teams from 79 colleges in Maharashtra took part in the BizQuoTiEnt business plan competition. This is an annual contest that is organized for the students by 36 chapters of TiE across the globe.
The Pune Chapter winner was Shalmali Kadu, student of Cummins College of Engineering and founder of Innergize that has developed a unique wearable gadget behind the ear to help people stimulate the vagus nerve that then can aid with anxiety, depression, and sleep disorders. "Pills are chemicals that have their own side effects," says this 21-year- old from Cummins college.
The first runner up was Akshat Bhatia who has created a protein bar with millets and no preservative or sugar substitutes. The second runner-up was XGen Fuels; says Ajinkya Salve co-founder, "our patent pending technology can make hydrogen from water. More importantly it can be easily set up at existing petrol pumps at one tenth the cost." The other two finalists were Floral Fusion that converts waste flowers into leather, and Kaza, an app that helps people with discovery and delivery of street food.
Ramesh Mirakhur, Chair TiE Pune University Program reiterated that "it is important to never forget what your role as an entrepreneur is. Whether you win or not, it is vital that you keep at it till you get better, can provide more jobs and post profits. That is the goal of entrepreneurship. Our country churns out approximately 6.5 million graduates every year. Can you imagine the pressure it will build to provide that many jobs? Instead, if some of them understand the value entrepreneurship brings in terms of creating wealth, providing goods and services needed by people and jobs, this will only help build our nation."
Of the 36 TiE chapters across the globe, TiE Pune saw the highest participation with 161 entries. Of these, 59 entries were shortlisted in the first round and after two more rounds five student teams contested in the finals on 25th March at the MCCIA building. The winning team will now contest in the TiE University global contest to be held in Silicon Valley on May 3-5 where one team from each of the 36 participating TiE chapters will vie for the top prize of 50K USD plus numerous offers of funding and mentoring.
Mr. Siddharth Shirole, MLA representing Shivaji Nagar Constituency and a successful hotelier himself, was the Chief Guest at the finals and in his address, he appreciated the idea of encouraging Student Entrepreneurs and the work that TIE is doing in this regard. Says he, "I am very impressed by these young participants. A successful entrepreneur needs to have five attributes in my opinion: 1) Courage 2) patience, 3) wisdom, 4) intelligence and 5) determination. " And most important of all is to remember that your business should be relevant for a long time.
Says Mirakhur, TiE Pune's Charter Members who are successful businesspersons themselves provide the much-needed mentoring to these students to hone their skills and make their presentations sharp." The winner of this global contest won Rs. One Lakh as prize money while the two runners-up won Rs 25,000/- each.