Air India Launches Premium Economy Class on Select Flights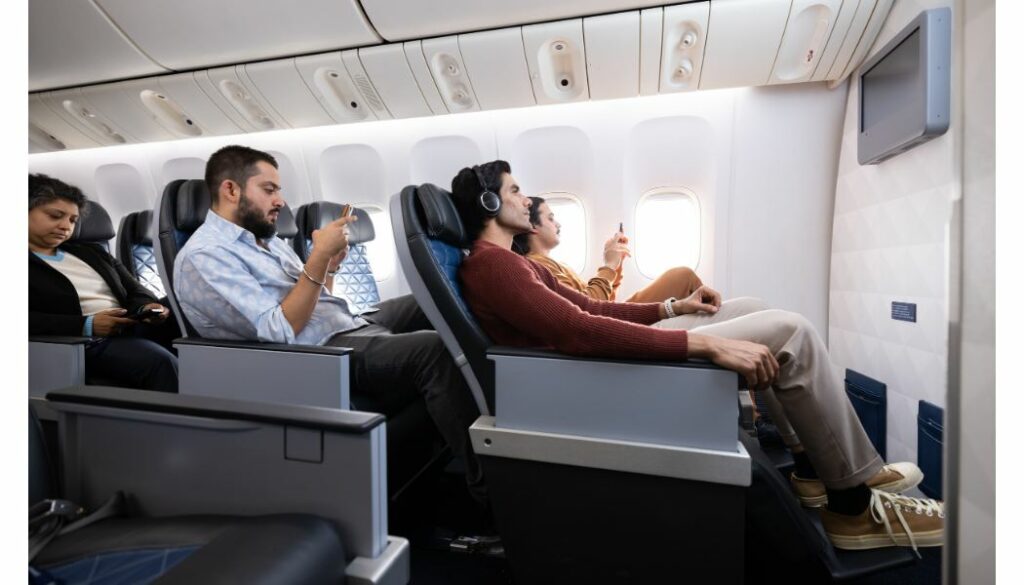 New Delhi, March 31, 2023: Air India introduces an all-new Premium Economy experience for travellers, offering a superior cabin product, world-class inflight services, and added on-ground convenience. The airline has opened sale for the new cabin, for travel starting May 15, 2023, becoming the first and only Indian carrier to offer the choice of four cabin classes – First, Business, Premium Economy, and Economy.
Air India's Premium Economy class will be initially available to customers travelling on select routes operated by its fleet of Boeing 777-200LR aircraft: Bengaluru-San Francisco, Mumbai-San Francisco, and Mumbai-New York.
Mr. Campbell Wilson, CEO & MD, Air India, said: "The popularity of Premium Economy has grown among travellers around the world, as people are increasingly opting for upgraded, yet affordable flying experiences. We are delighted to introduce a distinctive Premium Economy experience for our customers on select flights for now, with a plan to extend it to many more routes soon, as we rapidly expand and modernise our fleet. This is another step forward in our sincere, ongoing effort to transform Air India into a modern, global carrier of world-class products and service standards."
Air India's Premium Economy offers an exclusive travel experience designed for customers who do not mind paying a reasonable premium over Economy Class fares to fly in style and enjoy a lot more space, comfort, and convenience.
Fast-track airport experience: Premium Economy customers will be able to check-in at dedicated counters and have priority tags affixed to their check-in baggage, and also be amongst the first to be invited to board the aircraft.
Separate, spacious cabin with wider seats: Premium Economy class on Air India's Boeing 777-200LR aircraft features 48 leather-upholstered, memory foam seats that have 19 inches of width, 38 inches of pitch, and 5 inches of recline with adjustable leg rest and footrest, and winged headrests. The seats provide extra legroom for customers to stretch out during flight, enabling customers to rest or work in comfort.
Amenities: Premium Economy customers receive a complimentary, elegant TUMI amenity kit (specially designed for Air India) consisting of a pair of flight socks, an eye mask, MALIN+GOETZ lip moisturizer, and a pen, in addition to carpet slippers. Customers also receive noise-cancelling headphones for use during flight to complement the experience of Air India's In-flight Entertainment (IFE) system.
Onboard dining: Customers will be welcomed on board Air India's Premium Economy class with a welcome drink served on an elegant silver tray and a menu card reflecting a glimpse of a delectable culinary experience during the flight. On board, customers will be able to choose from a delicious selection of three meal choices for the main course, served on fine chinaware casserole, accompanied by an appetizer and dessert. The drinks menu includes a fine selection of alcoholic and non-alcoholic beverages.
Seats on the newly added Premium Economy class are now on sale on the Air India website, mobile apps, as well as through travel agents and other booking channels.
About Air India:
Founded by the legendary JRD Tata, Air India pioneered India's aviation sector. Since its first flight on October 15, 1932, Air India has an extensive domestic network and has spread its wings beyond to become a major international airline with a network across USA, Canada, UK, Europe, Far-East, South-East Asia, Australia and the Gulf. Air India is a member of Star Alliance, the largest global airline consortium. After 69 years as a Government-owned enterprise, Air India and Air India Express were welcomed back into the Tata group in January 2022. The present management at Air India is driving the five year transformation roadmap under the aegis of Vihaan.AI to establish itself as a world-class global airline with an Indian heart.
Vihaan.AI is Air India's transformational roadmap over five years with clear milestones. It will be focussing on dramatically growing both its network and fleet, developing a completely revamped customer proposition, improving reliability and on-time performance. The airline will also be taking a leadership position in technology, sustainability, and innovation, while aggressively investing in the best industry talent. Vihaan.AI is aimed at putting Air India on a path to sustained growth, profitability and market leadership.