'artPRESENT': A platform to help artists and sculptors publicize their art around the world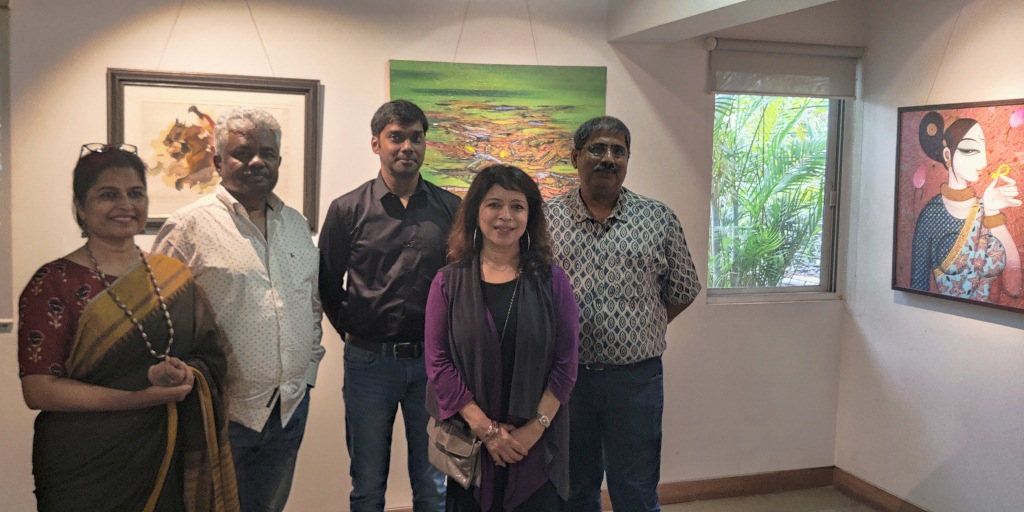 – The software tool will use modern information and technology such as Augmented Reality and Data Analytics for the representation
– The works of the artists selected from 'artPRESENT' in the first attempt will be displayed in a famous art gallery in America
Pune, August 26, 2021: As the Corona pandemic caused a devastating impact on all trades across the world including arts like painting and sculpture, the artists particularly in India had to put up with the loss. Nevertheless, the artists in other parts of the world got opportunities to display their works in exhibitions through virtual media. So considering that the virtual sector will play an important role in the near future, Niranjan Ingale, a Pune-based software engineer has created a platform called 'artPRESENT' to help Indian artists present their unique artworks to the art lovers abroad.
Speaking at a press conference held at the Art Pune Foundation on Bhandarkar Road, Niranjan Ingale said that with the help of such platform and modern information technology he wants to assist Indian artists create a footing and present their works virtually in major art markets in the US and Europe.
Sanjeev Pawar, Founder of Art Pune Foundation and acclaimed artists including Madhuri Bhaduri and M. Narayan, who will participate in the Hamptons Fine Art Fair to be held in New York City, USA, in September with the help of 'artPRESENT' platform, were present on the occasion.
Speaking on the subject, Ingale said, "During my stay in the United States, I visited many art festivals and exhibitions, where I noticed that apart from famous Indian masters, the works of other talented Indian artists were not being displayed, depriving them of recognition. But with the Corona pandemic restricting the physical presence of artists in exhibitions, new platforms like 'Virtual Gallery' started opening up for artists and fans to witness the exhibitions online. The 'artPRESENT' platform has been created with the aim of helping Indian artists to present their art to audiences around the world. Through this platform, artists will be able to share their art with galleries and fans around the world. Since I have connections in the art industry in the US and Europe, this platform will allow artists to showcase their art without having to go there. "
He added, "After taking the works of Indian artists to different parts of the world, we will collect and analyze the data through modern technology and data analytics to understand, which artist's work is loved by the fans in which particular area or city. Such information will help decide where to promote one's art. It will not only benefit the artists by displaying the right art in the right place, but it will also be supported by the art promoters and galleries to inform that a quality artist is available in a particular gallery. The images of art can be viewed through Augmented Reality, which will make it easier for collectors to purchase the artwork as per their requirements."
According to him, till date 16 artists have registered on this platform whose art will be publicized in major galleries in the US and Europe. "In the future, we will work to promote these artists in those areas, so that their profiles are created and their art can be appreciated. Currently, painters and sculptors in and around Pune are benefiting from this platform and we intend to make it available to artists across the country in the near future. I am glad that famous Pune-based painters including Madhuri Bhaduri and M. Narayan got the opportunity to participate in the Hamptons Fine Art Fair to be held in September in New York through this platform," said Ingale.
Sanjeev Pawar said, "Painting artists and sculptors often have difficulty in communicating their art to the audience as they are focussed only in the creation of their art. A suitable platform was needed for this and now it is available through 'artPRESENT'."
"The efforts of the youth like Niranjan to provide a platform to every artist to display their work are remarkable. Through this, the art of Indian artists will reach all over the world and the data of the art will be available in the international market. In the future, this data will be important for artists and fans", said artist Madhuri Bhaduri.
M. Narayan said, "Reaching out to fans around the world is like a dream for every artist. I am happy that this dream is coming true through 'artPRESENT'. It is important for us to get the appreciation of the fans from around the world."
'artPRESENT' is a software tool that allows artists to create virtual galleries and enable them to upload and display their own artwork. The artists can participate in two virtual group exhibitions called 'Aarambh' and 'ArtStories', which have been organized by 'artPRESENT' from August 15, on the occasion of the 75th Independence Day of India. 'Aarambh' includes abstract paintings, while 'ArtStories' include figurative and art related to India. Artists like Vivek Nimbolkar, Sachin Pakale, Harshit Bondre, Gayatri Tambe-Deshpande, Pandurang Tathe, Rahul Dangat, Ramchandra Kharatmal, Ramesh Gujar and Nilesh Pawar among others have exhibited their paintings on the platform.